Worcester Bosch Greenstar Classic 34CDi Combi Boiler Review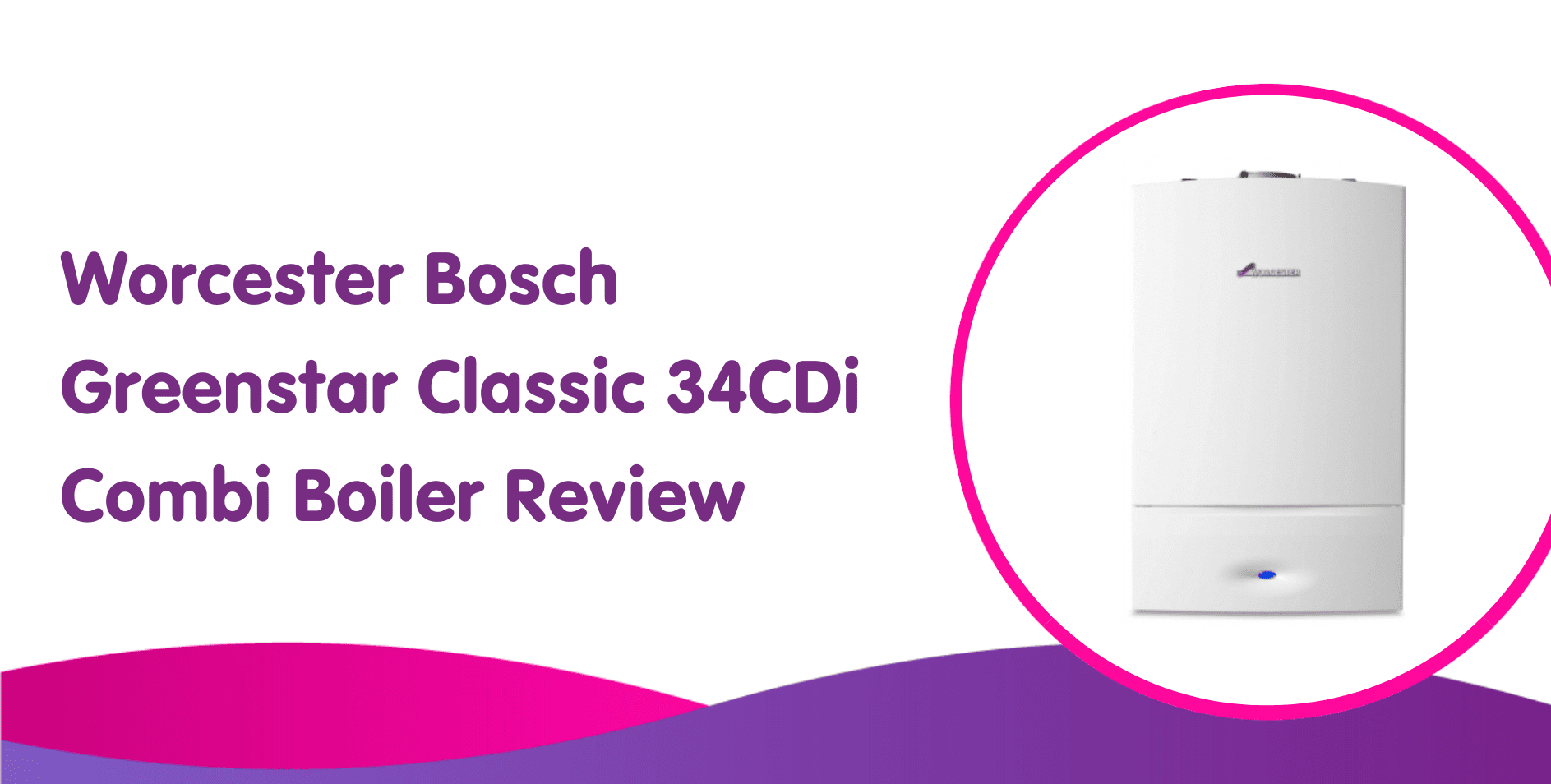 Worcester Bosch Greenstar 34CDi Classic combi boiler review, prices & installation costs
Today, we're bringing you an in-depth Worcester Bosch Greenstar 34CDi Classic Combi Boiler review.
This is yet another offering in the very impressive Greenstar range from Worcester Bosch. They make some of the best combi boilers and best system boilers on the market. So, let's see how good this one is.
The Worcester boiler range varies on price, but the Greenstar 34CDi classic price is around £2,300 to £2,600.
Feel free to check out our other reviews if you want to see how the other Greenstar boilers stack up against this one!
If you are thinking to yourself, What size Worcester boiler do I need? You can use our boiler calculator here.
Get an online fixed price in 20 seconds:
What kind of fuel does your boiler use?
For now, our focus is solely on the 34CDi classic combi.
The Worcester Bosch 34CDi classic combi boiler is part of the manufacturing group that we instantly have a lot of confidence in because they have been around for such a long period of time within the UK.

Those of you that have done your research will know that this is a big company in the boiler replacement industry.
They've won awards for their products, and most people will testify that this brand is trustworthy and reliable.
So, with that in mind, what's so great about the Worcester Bosch Greenstar 34CDi Classic Combi Boiler?
Well, other than new boiler cost, here's what we found out during our review:
The Worcester Bosch Greenstar 34CDi Classic Combi Boiler
When you first lay your eyes on this Worcester Bosch 34CDi combi boiler, you're instantly drawn to the size.
It's different from some of the other options in the Greenstar Range – like the 36CDi and 28CDi, which are both compacts.
This is a classic combi boiler, so it won't fit in a standard kitchen cabinet but can be wall-mounted. The boiler installation would need to be done by a Gas Safe heating engineer.
The upside of the size is that it generates lots of power. You have a central heating output of 30kW, which lets you heat up to around 20 radiators.
If you think most houses have one, maybe two, radiators per room, then it easily provides enough power for a large family home.
The hot water output sits at 34kW, with a 12 litres per minute flow rate. Again, this means it meets the demands of medium-large sized family homes with up to two bathrooms.
If you can find the space to install this boiler, then it definitely offers some excellent performance stats.
You won't worry about losing hot water or having a cold home during the winter with this classic range of the heating system, that's for sure!
Get an online fixed price in 20 seconds:
What kind of fuel does your boiler use?
Energy Efficiency
When you have a best combi boiler that's so powerful, your next thoughts turn to efficiency.
How does the Greenstar 34CDi stand up in the ErP ratings?
For context, the ErP ratings are used to see how energy-efficient products are. All these types of boilers are condensing boilers too to make them super-efficient.
They're tested and trialled before going on sale, and each product gets slapped with a grade.
Here, you get an ErP rating A, with 92% energy efficiency. Those of you that have read our other Greenstar reviews will know that this is the standard across the range.
In effect, you have a powerful boiler that knows how to maximise all of the energy it produces.
By opting for a new boiler with a high energy rating, you will save money on the energy bills.
It basically means that the Worcester Bosch 34CDi classic can heat your radiators and hot water without calling upon too much energy.
Therefore, your monthly bills can decrease compared to if you used a less efficient boiler.
Get an online fixed price in 20 seconds:
What kind of fuel does your boiler use?
Greenstar 34 CDi Usability
How easy is it to use the Greenstar 34CDi from Worcester Bosch?
Or, more to the point, how detailed are the controls such as the Worcester Bosch boiler temperature settings?
Well, on the boiler itself, you have very standard controls.
There's not a lot to be blown away with here; Worcester boiler thermostat, it's got temperature settings, different modes, easy-to-use knobs, and warning lights.
Pretty normal stuff, but combi boilers also need to ensure that they have additional controls to make them compliant with the Boiler Plus regulations.
34CDi Modern Accessories:
In short, these regulations mean that combi boilers must have time and temperature controls that work correctly and provide the owner with more control over the boiler.
There are different ways to do this, but Worcester Bosch has made the 34CDi compatible with smart thermostats.
So, all the controls can be found in an app on your phone, and you can tweak so many different settings to improve energy efficiency further.
The Bosch EasyControl smart thermostat is highly recommended for this boiler. It links up to your mobile devices and lets you play around with the temperature in your rooms.
You can do this remotely, meaning you can turn your heating on or off from outside your house!
We think that the Greenstar 34CDi has everything you need in an easy-to-operate boiler.
The main controls are simple, but you gain access to more detailed settings through smart thermostats.
Get an online fixed price in 20 seconds:
What kind of fuel does your boiler use?
Warranty
All of the Worcester Bosch boiler range will come with a warranty.
Worcester Bosch will give you a free 5-year standard warranty when you purchase the Greenstar 34CDi.
This means if any problems occur with your Worcester Bosch combi boiler, you will have the help of a Worcester accredited installer.
Worcester boiler cover only covers manufacturing faults and defects, so you may need to find another warranty that covers accidental damage – or extends the manufacturer's warranty even further.
For something as expensive as a boiler, it's always worth protecting it as much as you can. Getting the boiler cover will keep your warranty valid.
Boiler Size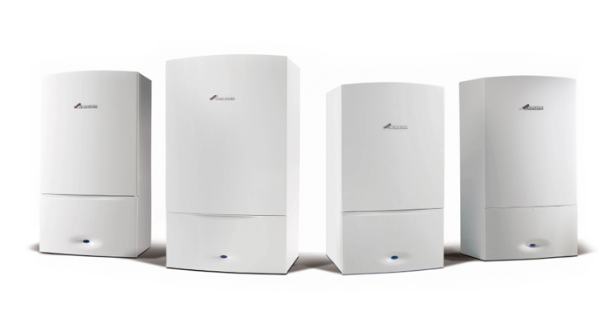 As we said earlier, this isn't a compact boiler.
It measures up at a chunky 760x440x360mm.
It's far from massive, but it's not the type of boiler you can hide away in a small kitchen cabinet.
So, you really need to have some kind of designated area to install this in.
Our advice is to take these measurements and look around your home to see if there's a suitable place for a Greenstar Cdi boiler of this size.
If you need help, then contact a Gas-Safe heating engineer to assist.
Our Verdict
After carrying out this Worcester Bosch Greenstar 34CDi Classic Combi Boiler review, we conclude that it is a fantastic product for certain homes.
The obvious highlights are the power output and energy efficiency. We also believe that it has some great controls and can be used with smart thermostats to boost its performance.
If you have a home with two bathrooms, multiple bedrooms, and up to twenty radiators, then it could be perfect for you.
The only slight drawback is the size.
If you want something more slender and compact, then think about some of the other products in the Greenstar or Worcester boiler range. They have plenty of types of boilers to choose from.
Of course, if your home has more than twenty radiators and you have three or more bathrooms, then you might need a more powerful boiler like the 42CDi Classic.
All in all, we were impressed with the Worcester Bosch Greenstar 34CDi and believe it definitely serves a purpose for the right kind of customer.
If you like the sound of this Worcester 34CDi classic, but the price sounded too high, don't panic at Boiler Central we offer different finance options. We have great boiler deals running all year round and have some great cheap boilers for those on a budget.
Get an online fixed price in 20 seconds:
What kind of fuel does your boiler use?