Worcester Bosch Greenstar 42CDi Classic Combi Boiler Review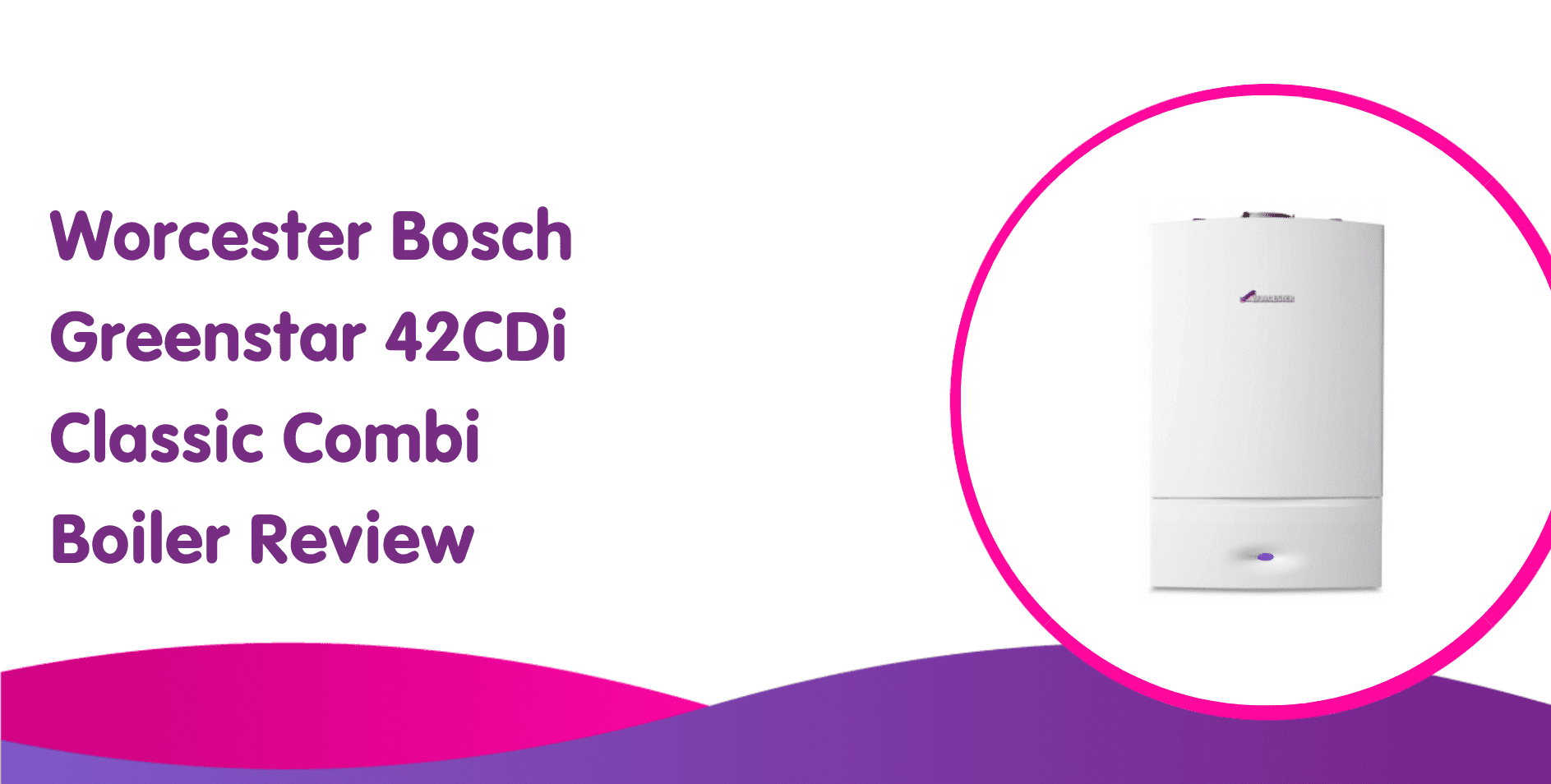 Worcester Bosch is known as one of the best boiler manufacturers on the market, offering a wide range of boilers to suit your needs.
The Worcester Greenstar 42CDi classic combi boilers are designed to fit in a standard kitchen cupboard.
The Greenstar 42CDi classic new boiler cost, including VAT and installation fees, is around £2,500.
Worcester Bosch offers a wide range of combi boilers, system boilers and heats only boilers. They make some of the best system boilers and best combi boilers on the market too.
Why choose the Worcester Bosch Greenstar 42CDi Classic Combi boiler?
Some replacement boilers are more powerful than others. The reason being is because all homes are created differently. A small home with two bedrooms and one bathroom doesn't need a massively powerful boiler.
By contrast, a large home with five bedrooms and two bathrooms needs a highly efficient one that can handle the extra radiators and provide heating and hot water to two showers at once.
A common combi boiler question is, Can you run two showers off a combi boiler? The answer is yes you can with the Greenstar 42CDI Classic Combi.
The price of Worcester Bosch boilers also varies from £1,800 to £2,800. If this price scares you don't panic, at Boiler Central, we offer different boiler finance options.
All of the Worcester Bosch boilers come with a boiler manual. The Worcester Bosch manual is to help in case an error code shows on the display so you can track what it means or you can explain to a Gas Safe heating engineer.
The most popular Worcester Bosch combi boilers for sale are the Lifestyle range which is a modern design, with new features and a 12-year warranty. The Worcester Greenstar 4000 is also a popular combi boiler range with a 10-year guarantee.
Get an online fixed price in 20 seconds:
What kind of fuel does your boiler use?
At A Glance: Worcester Bosch Greenstar 42CDi Classic combi boiler
Visually, the Greenstar 42CDi Classic is a similar size to the other classic combi boilers in this range.
For those that don't know, Worcester Bosch has Greenstar Compact combi boilers for sale as well.
These boilers are specifically designed to be smaller and to fit in a standard kitchen cupboard. Needless to say, this boiler isn't one of those! They can also be wall-mounted, or wall hung providing there are rear piping available.
We all know why you're looking into this boiler; for the power. Yes, this is one of the most powerful combi boilers on the market today.
The central heating output and flow rate of 30kW are generally considered as much power as you need to heat a large home with up to 20 radiators.
But, the Worcester Bosch Greenstar 42CDi Classic combi boiler really shines in the hot water department.
With a hot water output of 42kW – and a flow rate of 15 litres per minute – this is an absolute warrior. It will have no problem providing hot water to two, maybe even three, showers all at the same time.
So, if you have more than one bathroom and want absolute assurance that you can run two showers at once, then this might be the only Greenstar boiler to consider.
Energy Efficiency
Powerful boilers have their pros and cons.
The main drawback is that you have the potential to lose more energy when you produce so much.
However, the 42CDi Classic doesn't seem to have got this memo. It performs with the efficiency of much smaller and less powerful boilers.
You get an ErP rating of A with 92% energy efficiency.
Now, if you're buying a new boiler, then we're willing to bet your old one is outdated and costing you more money than is needed.
As such, it probably has ancient technology and a much worse ErP rating than the 42CDi Classic. So, what happens when you install a far more efficient boiler like this one?
You slash your energy bills!
What's more, you don't even have to wait to see these savings – they'll appear on your next energy bill.
Get an online fixed price in 20 seconds:
What kind of fuel does your boiler use?
Worcester Bosch Boilers Usability
You must buy a boiler that gives you all the controls you need to get the best out of your heating system.
If you don't, then you have no way of altering things like the temperature, the time your boiler is on for, the rooms that actually get heated up, and so on.
Thankfully, the Worcester Bosch Greenstar 42CDi Classic makes life much simpler for you.
The traditionalists out there can use the manual boiler controls to tweak the temperature and control a timed schedule.
You can also use a knob to switch between modes for specific functions.
As an example, there's an Eco Mode that runs the boiler at a lower power output to conserve energy.
Then, if you want even more control, you can connect your boiler to a compatible smart device.
The two options recommended are Worcester Wave and Bosch EasyControl. Both of these devices are smart thermostats with the ability to alter so much about your boiler.
Install the device, and you will download a corresponding app on your phone. From this app, you can control as much as you like.
The best feature is that you can manipulate the thermostat settings or trigger schedules from anywhere in the world.
As long as you have an internet connection, you can control your boiler. These work with most types of boilers too.
Theoretically, you could be sat at work, getting ready to leave, and decide to open up the app and turn on your boiler.
Now, when you get home, it will be nice and warm!
We also love smart thermostats because they let you turn off your boiler if you forget to do so when you're at home.
Be honest, how many times have you left for work and realised the central heating is still on?
If no timer was set, then it will stay on all day long, wasting so much energy.
With a smart device, you can turn it off as soon as you realise.
Get an online fixed price in 20 seconds:
What kind of fuel does your boiler use?
How Long Is the Greenstar 42 CDi Classic Range Warranty
This will come as no surprise to anyone that's seen our other Worcester Bosch Greenstar reviews, but there's a five-year warranty on this product.
It covers manufacturer defects and issues, and you can always pay to have it extended. This would include paying extra for boiler installation.
Size
Most combi boilers are designed to fit in a standard kitchen cupboard.
Make no mistake about it; this is a boiler for big homes.
At 760x44x360mm, you won't fit this boiler into a small kitchen any time soon.
But, we argue that this isn't a boiler for small homes anyway.
The amount of power you get is only useful in a large home. In which case, you should have enough space somewhere to install this boiler with no issues.
Our Verdict on the Worcester Bosch Greenstar 42CDi Classic
We'll finish this Worcester Bosch Greenstar 42CDi Classic combi boiler review by giving our final thoughts on this product.
For one, it's the most powerful boiler in the Greenstar range and will comfortably handle homes with up to 20 radiators. If your home is that big, then we highly recommend this combi boiler.
It's particularly effective at providing instant hot water to multiple rooms at once – so, if you have two or more showers, then it'll be perfect.
However, as the most powerful option, it's also the most expensive. So, if you don't need all of this power, then don't bother going for it.
Count up the radiators in your home and think about how much hot water you use.
You could be better off with a slightly less powerful model – like the Greenstar 38CDi Classic.
At Boiler Central we are always offering some great boiler deals for every home. We even have some best combi boilers all year round for those on a budget.
Get an online fixed price in 20 seconds:
What kind of fuel does your boiler use?