How Efficient Is My Boiler? How To Check Boiler Efficiency
How efficient is my boiler? Find out the energy efficiency of your boiler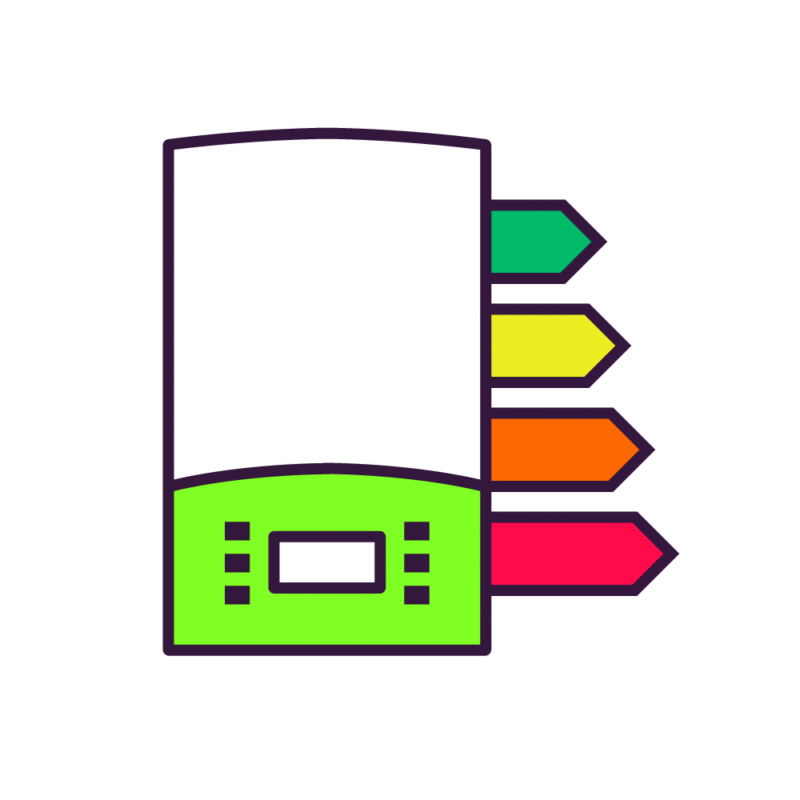 Whether you have a new or an old boiler, check its efficiency. In most modern boilers, you can see an ERP sticker on the unit or package about its efficiency. It is usually displayed in rating, so the higher your unit is, the more energy efficient it is.
If you have an older unit, there might not be a sticker on its surface. So how can you check its efficiency? Well, if you are wondering about boiler energy efficiency and how to check it, this article is for you.
Think your boiler is inefficient? Find out how to increase boiler efficiency here to save money on your bills.
Get an online fixed price in 20 seconds:
What kind of fuel does your boiler use?
What is Energy Efficiency in relation to boilers?
Energy efficiency is the percentage of the total energy used by a boiler to produce useful heating. For example, a modern new boiler with an efficiency of 88% uses 88% of the energy for heating the home. The remaining 12% is used in its operation.
There are specific boiler efficiency ratings that range from A-G. While finding the rating of new models is much easier, it is difficult for older ones because they are retrospectively allotted. However, these are the ratings and how energy efficient your unit is.
See all about our A-rated replacement boilers here in our guide too.
| | |
| --- | --- |
| Rating | Energy Efficiency % |
| A | 90% and above |
| B | 86-90 |
| C | 82-86 |
| D | 78-82 |
| E | 74-78 |
| F | 70-74 |
| G | Below 70% |
Find The Energy Rating on the Boiler
One of the ways that you can find the boiler efficiency rating if your boiler doesn't come with a sticker is by checking the model number.
You need to check under the boiler to the place where all the pipes come out. Under the flat which is present at the front, you will find the dials. It typically has a small sticker that indicates the model.
The model number contains the name of the brand and a number. For instance, the model number of a Worcester Bosch is Worcester Bosch's Greenstar 24i.
Once you find the rating, you need to check the PCDC database to find the rating. And that's it! You will easily find energy efficiency. Although it is a lengthy process, it is ideal for all those boilers that do not come with a rating.
Are New Boilers More Efficient than Older Ones?
The new advanced boilers are also known as condensing boilers because they can easily recover heat dissipated earlier through the flue. It usually happens when the unit needs to preheat the heating system. This process usually happens using the second heat exchanger.
However, keep in mind that these boilers are not A-rated right when they come out of the box. The heat that escaped through the flue condenses, and the second heat exchanger recaptures it.
This process requires the unit to run at a shallow temperature so the heat can become water vapours.
Hence, the lower the temperature, the efficiency of the unit increases. However, the problem with most older models is that people do not change their factory settings, and the temperature isn't low enough to condense the heat. Hence, most of the heat is lost through the flue.
What Keeps a New Boiler from Being Energy Efficient?
Modern boilers must operate at lower temperatures to maintain their 90%+ efficiency. For example, a boiler operating in "condensing mode" generates heating water at temperatures of 65 degrees Celsius or less. Older systems operated at 80 degrees Celsius.
Despite condensing boilers being around for 15 years, 99% of installers are untrained to set them up properly. Therefore, the majority still operate at 80-degree Celsius.
You won't get any energy savings from your new boiler if you replace one badly installed condensing boiler with another similarly poorly installed condensing boiler.
Why is this taking place? Due to persistent underinvestment in training, gas engineers lack the necessary training to select and configure condensing gas boilers to operate at higher efficiency. This major industrial flaw costs customers thousands of pounds.
You Need a Competent Boiler Installer Who Knows About Energy Efficiency
Many "smart" controls—those that do not speak the same language as the boiler—are linked with enormous, improperly built boilers in most UK houses.
Despite 15 years of explosive growth in condensing boiler sales, little money is allocated to upgrade installers' knowledge of this new technology.
Hence, it is very important to find an expert who knows about these controls and can set them to perform at their full potential. So, you need to dig deep and find that one installer in your area that is better than everyone else.
Determine the Efficiency of the Boiler by Its Age
Since 2005, condensing boilers have been a requirement for each household. Your boiler will be A-rated if it is less than 15 years old.
However, most condensing boilers are still configured to operate like non-condensing boilers, so their efficiency is comparable to that of older boilers. For example:
| | |
| --- | --- |
| Age | Energy Efficiency % |
| 25+ years | 60-70 |
| 20 years | 75 |
| 15 years | 80-85 |
| 10+ years | 80-85 |
Factors to Consider to Ensure the Boiler is Energy Efficient
All boilers need to be A-rated and have factory-certified efficiency of at least 92-94% (ErP). However, in practice, this object is never really reached.
Because the boiler is a small part of a much larger heating system. Hence, your entire heating system must work flawlessly and accurately as your boiler to achieve more than 90% efficiency.
As we discussed above, the unit must be fitted flawlessly. Subsequently, it would be best to have an expert installer do it into your existing network. Here are a few pointers you need to remember to achieve the best outcome.
The Unit must have a Small Minimum Output
Most of the boilers operate between 8-244kW or 3-30kW. It would help if you kept in mind that the lower the minimum out is of the range, the more efficient the boiler will operate all year. Hence, you need to check the output while installing it.
Choose the Size Correctly
Typically, even if it is a pretty cold day, a UK house requires a boiler range between 6-8kW. But, surprisingly, the houses contain many robust boilers and are bigger than needed.
So, for boiler installation, ask the installer to reduce the maximum output of the unit to match the needs.
You Need to Pair the Boiler Up with Compensation Controls
You need to get a compatible control system to install with your unit. Most advanced boilers vary in their outputs to meet the variable temperatures, which is undoubtedly pretty efficient.
However, the machine would only be able to do it if it is fitted with a control that allows it to speak the same language you do for easy understanding.
Find a Competent Installer!
Finding a competent installer is one of the most important steps for an efficient boiler. You need to research and find one superior to all of them. So, invest the required time to do research and find competent experts to do the job.
Here is How You can Calculate Potential Fuel Savings
If you have just purchased a new boiler and are confused about how much you would save on the bills, this section is for you. Here is all you need to know about calculations.
The average energy bill in the UK is around £750 – £1000. If the installer sets up the boiler correctly, your a-rated boiler will have an efficiency of 14-34%.
Your gas expenses won't be significant or even reduced if you replace a boiler that is only a little over ten years old. There doesn't seem to be much use in changing anything if it is dependable and inexpensive to maintain.
However, replacing badly constructed older boilers with significant maintenance expenses would likely be worthwhile.
On the other hand, an older boiler that you've had 20 years or more will be extremely an extremely inefficient boiler. Therefore, switching to a modern boiler will probably save upwards of £340 annually, but only if set up properly.
Here's How You can Calculate Your Savings on Your Energy Bill:
Say, for example, your annual heating bill is £800. You need to estimate the boiler's current efficiency. It would be best if you made the estimate based on its shelf life. So, in this example, let us take it as 60%.
Now, calculate the efficiency of the new boiler you are thinking of installing. Let's take it as 90%.
Subtract the current boiler's efficiency from the new boiler; so, 90-60= 30%.
Multiply this with the annual heating bill. For example, 800 x 0.3 = £240 saving per annum
FAQ's
How can I maximise the efficiency of my current boiler and central heating system?
Get a Correctly Sized Boiler
Generally, boilers are oversized because you might require a larger model. However, oversizing often exceeds the property's heat needs by around 10kW. For instance, a typical three-bedroom house has about 6-8 kW of heat. A 15–24kW boiler is recommended per general size.
Using an oversized boiler would burn much more fuel, and the equipment would be put under stress. Consequently, this will affect the durability of the unit. Furthermore, it might not function in condensing mode.
Have a Balanced Central Heating System
A system is balanced when all the radiators get warm simultaneously and emit the right amount of heat. You should restrict the radiators' flow near the boiler so that the unit can push the water through the radiators at some distance so that the unit can easily work in condensing mode.
Smart/ Weather Compensation Controls
A new rule known as Boiler Plus went into effect in April 2018. It mandates that people need to install an advanced heating measure, typically one of three types of advanced heating controls, on all new combination boilers. See the most energy efficient combi boilers here.
Now, all that is required for modern heat-only system boilers is a thermostat and a programmer. An improved control, however, would be quite helpful for all current boilers.
Weather compensation kits and controls are the most effective. It helps the boiler run for longer durations at lower outputs, which is far more efficient. Furthermore, it reduces the boiler's output following the ambient temperature.
Depending on whether the engineer needs to connect a wire to the unit or not, the cost of a compensation control is approximately £140 in parts and £60 – £150 in labour.
Some programmers will operate remotely without a wire. The tough part is that they must communicate in the same language as the boiler. Hence, you need to get a good installer.
What is the most efficient way to run a boiler?
Many people have a misconception that running the boiler on low is the most efficient way. However, it is a total myth and will only increase your bills and make the boiler inefficient during the long hour. Hence, only turn the heating on when you need it. Apart from that, keep it off.
Does turning some radiators off save money?
Yes, turning off some of the radiators you are not using will help you save money. However, just keep the doors and windows closed so that the warm air doesn't escape through the cracks.
What are the best combi boilers for energy efficiency?
Most modern combi boilers by the top manufacturers are A-rated in energy efficiency as a lot of boiler brands will make this an important factor in the production process. Some are slightly better than others due to their unique features, but it is usually down to personal preference as to which one is the best combi boiler for you and can be the most energy efficient.
Conclusion
There are many ways to know how efficient your boiler is. Most units have a sticker rating on top, or you can find the model number of the boiler and find it on the site we have mentioned above.
The size of the boiler greatly impacts how proficient the unit is. Just because a boiler is large does not mean it will provide you with the same efficiency as a small one.
When selecting a boiler, you need to get a machine that works perfectly well for your place. An oversized one will reduce its performance and make your electricity bills reach the highest.