Intergas Boiler Review and Prices for 2023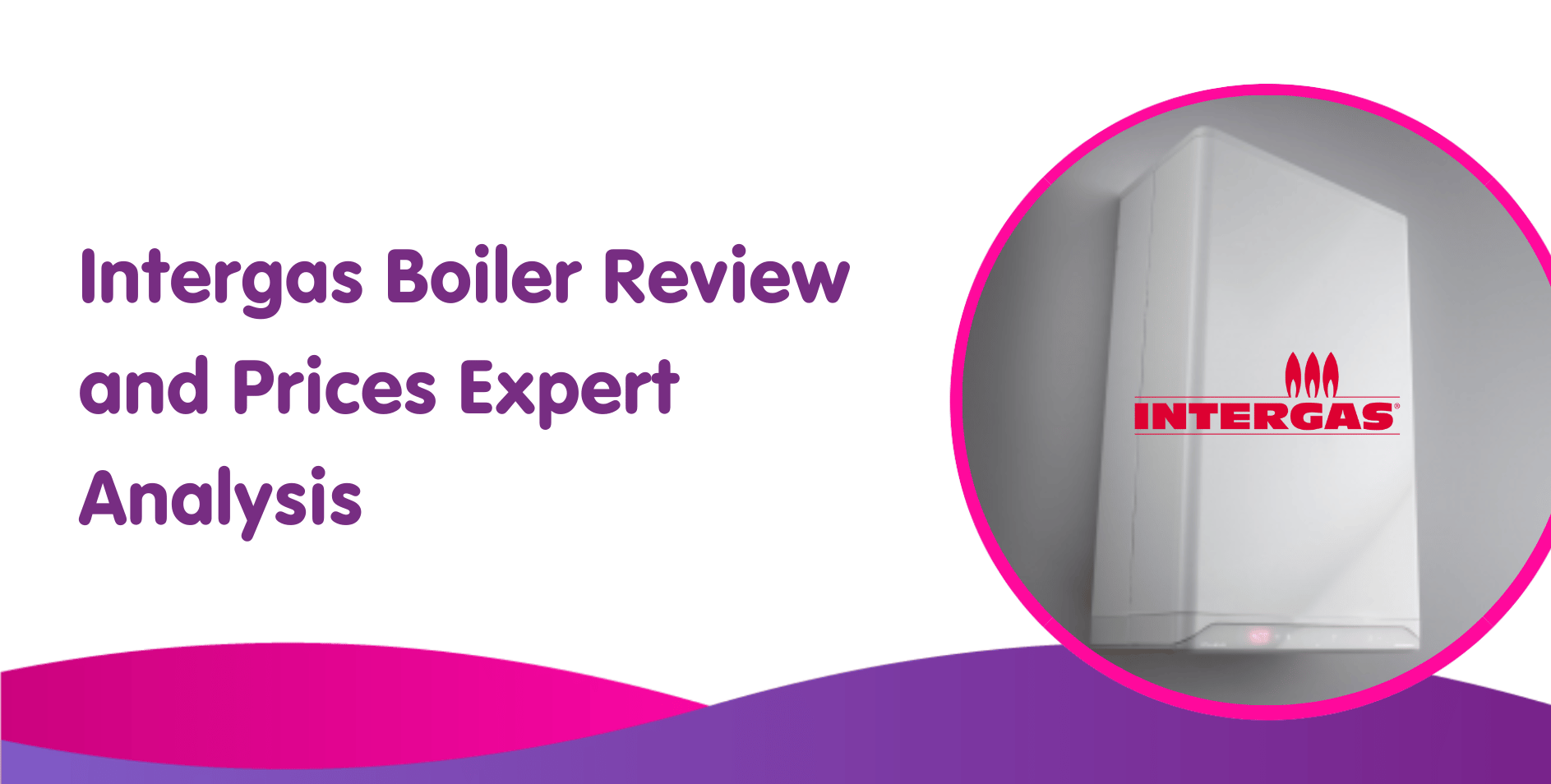 Intergas Heating Ltd is a Netherlands company that makes heating products for homes and more. They've been around since the 1960s and are known in the heating industry for their reliable, innovative products that give customers satisfaction and ease.
Intergas has combi boilers, system boilers, and regular boilers that are made to be of high quality and perform well.
This Intergas Boiler Review is to give potential buyers information about Intergas Boilers, their features, benefits, and drawbacks.
The goal is to help people make a wise decision when choosing a heating solution for their home by telling them more about Intergas boilers and comparing them with other brands.
Get an online fixed price in 20 seconds:
What kind of fuel does your boiler use?
Key Features of Intergas Boilers
Intergas Boilers are known for their exceptional features that set them apart from other heating businesses on the market. These features are designed to provide comfort, savings, and reliability to customers. Some of the key features of Intergas Boilers are:
Energy Efficiency
Intergas Boilers are designed to be highly energy-efficient, which means they use less energy to produce the same amount of heat compared to other boilers. This results in lower energy bills and a smaller carbon footprint.
For example, with an efficiency rating of up to 95.8% for household hot water, all Intergas HRE boilers are suggested by the Energy Saving Trust. Whilst the popular Worcester Bosch boiler (The Worcester Bosch Greenstar 4000) is 94% but is still one of the best combi boilers on the market.
Smart Control Options
Intergas boilers come with advanced control options that allows customers to easily adjust the heating settings and monitor the performance of the boiler.
This makes it easy to optimise the heating system for comfort. They also have additional perks such as ComfortTouch (their own thermostat) and the free ComfortTouch app that can turn your everday phone to a smart thermostat.
Made out of Recyclable Materials
The fact that Intergas builds their boilers out of "top quality, robust materials" and only 3 parts are made of plastic (e.g. the pressure sensor, ignition module and internal flue) – means their boilers are 90% recyclable.
Their Two-in-One Heat Exchanger
Intergas Boilers have a unique two-in-one heat exchanger that helps reduce heat loss and improves performance. This heat exchanger combines two separate systems into one, which optimises heat transfer and leads to greater energy efficiency.
As a result, Intergas boilers provide customers with significant savings on their energy bills. Additionally, the two-in-one heat exchanger also helps extend the lifespan of the boiler, making it a reliable and cost-effective heating solution.
Overall, the key features of Intergas Boilers make them a top choice for anyone in the market for a high-quality, energy-efficient heating solution.
Intergas Combi Boilers Review
Intergas Combi Compact ECO RF
You should consider the Intergas Combi Compact ECO RF as they are a part of Intergas Heating's green efficiency range, known for its effectiveness in heating and hot water. It is one of the most energy-efficient boilers available, lowering emissions to a minimum and providing substantial savings on heating costs.
Advantages
High Efficiency: The Intergas Combi Compact ECO RF module has a high energy efficiency rating, which can result in lower energy bills for the homeowner.
Eco Mode: This Intergas boiler features an eco mode, which is designed to help save energy and reduce the cost of heating a home.
Compact Space-Saving Design: This combi boiler is compact in size, making it an ideal choice for homes with limited space for a heating and hot water system.
Easy to Use: The Intergas Combi Compact ECO RF comes with a wireless RF control, which is easy to operate and program.
Intergas Xclusive Combi Boiler
This boiler features a illuminated touchscreen display panel that is simple to read and use, and inside it's stylish body, it contains an expansion vessel, a combined pressure relief valve and condensate connection, a built-in filling loop, and dual OpenTherm inputs.
Advantages
1:9 modulation ratio: The Intergas Xclusive Combi Boiler has a special way of controlling the heat it makes. With a high modulation ratio of 1:9, it can make just the right amount of heat needed and not waste any extra. This keeps the temperature just right and saves energy.
Built-in filling loop: The built-in filling loop helps make sure the Intergas Xclusive Combi Boiler always has enough water to make heat and keep you warm and comfortable.
LPG conversion available
Intergas Combi Compact HRE
The Combi Compact HRE from Intergas is a highly efficient boiler that can heat both your water and your home. Its design helps it save energy and be kind to the environment. It uses special technology from Intergas that makes it a great choice for anyone who wants to save energy.
Advantages
Uses Fewer Parts
The Diverter valve is not required
No valve motor is necessary.
There is no hot plate heat exchanger.
Auto air vents are not essential.
No air pressure switch needed
"Smart in Every Sense"
Energy efficiency rating of SEDBUK A
Can condense in both hot water and heating modes
Minimal standby losses
Parts can be interchanged with other models in the range.
Intergas Rapid
The Intergas Rapid Combi is ErP compliant, meaning it meets the latest energy efficiency standards, and is equipped with a built-in digital time clock and expansion vessel.
Advantages
The Intergas Rapid has a minimalist design, using as few moving parts for greater reliability and reduced chance of any component failure.
ErP compliant with high efficiency pump fitted as standard
The Intergas Rapid has a Built-in digital time clock for easy scheduling
Built-in expansion vessel for pressure management
Central flue design for improved performance (it improves the efficency)
Intergas Xtreme
The Intergas Xtreme has various user-friendly and energy-saving features. It includes an easy-to-read display, an internal expansion vessel, a pressure release valve and condensate connection, and an integrated filling loop. The Xtreme also has a one-of-a-kind device known as passive flue gas heat recovery, which enhances energy efficiency dramatically.
Advantages
User-friendly display: illuminated touchscreen display panel with easy-to-read icons
Passive flue gas heat recovery: The Intergas Xtreme has a special feature called Passive Flue Gas Heat Recovery which helps it use less energy to make hot water for your home. This means you can save money on your energy bills and also be kinder to the environment.
Intergas System Boilers Review
The Intergas HRE System Boiler
For increased convenience, the Compact HRE System Boiler from Intergas may be used with normal on/off thermostats as well as smart room thermostats. It also includes a frost thermostat to protect your heating system from the cold weather. With the addition of a hot water storage cylinder, the boiler will heat the hot water as well as supply the radiators.
Ability to heat both hot water and radiators by adding a hot water storage cylinder
Energy-efficient and cost-effective
Easy to install and operate
Durable and reliable
Great value for money
Intergas Regular Boilers Reviewed
Intergas Compact HRE OV
The Intergas Compact HRE OV open-vent boiler is a great option for central heating in a system with a header tank. It helps keep your home warm by adjusting the heating capacity automatically based on your needs, which prevents any waste of energy.
Advantages
The Intergas Compact HRE OV has a feature that helps save energy and reduce heating bills by automatically adjusting its capacity.
It also has a high level of efficiency, with a efficiency rating of 93% (A rated).
Intergas Comparison with Other Boiler Brands
Intergas vs. Biasi
Intergas and Biasi are both popular brands in the heating solutions market, offering a range of high-quality boilers
In terms of energy saving, both Intergas and Biasi offer boilers with high energy ratings, making them a cost-effective central heating system option. However, Intergas is known for its unique two-in-one heat exchanger, which helps reduce heat loss and improve performance. This gives Intergas an edge over Baxi when it comes to energy savings and how efficient their boilers are.
Intergas vs. Ferroli
Ferroli and Intergas are both well-known and respected manufacturers of boilers and heating systems. Both brands offer a range of products, including combi boilers, system boilers, and open vent boilers, designed to meet the needs of different households and heating requirements.
When comparing Intergas and Ferroli boilers, it's important to consider factors such as reliability and cost. Ferroli has a reputation for producing high-quality and affordable boilers, while Intergas is known for their advanced and innovative condensing boiler technology.
Intergas boiler problems and error codes are less likely than with Ferroli too which adds to their appeal, so in conclusion, the boiler experts believe that because of Intergas having better reviews, Intergas has a major advantage, a topic we will now discuss.
Intergas Customer Reviews and Feedback
On the 7th of February 2023, a customer praised Intergas for their "Good Customer Service" and rated them 5 stars, meaning they were very satisfied with their customer service. The customer continues to explain how they were happy with the entire team over at Intergas.
According to the reviews on Trustpilot, Intergas has a positive 4.4 out of 5 stars on Trustpilot, although nobody is perfect Intergas really sets the bar when they are 8 out of the 13 best boiler manufacturers on Truspilot.
Out of 694 reviews (as of February 10th 2023):
85% were 5-star reviews
6% 1-star
This shows that out of the many Intergas customers has, many of them enjoyed their product/service.
As for the boiler reviews, one of the many boiler reviews we saw showed that a customer said "Flawless! We can't recommend enough." This statement suggests that the customer had a positive experience with the product. The word "flawless" implies that the product functioned without any issues or problems, which is a compliment.
The use of the word "we" could indicate that the customer had a positive experience not just for themselves, but also for others in their home. Additionally, the use of "can't recommend enough" implies that the customer was so satisfied with the product that they would highly recommend it to others.
Intergas Boiler Conclusion
In conclusion, Intergas boilers are a smart investment for anyone looking to upgrade their home's heating system. They offer a range of high-quality, energy-efficient products that are easy to use, reliable, and versatile. With Intergas, you can enjoy consistent and comfortable heating and warm water, while also reducing your costs and environmental impact.
One of the most popular Intergas boilers are the Intergas Xclusive range. These boilers are known for their precise temperature control, and their built-in filling loop. Additionally, the Intergas Xclusive Combi Boiler has a high modulation ratio of 1:9, which allows for even greater control and precision over the heating system.
Another reliable choice Intergas boiler is the Intergas Rapid Combi, which is known for its reliability, as it has fewer parts than other boilers. This also makes it easier to maintain and repair. The Rapid Combi is ErP compliant, and comes with a high-efficiency pump fitted as standard, as well as a built-in digital time clock, expansion vessel, and central flue.