Which Are The Worst Boilers & Brands to Avoid in 2023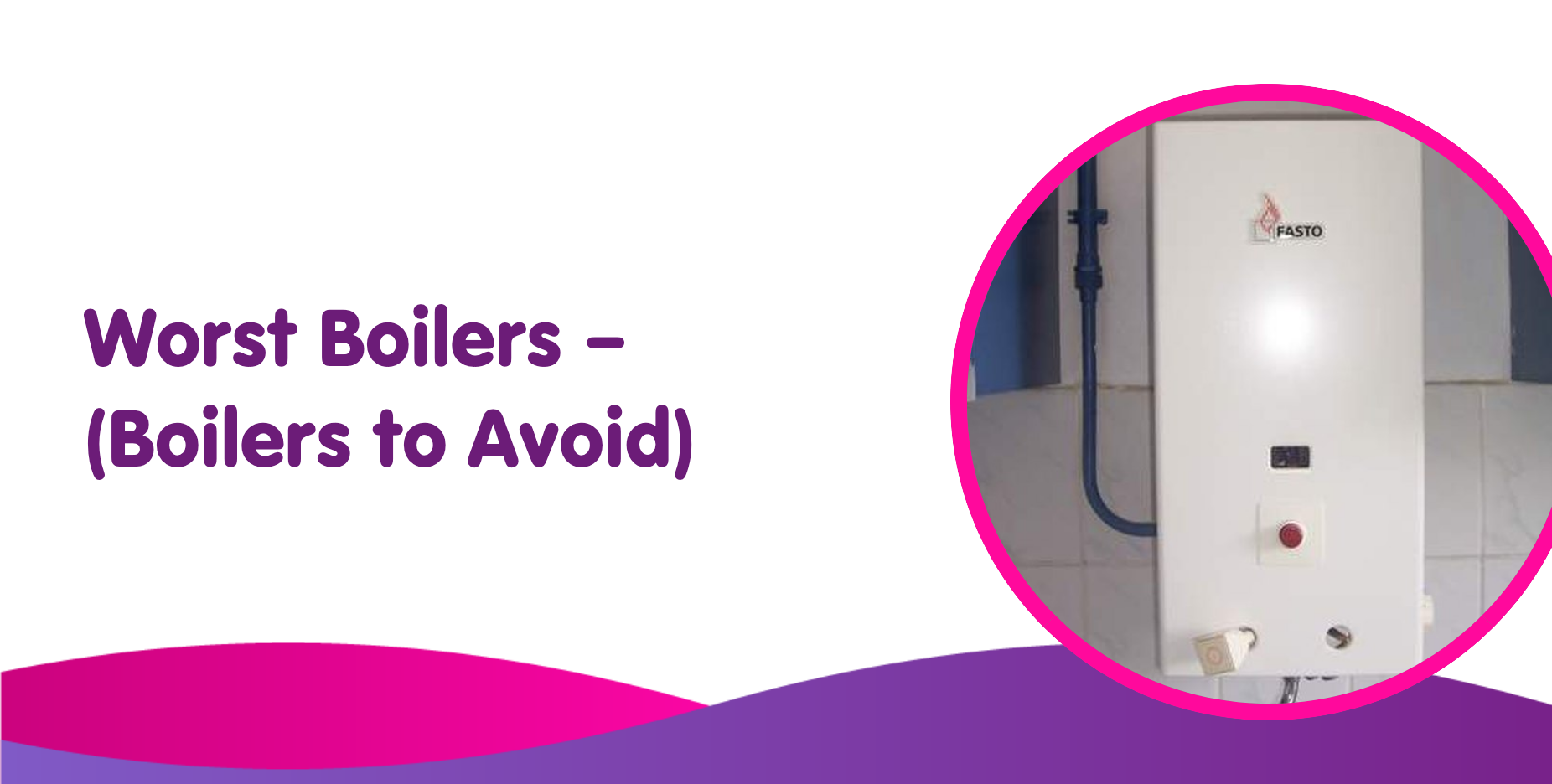 Which are the worst gas boilers and boiler brands to avoid
Before investing in a boiler, you need to know which one is the best and has the most optimistic track record and the ones that customers have had a bad experience with – the worst boilers – which in turn is something that can save you money and lots of heartache later.
Get a fixed price here in 20 seconds
To conduct an objective comparison between the worst boilers, we looked at reviews and ratings from homeowners and heating engineers to determine the worst boilers and the top brands and models that offer reliability, performance, and user-friendliness.
See our best combi boiler guide here – a complete contrast!
Which are the worst gas boiler brands to avoid?
Usually a boiler brand doesn't make one bad boiler, they are generally across the range poor, so we have to look at them all in each area.
We also looked at the warranties, efficiency levels, and cost and the following is what we learned about the worst boilers (the boilers to avoid):
After our survey and research, we learned that the boiler manufacturer with the worst reviews was Vokera, with a total score of 50%.
However, other well-known brands that offer few boiler models don't match the quality of the top brands therefore the boilers on this list found themselves here based on boiler reliability surveys and reviews from engineers and customers.
Read about excellent gas boilers with replacement here
Get an online fixed price in 20 seconds:
What kind of fuel does your boiler use?
Which are the worst boilers to buy right now?
Vokera's Vision 30c Combi Gas Boiler
Baxi's 400 Combi 2
Ferroli
1. Vokera's Vision 30c Combi Gas Boiler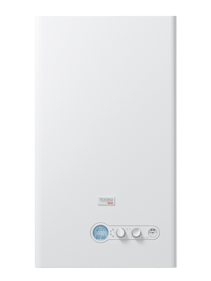 Vokera's Vision 30c combi boiler is a wall-mounted boiler with the highest output of 24.45kw, using gas as the fuel source. It is a compact model with dimensions of 715mm x 405mm x 248mm, making it the perfect boiler for those with smaller homes.
According to the manufacturer's description, the boiler is lightweight. It has an integrated digital clock that runs for seven days to give you maximum control of your heating and hot water.
In addition, you can turn it on at certain times of the day, so you'll never have to return to find a frigid and chilly house again. Moreover, it has a rear flue option.
The Vokera boiler features an effectiveness of 90%. The boiler also has an efficiency of 12 millilitres per minute. Now, everything looks good on paper, but here's the thing when you compare this with the results of top brands and boilers, reviews, and complaints of customers and engineers. You will see a noticeable difference.
The brand promises 97% efficiency, but the boiler is equipped with only 89% efficiency, making it a B rating. A suitable boiler with an A rating has an efficiency of 90%+. For example, a top brand like Worcester Bosch has a 94% efficiency rate.
Similarly, top brands also offer ten years or more warranty on their products, whereas the maximum security Vokera offers on their boilers is seven years.
Additionally, looking at the costs and reviews, you'll see one thing: they're not expensive. They could be up to 20% cheaper than the comparable Worcester. Furthermore, boilers that are this cheap use inexpensive components.
Vokera boilers make use of inferior Italian parts and therefore have many malfunctions. Engineers reported that they have tended to many Vokera boiler error codes, problems and repairs (gas valve failure, expansion vessels losing pressure) for Vokera boilers such as Vision 30C.
Therefore, a substantial labour charge is likely added if a less expensive boiler fails. For that, we advise selecting a boiler that is energy efficient, offers longevity, and overall quality like Worcester Bosch — and get an extended warranty period.
Pros
Wall-mounted
Lightweight
Built-in 7-day digital clock
Less expensive
Cons
Less warranty
Frequent failure of boiler part
Less energy-efficient than guaranteed
2. Baxi's 400 Combi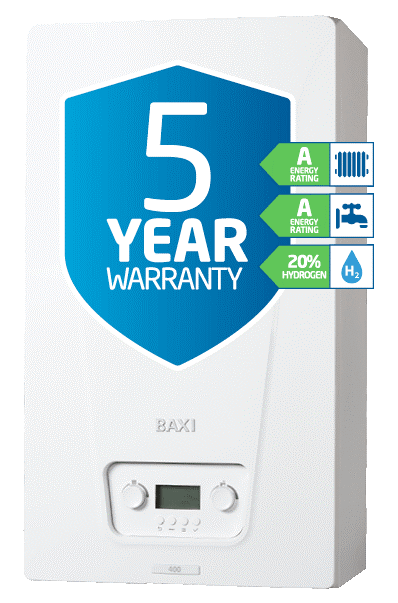 The Baxi 400 Boiler comes in two models: 24kW and 28kW. The 24kW model isn't as efficient in heating your home and providing hot water, while the 28kW is comparatively better. 24kW and 28kW are priced at £650 and £725, respectively.
Baxi 400 Combi is ideal for medium and small households that require a small boiler to fit into a kitchen cupboard. It is rated an A-grade for hot water and heating efficiency (89%) but compared to other brands' boiler models with the same output and cost, have a higher efficiency rate.
The boiler is ideal for apartments and homes with one to three bedrooms and a bathroom. You'll need a larger unit if you have two bathrooms or more. The 28kW version is particularly efficient in heating twelve radiators simultaneously and can provide central heating required for large houses but not hot water capacity.
Its control system is on the front of the casing. Control systems, such as an operational mode switch and buttons, let you adjust the hot water and central heating temperatures.
The system also comes with an LCD that displays fault diagnoses. For example, it shows the boiler's temperature and its current state. It's available with the smart control option or from various equipment, such as mechanical timers or integrated RF thermostats.
Baxi 400 systems come with an average warranty of five years, which is good but less than other manufacturers that offer more affordable and better-quality products.
The boiler is a decently priced, moderately-performing system with lower output. It isn't ideal for most houses in the UK with more than three bedrooms, but it will suit smaller properties well. The warranty is at the lower end of the spectrum and performance average in hot water heating and heat output.
Therefore, we recommend an identically priced lower-end model like the Viessmann Vitodens 050-w, a more efficient system with a staggering 98% efficiency. It also has a better flow rate that can reach 12.1L/m that is directly in competition with other most efficient combi boilers, like those of Worcester 4000.
Pros
Easy boiler installation and service
Quiet and compact heating
LCD manual control panel that is easy to use
Cons
Only ideal for limited/smaller space
It has a 5-year part and labour warranty, less compared to top brands
Even though it has an A energy efficiency rating, with an efficiency of 89% rating. Other efficient boilers are available.
Ferroli
Multiple customers have given poor reviews to the company, which is Italian-based, and has a UK presence, although the complaints are varied, they can be grouped and categorised. These are the most persistent and frequent complaints:
Ferroli condensing boilers fail frequently and are not reliable.
It is not easy to find replacement parts for Ferroli boilers. Customers have complained about going weeks without a working boiler.
The manufacturer takes a long time to deliver parts.
When you can. get them the cost of the parts is extremely high.
Ferroli has a customer score of 2 stars. The reliability tests rated the oiler at 3 out 5 stars. Engineers rated the manufacturer at 1 of 5. Ferroli's lack of parts is the most common complaint.
What are the most common problems with Ferroli boilers?
The following are some of the most common Ferroli Boiler Problems:
Leakage – Ferroli boilers' shut valves are poorly made and can lead to water leaking from the boiler. This is the most common issue that installers have to address with Ferroli boiler models.
Losing Pressure – The boiler's expansion vessel needs to be repressed occasionally as it loses pressure frequently.
Boiler locking-out – This can often be caused by a fault in the Printed Circuit Board (PCB). Usually, the problem can be fixed by replacing the PCB.
Why you should avoid unreliable boilers
Boilers are often referred to as central heating systems because the heat produced by the boiler is distributed across the entire home. However, in contrast to other heating methods, it is common to have a little delay between the boilers turning up and heat dispersing.
Most boilers produce hot water or steam made of natural gas and heating oil that are either condensing or non-condensing. As a result, boilers have at least 80 per cent efficiency, while some excellent boilers have up to 98.5 per cent efficiency.
Types of boilers
Gas-Fired Boilers
Gas-fired boilers run on propane or highly efficient natural gas. But natural gas isn't readily available in all areas, and homeowners near the end of an oil pipeline pay higher fuel prices. Propane is generally costlier than natural gas, yet it's readily available.
Oil-Fired Boilers
Purchasing an oil-fired boiler will require heating oil delivered into tanks. In addition, the operating expenses can be affected by fluctuation and a rise in oil costs.
Few boiler makers now have models that use biodiesel fuel that produces less carbon dioxide than standard heating oil. Following oil prices, biodiesel heating oils can be cheaper than regular oil. In addition, because it burns cleaner and also lubricates your system, biodiesel will reduce the boiler's maintenance and cleaning expenses.
Electric Boilers
Electric boilers are highly efficient in energy use. But, they're expensive because electricity costs more than other fuel types in several areas of the nation. So, think about a heating pump if you're looking into electricity-powered heating.
Condensing vs Non-Condensing
All boilers are non-condensing or condensing. A condensing boiler focuses on water vapour created during the heating process. It also utilizes waste heat to heat cold water in the boiler. Condensing boilers are energy efficient since they can offer heat even when working at lower temperatures.
Non-condensing boilers generally operate at higher temperatures. In addition, it emits some heat. Non-condensing boilers are between 80 to 88 per cent efficient. Condensing boilers are over the 88 per cent mark.
Things to Consider Before You Purchase a Boiler – How to get a good one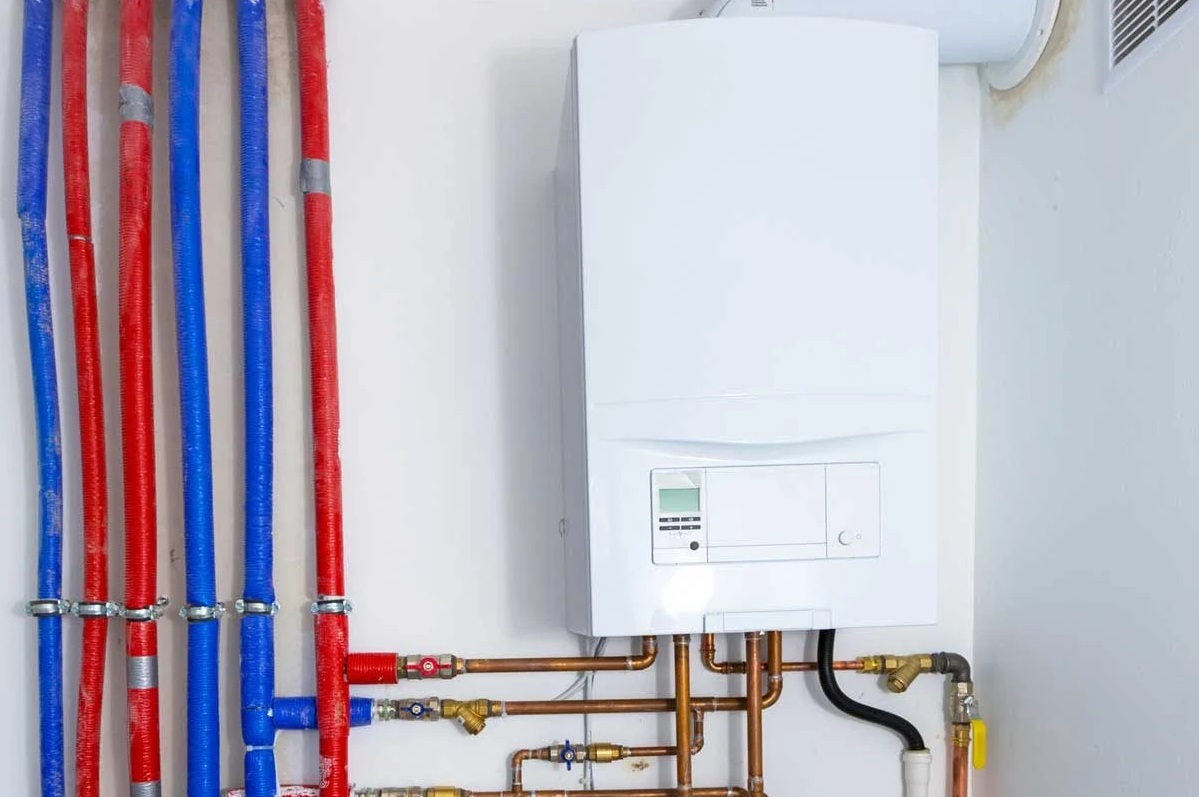 Climate
If you live in a cold climate, heating systems could be the right choice to heat your house. However, if you live in warmer areas, you might require central heating. If so, think about a heater that will meet your cooling and moderate heating needs.
Fuel Type
Gas-powered boilers can be more affordable to run than those powered by oil when heating oil costs are high. But, the type of fuel you select will be contingent on the availability in your local area.
Sizing
The size of the boiler is just crucial, as is its effectiveness. If your boiler is too small and inefficient, it will fail to function, and if it's too big, it will cost higher heating costs to your residence. Consult an expert in heating and cooling to determine the correct boiler size and type. You can also contact our experts and engineers for a boiler quote.
The calculation considers the foundation of your home walls, wall thicknesses, windows, insulation, air filtration, and many more.
Worst boiler FAQ's
What is the best energy efficiency for boilers?
Experts rate boilers using an AFUE or annual fuel-utilization-efficiency score. It tells them how much energy is converted into heat. New boilers should have at least an 80% AFUE rating. If it's between 90 and 98.5%, it is more effective and costs less in the long run.
Let's say that your current boiler's AFUE rating is 65 per cent, and you must pay £1300 annually to cover fuel expenses. If you purchase an efficient natural gas system with an AFUE score of 90 per cent, the savings you will make each year will likely be around £364.
How can I boost my boiler's efficiency?
If your boiler isn't functioning, don't purchase a brand-new boiler until you have made the rest of your house more energy-efficient. Reducing the heating bills will allow you to get the most miniature, affordable system. If you're in need, include:
Insulation in the walls and attic
Add weather shedding to doors and windows and caulk around them to prevent heat from escaping.
Insulate properly cooling system vents in crawl spaces as well as attics
Make sure your chimney is clean
Set the ceiling fan to swirl counterclockwise to help cool rising temperatures
Install and configure programmable thermostats that automatically lower the temperature during the evening and your time away. The programmable thermostat could save you 10% annually on heating costs.
Avoiding bad boilers – Conclusion
Regarding the worst boiler brands, the products above are among the top of the list of reviews. However, as we've learned, the presence of a low-end guarantee and low price indicates the boiler's unreliable and requires repair. If you are considering buying a new boiler, it is essential to consider the boiler's price and warranty period.