What Is An Airing Cupboard?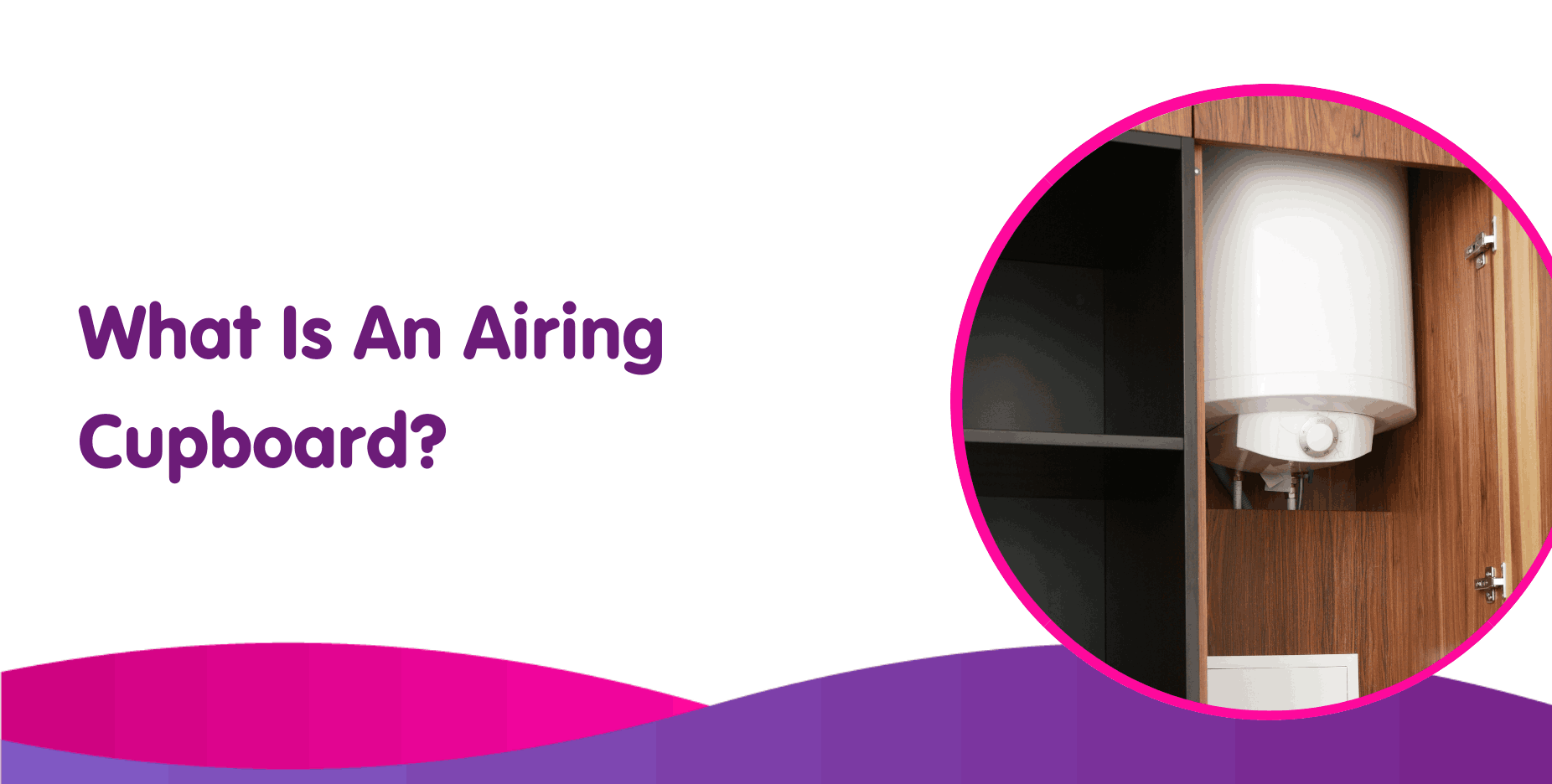 Most properties will have a number of cupboards for storing clothes and belongings, but one cupboard stands apart from all others, the airing cupboard.
This article will explore the main purpose of an airing cupboard and how else it can be put to use.
Keep reading for our top tips on how to maximise your airing cupboard space or make use of it if it's not required for a hot water tank.
What Is The Main Purpose Of An Airing Cupboard?
If you have a system boiler or conventional boiler, then an airing cupboard is a storage area that is usually reserved for the storage of a hot water cylinder or tank. However, if you have a combi boiler, this can be where this is housed instead and can be one of the best places to put a boiler.
They are usually relatively large, so they can store the necessary equipment like the tank itself, central heating pump and copper piping. They can be located on a landing or in a bedroom or utility room. This will usually be near where the hot water supply is required.
Larger properties with higher hot water are more likely to have larger airing cupboards with a high-capacity storage tank. This is because the hot water tank will be larger.
Not all boilers require a hot water tank such as combi boilers, therefore the hot water tank can be removed, so in some cases, the airing cupboard will be empty and can be used as storage.
What Can An Airing Cupboard Be Used For?
Airing cupboards can take up a relatively large amount of space in our homes. Making the most of them can be beneficial to homeowners, so here are some of our top suggestions for airing cupboard uses:
Boiler
Not all boilers require a hot water tank. If this is the case and you are getting a new combi boiler installed, you could explore getting this installed in your airing cupboard. This is a popular idea for people who are changing to a combi boiler from a system boiler.
Any installation will have to be carried out by a Gas Safe-registered engineer. The cupboard and boiler must also be room-sealed. This is when the air used for the combustion process is taken from outside. The waste air must also be expelled outside to ensure fumes don't come into the room.
A cupboard that is against an exterior wall is ideal for this as it will allow easy access to install the flue.
Check out the best boilers here that are compact and will fit nicely in an airing cupboard.
Hot water tank/cylinder storage
If you plan to install a boiler that uses a hot water cylinder or tank, your airing cupboard is the best location for it. System boilers and conventional boilers are popular types for larger homes and require a hot water cylinder to work.
Depending on the size of your hot water cylinder, you might even have space to install slatted laundry shelves above. This will help you make use of the space.
Clothing cupboard
If you don't have a boiler or water tank in your airing cupboard, this frees it up for use as a regular cupboard. You will be able to install shelving or rails to make the most of your space and store your clothing.
If your airing cupboard is in a utility room downstairs, it can make a perfect cloakroom. This can be ideal for storing jackets and shoes.
Utility closet
Another idea for a utility room is to use it for brooms, mops and cleaning equipment. Some airing cupboards may even have room for an appliance like a tumble dryer or washing machine.
Towel storage
An airing cupboard that is used to store a hot water tank will always be nice and warm. This can make it the perfect location to store towels.
By installing slatted shelves, your towels will be warm and comfortable whenever you want to use them.
Slatted laundry shelves in an airing cupboard are also ideal for bed linen as well as towels.
Plants
Airing cupboards can be used to nurture plants that benefit from dark, warm areas. Germinating seeds in this kind of atmosphere can be beneficial to gardeners and horticulturalists.
Slatted shelves can allow the heat to rise in an airing cupboard which will then warm any seedlings above.
How Should An Airing Cupboard Be Organised?
Organising an airing cupboard that is being used to store towels or bed linen will be similar to organising any other kind of cupboard in your house.
Ensuring things are neatly folded and put away in a certain order will help. This is because you'll be able to locate items without rifling through them all.
You should never overpack an airing cupboard, as this will stifle the airflow and result in musty-smelling items.
Spacing items out on slatted shelves will help the warm air from the hot water tank to move freely.
Using wire baskets rather than plastic tubs will also benefit the airflow of the cupboard. This will allow smaller items like washcloths and underwear to be stored neatly.
If you are going to use bags to store items, you should use fabric bags and label them appropriately. This way, moisture won't collect on the plastic, and your clothing will be able to breathe.
Removing The Musty Smell Of Airing Cupboards
Nobody wants a slightly damp airing cupboard. If there is too much moisture, it can start to smell a bit musty. Airing it out every so often can help, as can storing laundry that has been washed in detergent with an appealing scent.
Another way to stop your airing cupboard from smelling musty is by using scented sachets. They will help to neutralise the bad odours and replace them with something more appealing.
Things To Consider When Installing Shelving And Rails In An Airing Cupboard
Installing shelving in an airing cupboard requires some patience and dedication. However, it can be an inexpensive way to enjoy a great new storage area in your home.
If you plan to install shelving in an airing cupboard that houses a hot water tank or boiler, you must still allow access for servicing. Removable slatted shelves can be a great way to maximise space without limiting access.
You must also ensure that ventilation and airflow won't be restricted by any alterations you make.
Consider shelving and railing as an option for empty cupboards, as this can allow a more versatile range of clothing or items to be stored in them.
Safety must be a priority when carrying out any DIY job, so ensure you have the correct protective eyewear and clothing. A dust mask and gloves are essential when using saws and drills.
You should always double-check your measurements to ensure your shelving is flush and level.
Leaving space at the bottom of an airing cupboard allows easier storage of boxes, vacuum cleaners, or other bulky items.
FAQS
Why is it named an airing cupboard?
Despite the original purpose of an airing cupboard being for hot water tank storage, they are also used to air out laundry. This is where the name comes from.
It is a storage area that is typically warm and helps laundry, towels, and bed linen stay fresh.
Can you put wet clothes in an airing cupboard?
It is not advised to put wet clothes in an airing cupboard. This is because the moisture typically won't be able to escape the area, causing it to circulate. A damp airing cupboard can end up smelling musty and can even encourage the growth of bacteria and mould.
Do all properties have an airing cupboard?
Not all properties will be designed with airing cupboards. Modern, smaller properties may be designed with combi boilers in mind. Combi boilers don't require additional storage tanks and don't take up much room.
Do I have to use slatted shelving in an airing cupboard?
If you still have a hot water cylinder or tank in your airing cupboard, using slatted shelving allows the warm air to flow more freely through the area.
If the airing cupboard is not used for storing hot water, it can be used as a linen closet. Slatted shelving can still be useful, but you can also use solid shelving as the air won't circulate as freely without the heat.
What are the regulations for putting a boiler in an airing cupboard?
If you are installing a room-sealed boiler in an airing cupboard the following regulations must be met:
The door of the cupboard must open
There must be a gap of at least 300 mm between the boiler top and the cupboard ceiling
There must be a gap of at least 100 mm between the bottom of the boiler and the cupboard floor
The cupboard must be a depth of at least 700 mm
Final Thoughts
Airing cupboards are typically functional storage areas in homes designed for hot water storage. They can also include shelving for laundry storage. This is a great way to make the most of the heat generated, helping you run a more energy-efficient home.
They can also be used to store boilers that don't require storage tanks. In some cases, boilers may be installed elsewhere leaving you with additional storage space.
Empty airing cupboards can be used to hang or store clothing and bedding. The additional storage space can be a huge benefit to a house. All the uses advised in this article can transform your airing cupboard into a functional space that can declutter your home.