Boiler Flue Replacement Cost, Prices & More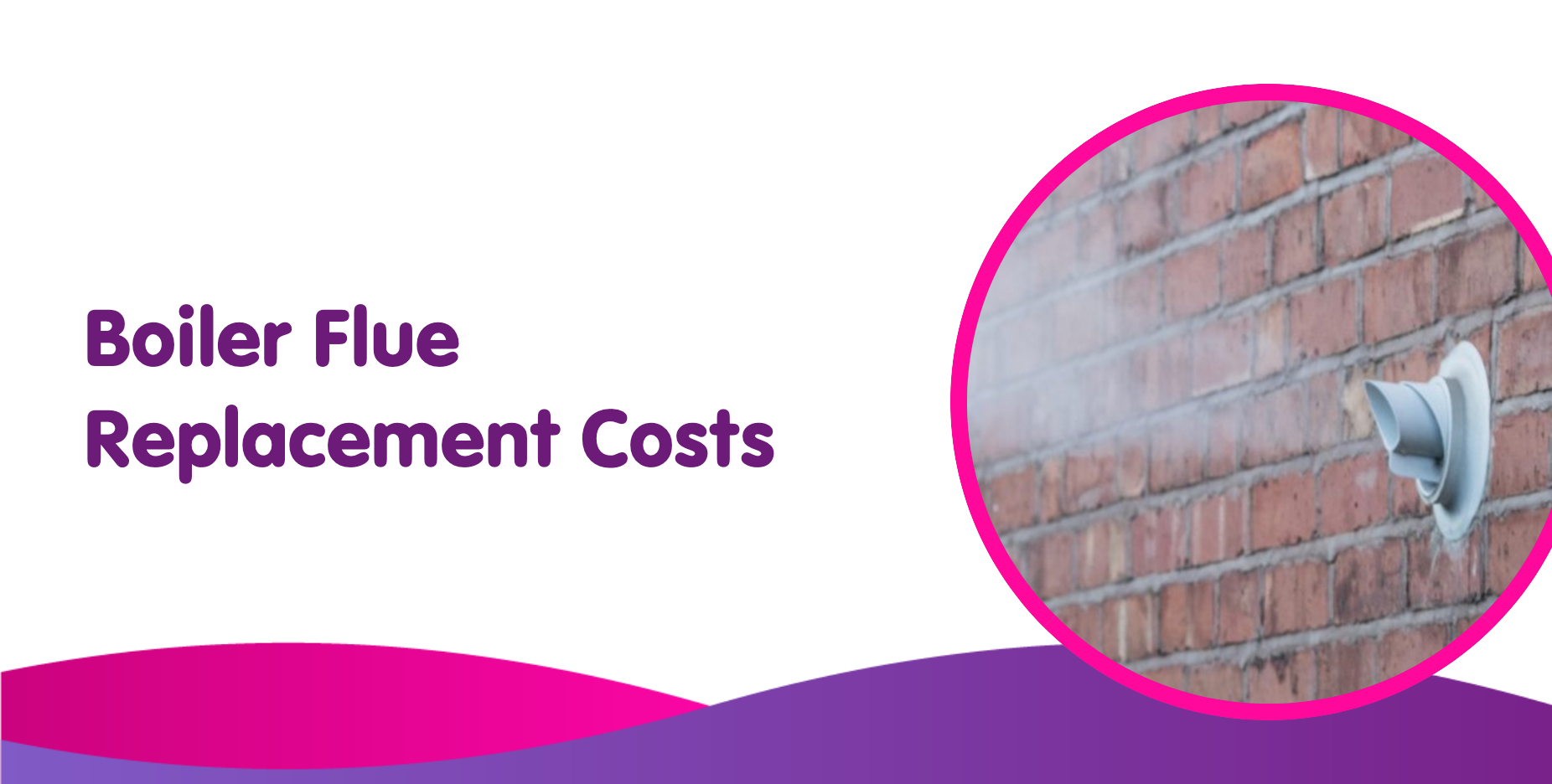 A boiler flue must be replaced in order to replace an older boiler and as this is a crucial task it should only be done by Gas Safe registered installers.
It is a simple task that a competent person can do, and usually if you are getting a new boiler, the cost of replacing a flue is usually included in the boiler installation price.
There are many boiler flue regulations that must be considered, therefore this can sometimes make it more difficult to change the boiler flue and increase costs.
Get an online fixed price in 20 seconds:
What kind of fuel does your boiler use?
How much does it cost to install a new boiler flue?
A simple horizontal flue installation would cost around £200 including parts and labour.
Basic flue kits for most boilers are around £100. The rest of the cost includes labour to drill through brickwork and make it right.
This should be included when an installer quotes for the cost of boiler replacement. However, if the boiler is being moved, then the cost of replacing an old flue might be added.
Although it can be difficult to find exact match bricks, a local installer will often have experience in this area and you can ask them when you get your annual boiler service.
Installations that are more complicated or difficult can be more expensive and may cost you between £400 and £600 as this would involve constructing flue pipe up to six or seven meters long, through a number of bends and through a roof.
This would be known as a vertical flue and brickwork will also be required where an older square flue was removed., if this is the case and there are excessive costs, then you could spread the cost with boilers on finance.
An access tower or scaffolding can also be necessary when working at height and as such can be costing between £50 and £100 per day, plus if you have moved or you are replacing a boiler you may be looking at extra copper piping costs.
Cost of horizontal flue
A standard horizontal flue costs £80-£150 just for the unit itself when you buy a Boiler Central, all horizontal flue prices are included. This also includes the flue installation costs too.
Horizontal flues are the most common type in the Uk and come out of the side of the outer wall where your boiler is installed.
If you are thinking of moving your boiler, we can also include this in your fixed price too as well as the cost of copper piping.
Cost of vertical flue
A vertical boiler flue costs £300 – £700 depending on how long it is and how far it is from the boiler.
The vertical boiler flue is simply the pipe that runs from the boiler out of your house but through the roof instead of the side wall.
It ensures that condensation and flue gases are removed safely out of your home exactly the same but sometimes a boiler is installed in an awkward place.
Boiler flues that exit vertically through your roof need more work and incur greater costs and they take longer to install usually and there are often extensions to be added to the pipework.
Flue Extension Cost
Boiler flue extension cost £30-£80 per metre. If your boiler is not installed on an external wall, you may need a flue extension kit to make sure that the gasses are removed from your home.
Boiler flue extensions aren't usually that long and there are limits depending on the type of boiler. However, some boilers are designed to be able to have flue extensions over 20 metres.
Is replacing a boiler flue worth the costs?
If you are getting a new boiler, replacing your flue will be necessary but it will also be included in the price, so therefore it shouldn't really matter to you.
Your boiler flue is just as important as your boiler itself as it ensures that your home is kept safe from poisonous gasses like carbon monoxide.
Take a look at our other guides in relation to hot water tank removal costs if you are thinking about changing boiler type.
Get a fixed price quote now with Boiler Central for a full boiler replacement including all boiler flue costs with full installation in under 20 seconds.
FAQs
Where is the boiler flue?
The boiler flue is usually on an outside wall or on the roof depending on the type you have. A flue is about the width of a regular car exhaust and if your boiler is switched on, you should see steam rising from it into the air, especially in winter months. Don't confuse your flue for your condensate pipe which is much smaller and thinner.
Do all boilers need a flue?
Only gas boilers or boilers that burn fossil fuels require a flue, so if you have a electric boiler, you wont need one. Modern condensing gas boilers are the most common types of boiler in the UK so most people will have a flue.
Is the flue checked during a boiler service?
yes, the flue is checked as you need to ensure that the gasses are escaping properly from your home. This can make the boiler service cost worth it as if there are gasses lingering in your home such as carbon monoxide, then this could be disastrous.
I have a back boiler, can I get a new boiler with a flue?
Yes, you can convert to a combi boiler, and back boiler replacement to a combi boiler is recommended, however, you will have to find an external wall where the flue can be installed unless you want to go through the roof which unfortunately is more expensive.