Daikin Heat Pumps – Daikin Air Source Heat Pumps Reviews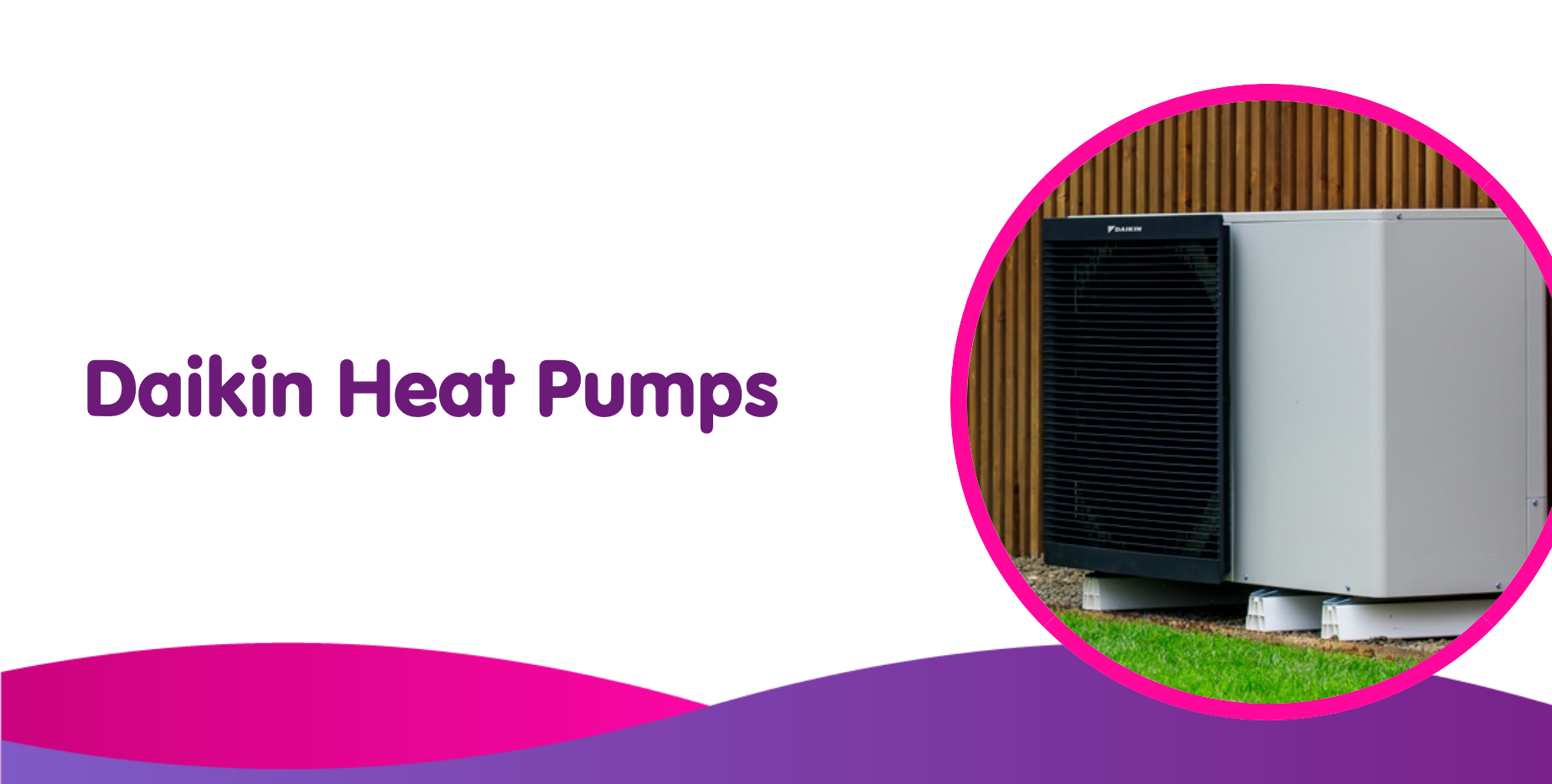 Daikin air source heat pump review, price & installation guide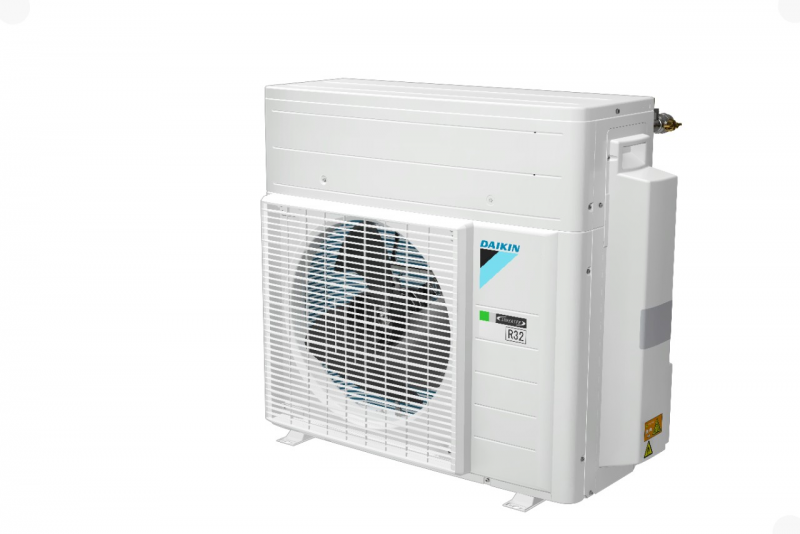 Homeowners are increasingly using Daikin heat pumps to help meet their homes' heating and cooling requirements, therefore as a homeowner, you may want to switch from the current fossil fuel-based solutions to heat pumps driven by renewable energy for various reasons.
These include their adaptability, efficiency, long-term return on investment, and reduced environmental effect, equally, it is important to know which heat pumps offer long-term sustainability and reliability.
We recommend the Daikin Altherma Hybrid but read on to find out how Daikin heat pumps are the best bet to buy so we have also included answers to some of the most crucial questions you might have when you first start thinking about heat pumps. So, let's get started!
Want a heat pump quote? Use our contact form to speak to an expert now
Daikin Heat Pumps Quick View
Best Energy-Efficient Heat Pump: Daikin Air-to-Water Low-Temperature Heat Pump
Best Overall Heat Pump: Daikin Altherma Hybrid
Best Reliable Heat Pump: Daikin Air-to-Water High-Temperature Heat Pump
Best Energy-Efficient Daikin Heat Pump: Daikin Air-to-Water Low-Temperature Heat Pumps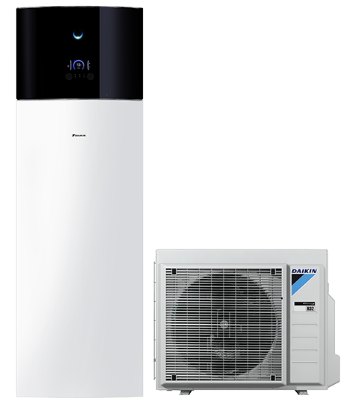 These air-to-water low-temperature heat pumps are an all-rounder solution for all your heating, cooling, and hot water problems.
Many invest in Daikin's air-to-water low-temperature heat pumps because of their energy-saving mechanism. Its energy-saving mechanism cuts a significant amount of money off your bills.
In addition, these pumps can be combined with low-temperature radiators and underfloor heating to keep your home warm and cosy while using minimum energy.
They are designed and manufactured in Europe to cater to all Europe's weather throughout the year.
So, these pumps prove to be a worthy investment that makes your life easier in all European climates. Not only that, but these energy-efficient heat pumps prove to be an excellent investment if you are on a budget.
Heat pumps work by transferring heat. Daikin's unit consists of an evaporator, a condenser, and a refrigerant. The heat is circulated between the evaporator and the condenser by the refrigerant.
This cycle is used to heat your homes in winter and reverses to cool your homes in summer. The best part is they are powered by renewable energy, and you can combine them with solar support to save even more energy.
It comes with a Daikin residential controller app for your convenience. You can connect the devices with Wi-Fi and control the climate with your phone lying on your bed.
Pros
Uses energy efficiently
Provides even distribution of heating and cooling
Powered on renewable energy
Compatible with a mobile app
Cons
Relatively lower heat supply than a boiler
Lower efficiency when maintaining temperatures below zero
The installation process requires an expert
Best Overall Daikin Heat Pump: Daikin Altherma Hybrid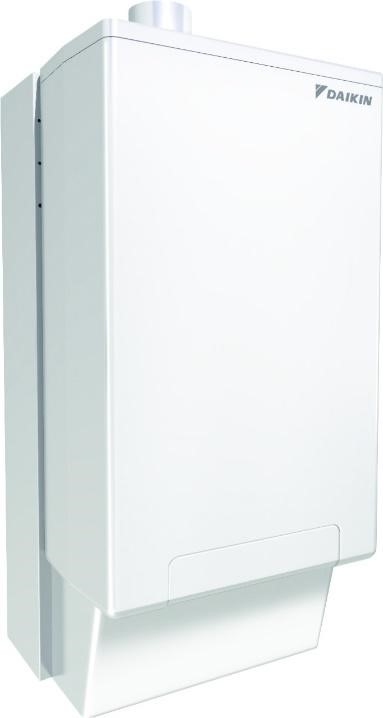 Daikin Altherma heat pump uses renewable air-to-water heat pump technology with a gas condensing boiler for maximum efficiency.
Its intelligent programming uses energy prices, exterior temperatures, and the building's heat source capacity to determine the most affordable and energy-efficient combination, saving much more energy than a conventional condensing boiler. This makes it an exceptionally worthy heat pump.
Its innovative design integrates well with existing pipelines, and the machinery works so quietly that you will likely forget it's even there.
The system is powered by renewable energy extracted from the air making it an optimum combination of renewable and traditional energy sources for maximum energy conservation.
The Daikin Altherma hybrid heat pump employs condensing technology to provide heating and domestic hot water up to 15 per cent more efficient than conventional gas condensing boilers, thanks to its innovative dual heat exchanger!
The design is attractive and compact to make things even better. Also, the installation process is so easy that you can DIY it!
Pros
Energy efficient
Environmentally friendly and reduces carbon footprint
Long-lasting system and reliable
Easy to install
Even heating
Cons
Costly to install
Not completely renewable
Best Reliable Daikin Heat Pump: Air-to-Water High-Temperature Heat Pump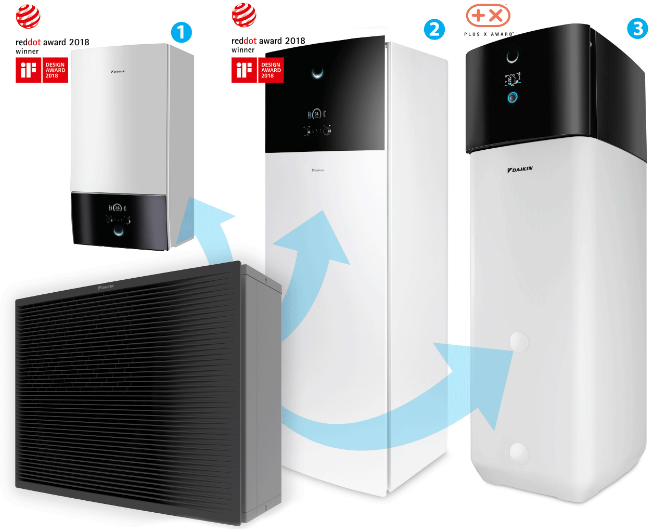 Renovations and replacing outdated boilers are perfect applications for air-to-water high-temperature heat pumps. In addition, the existing piping and radiators in your home can be effortlessly integrated with the Daikin Altherma high-temperature heat pump.
You can benefit from a heat pump's energy efficiency without replacing your system entirely. These heat pumps use renewable energy sources as their primary energy source, meaning the heating process is energy-efficient and sustainable.
You can also make this system even more energy efficient by combining it with solar support. However, it's essential to mention that planning permits are necessary for its installation.
Pros
Reduced operating expenses
Requires less upkeep
Improved safety measures
Lower carbon emissions
Extended lifespan
Eligible for the RHI program
Cons
High initial costs
Difficult to install
Issues in the winter
It leaves a partial carbon footprint
Daikin Heat Pump Buyer's Guide
Heat pumps, such as refrigerators or air conditioners, can be found in your houses. But when it comes to HVAC systems, the heat pump is the thing that puts it all together and acts as a middle man managing appliances in your home for heating, cooling, or hot water.
Typically, a heat pump comprises an outdoor and indoor unit. The indoor unit will handle the temperature change and provide on-demand heating and cooling.
Hot water depends on which emitters or units it is connected to by using energy (hot or cold) obtained from the air, ground, or water and sending it to the indoor unit. So, you must know the points to consider when buying a long-lasting heat pump.
Types of Heat Pumps
There are multiple heat pumps, and your decision depends on the property type you want to install it on and your existing heating setup.
An example could be that an air-to-water heat pump will be most beneficial to you if you want to use it for underfloor heating systems or warm air heating because of the lower water temperature needed.
Heat pumps for new houses, greenhouse, and upgrades:
Air-To-Water low-temperature heat pumps will offer cooling as well as heating and hot water, and air-to-air heat pumps, often known as air conditioners, are a low-cost and straightforward choice. Both harness the energy in the surrounding air to provide heating and cooling in an energy-efficient manner.
The cost of an air source heat pump makes them the most viable option.
Ground source heat pumps are highly efficient and cost-effective for new houses where the installation can be done during construction without much disruption. Ground source heat pumps cost more than most other types.
Heat pumps for existing systems or older radiators:
Air-to-Water high-temperature heat pumps are ideal when working with existing piping systems or older radiators that run at higher temperatures than modern heating systems.
This type of heat pump can provide heating, hot water, and optional air cooling (if the system is connected to radiators), and using water to transfer energy ensures optimal comfort.
For renovations or to replace old boilers, use these:
Hybrid heat pumps are optimal if you plan on renovating a property and need to replace the old boiler. Powered by the combination of air, electricity, and gas, depending on their abundance and prices, it can be a very versatile, budget-friendly option.
Hybrid heating systems are likely to become more popular once they become cheaper.
Environment Friendly
Heat pumps mainly rely on renewable sources of energy. After being installed, most of your heating and hot water requirements will be utilized with 100% efficiency when compared to a fossil fuel boiler. Therefore, heat pumps are today's most eco-friendly and economical heating solutions.
Are Heat Pumps Worth the Investment?
Despite the initial outlay, your heat pump will more than pay for itself throughout its lifetime in terms of comfort, dependability, and decreased energy costs.
The amount of renewable heat produced from the air per kilowatt of power a heat pump uses ranges from 3 to 4 kilowatts, which is a 300–400% efficiency increase.
To achieve the optimum level of efficiency, it is crucial to add sufficient insulation and draught-proofing to the home. Heat pumps run more effectively when a home is well insulated.
Daikin heat pump FAQ's
Can I reduce carbon emissions using a heat pump?
The carbon footprint of heat pumps is influenced by the age of the electrical system that supplies the local energy grid because they use electricity to heat your home. Heat pumps are one of the cleanest options in their niche because of the generation mix.
If your heat pump offsets just one-third of your home's yearly heating load and you use oil, it will eliminate 2,400 pounds of CO2 annually, equal to stopping three months' worth of typical driving in terms of carbon emissions.
Your carbon emissions will decrease more; when your heat pump offsets your home's heating by fossil fuels in large quantities.
Can heat pumps produce cool air?
Yes, heat pumps have a reversible mechanism that can provide cool air. In addition, a heat pump transfers heat from one place to another using relatively small energy. Not too challenging, right? To heat a house or office building, heat pumps extract heat from the air or the earth, but you can also use them to cool a building.
So, like an air conditioner, the heat pump releases heat rather than pumping it inside your house. Reversing the refrigerant causes it to flow outside while absorbing heat on the inside side of the device.
Why does my heat pump stop for short instances in the cold weather?
This may be due to the short defrost cycle that removes ice from the outdoor unit. Heat pumps will periodically undergo a brief defrost cycle in cold weather to clean the outdoor unit from ice. The heat pump temporarily stops providing heat when this occurs.
Other features
Heat pumps can also act as heaters, air conditioners, dehumidifiers, fans, and room air filters.
Daikin heat pumps – Conclusion
Heat pumps are energy-efficient all-rounders and cater to all your heating needs. They are great if you need something inexpensive to work in all climates.
Heat pumps come in varying sizes and are multifunctional. It is an excellent energy-saving investment if you're looking for a heater, an air conditioner, or even a humidifier, all in one!
We hope this guide on Daikin heat pumps helps you choose the one best fits your needs. So, get yours now!