Best Heat Pump Brands & Manufacturers In The UK 2023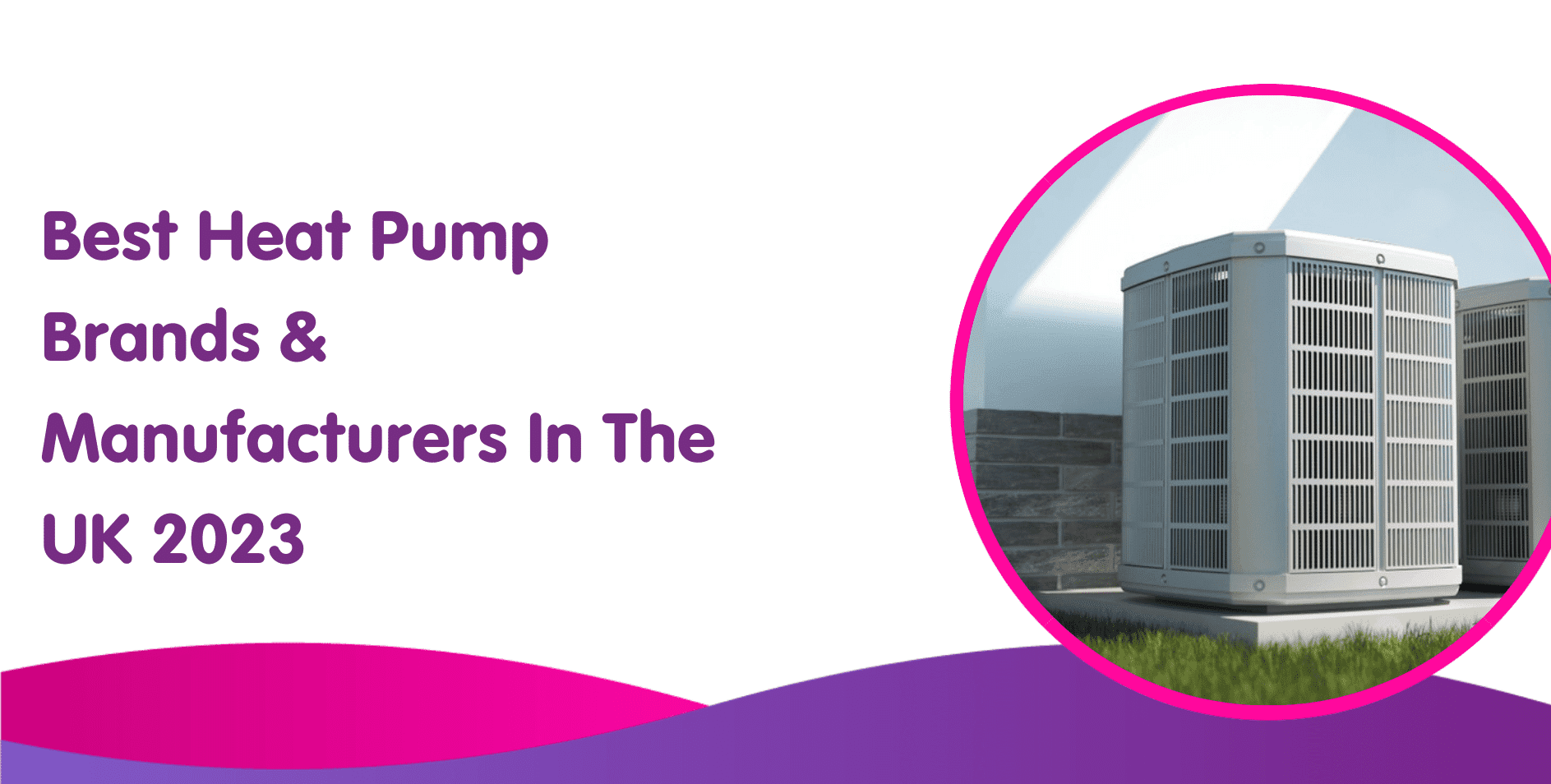 Best Heat Pumps Brands: Our guide to the latest heat pump manufacturers in the UK

Heat pumps and boilers are very similar in some sense in that they are ways to heat your home, therefore there are brands that are relevant to boiler companies that you will be aware of, and some that you are not.
Just because you may not have heard of them doesn't mean that they aren't any good, it's just that heat pumps are relatively new to domestic heating and this article will highlight the best heat pump brands available on the market, so, without further ado, let's begin!
Want a heat pump quote? Use our contact form to speak to an expert now
Get an online fixed price in 20 seconds:
What kind of fuel does your boiler use?
Best Brands For Heat Pumps: Our Top 8 Manufacturers
Heat pumps are probably too expensive for most, but hydrogen blend ready boilers are a more viable solution and you can get a fixed price with full installation on a 20% hydrogen-ready boiler for under £1,800 now with Boiler Central however another solution is to use a hybrid heating system combining a gas boiler and heat pump to get the best of both worlds. But if you are looking for the best then here is our guide to help you choose:
#1 Heat Pump Brand – Vaillant
Vaillant is one of the largest brands in the heating industry, and while it is typically associated with a gas furnace, it is also one of the brands leading the way in renewable energy. This push to renewable energy is underpinned by the aroTHERM air source heat pump being the most advanced one.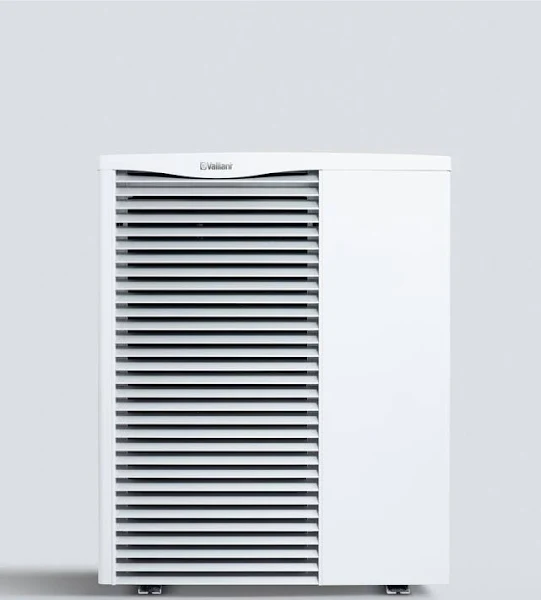 The aroTHERM Air-to-water Heat Pump is a great choice for homeowners looking to solve their heating solutions and reduce their footprint, and it also helps that this heat pump can help you save money.
One of the many reasons you need to consider a heat pump from Vaillant is that its products are 300% efficient which means that for every 1 kilowatt of energy the air source heat pump uses, it produces 3 kilowatts of energy, therefore this efficiency can help you reduce your monthly energy bills.
A feature of most Vaillant heat pumps is the hybrid heating solution, the first step towards a greener renewable energy future and if you think about it; you get the best of both worlds. It combines the familiarity of a gas boiler with the innovative technology of an air source heat pump.
Every heat pump from Vaillant has the Quiet Mark, which means that they perform without disturbing the ambience of your home. It is one thing to have appliances that work effectively; it is another to have peace sacrificed on the altar of energy efficiency, so their flagship aroTHERM heat pump has the Quiet Mark award for achieving this.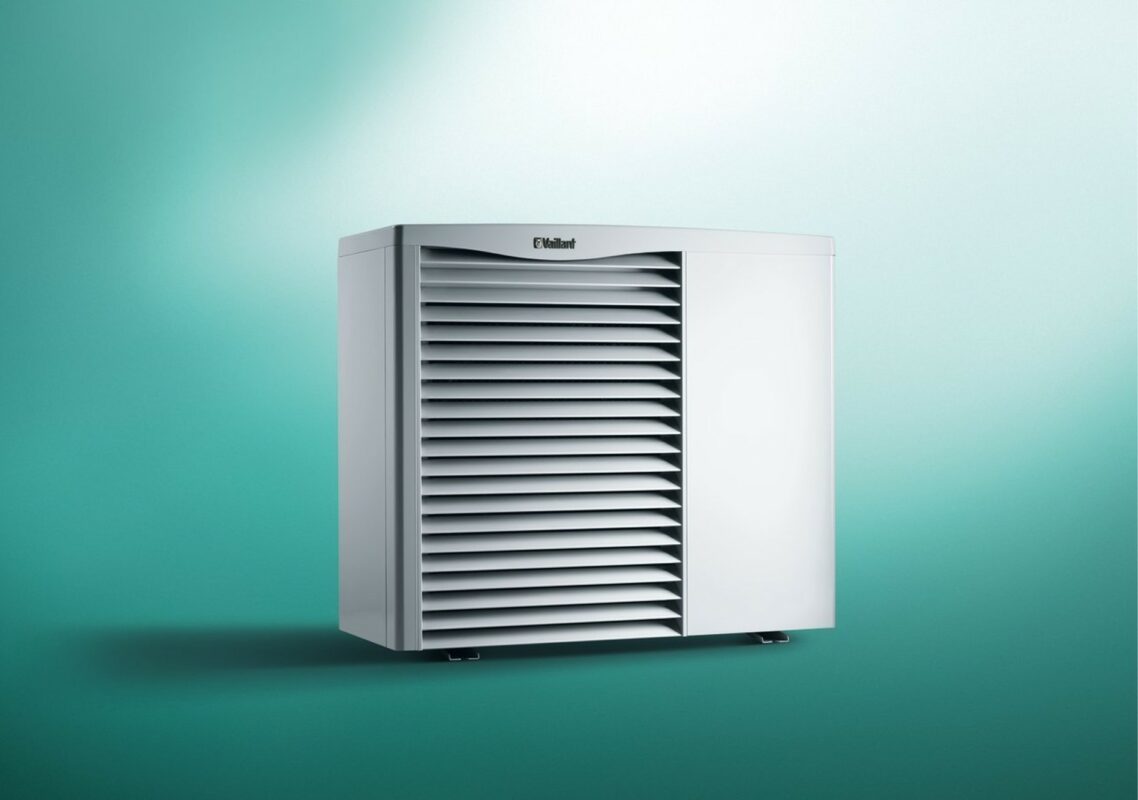 Much has been said about reducing your carbon footprint, but this Vaillant heat pump effectively reduces a household's emissions by 50% and as a result, relying on air to get hot water and heat your home instead of oil and gas can significantly reduce both your energy bills and global warming potential.
How much does a Vaillant heat pump cost?
To purchase and install a Vaillant air source heat pump, you can expect to spend anything from £6,000 to £12,000 , nevertheless, you should note that the price you pay at the beginning will be taken care of down the line, especially considering the years of potential savings. Furthermore, you should note that the price depends on the heat pump model you select and the installation cost. If the installation process is complicated, that can also drive costs up.
2nd Best heat pumps – Viessmann

The Viessman heat pump brand has been in operation for more than 100 years, and as a German company, its products are created with technological innovation. The Vitocal 300-a air-to-water heat pump is suited for indoor installation and outdoor installation, and while they share the same name, you should note that one is meant for use outdoors while the other is for indoors.
Viessmann Vitocal heat pumps
The latest iteration of the Vitocal 300-A was redesigned to become one of the most attractive heat pumps available, thanks to its contemporary design. This redesign offers this Viessmann heat pump in various capacities ranging from 7 kW to 8.5. It has a maximum flow temperature of about 65°C, making it suitable for the modern demands of semi-detached and detached homes. You can combine the Vitocal 300-A with a solar system to lower operating costs. You can also control it from smartphones or tablets via the app. However, this only works when you connect the heat pump to the Vitocom 100.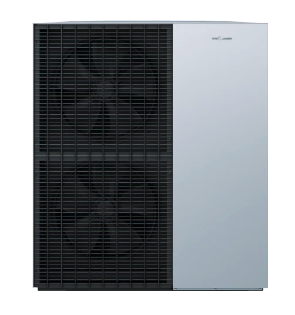 Viessmann adds an extra feature that becomes apparent in the summer. This heat pump has an RCD or refrigerant cycle diagnostic system. This feature constantly monitors the home's heat requirement against the available heat. It does this to be as efficient as possible.
The Vitocal 200-A is another heat pump that comes in a single unit. It is a monobloc, which means that all its heat recovery components are hidden inside the heat pump. This enables a cleaner installation. Water lines connect the outside unit to the indoor one. You can also combine the Vitocal 200-A with solar panels or integrate them into existing or new heating systems.
With a Viessmann heat pump, you can save money on your energy bills while lowering your carbon footprint. Furthermore, a Viessmann heat pump is a lot easier to maintain. Consider that a boiler's lifespan is just 10 years before it needs to be changed to a brand new boiler. A heat pump, particularly one from Viessmann, can last for about 25 years so long as it gets a yearly service check.
With a Viessman heat pump, you can seamlessly heat your home all year round. Viessmann heat pumps are designed to work even in the worst UK temperatures. These pumps can handle temperatures as low as minus 10 degrees Celsius.
The Vitocal 100-A uses modern technology and advanced acoustic design, making them almost inaudible when functioning. It achieves this by using the most innovative compressor technology and advanced components to provide low vibrations, quiet running, and a long lifespan without too much maintenance.
You also get smart controls on numerous Viessmann heat pumps. You can control these heat pumps using a smart device, either a smartphone or a tablet, so long as it is connected using the free ViCare app and the Vitoconnect control unit. With such control, users can keep on top of their energy usage.
How much does a Viessmann heat pump cost?
You should understand that the cost of a heat pump also includes installation fees. With that in mind, you can expect to spend anything from £5,000 to £10,000. While this cost might seem high, you should know that the savings you will make from cutting your energy expenses will make this cost worthwhile in the long run.
Furthermore, how much you eventually pay for the Viessmann heat pump will depend on the heat pump model you select, how long it takes, and how easy it is to install it.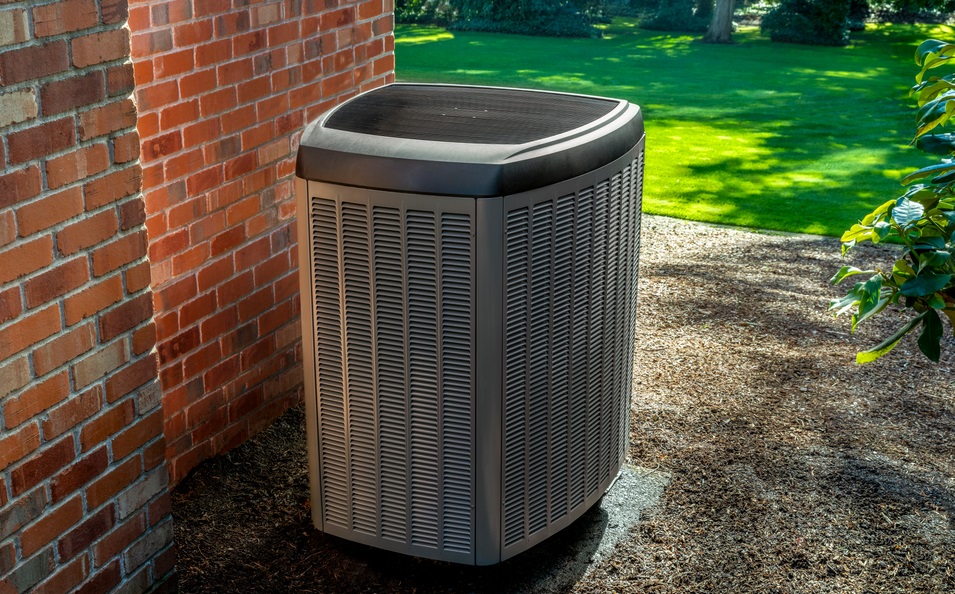 3rd Best – Daikin heat pumps
While Daikin is a world-renowned heat pump manufacturer, it wasn't until it purchased the Goodman Global Group in 2012 that it came into its own in the international markets. A quick search online will show you that Daikin has a vast array of heat pumps to select from. 7 models make up the budget-friendly line-up, and 3 named units offer a more premium product. Each of these heat pumps comes with numerous features, compressors, and options that make them noteworthy.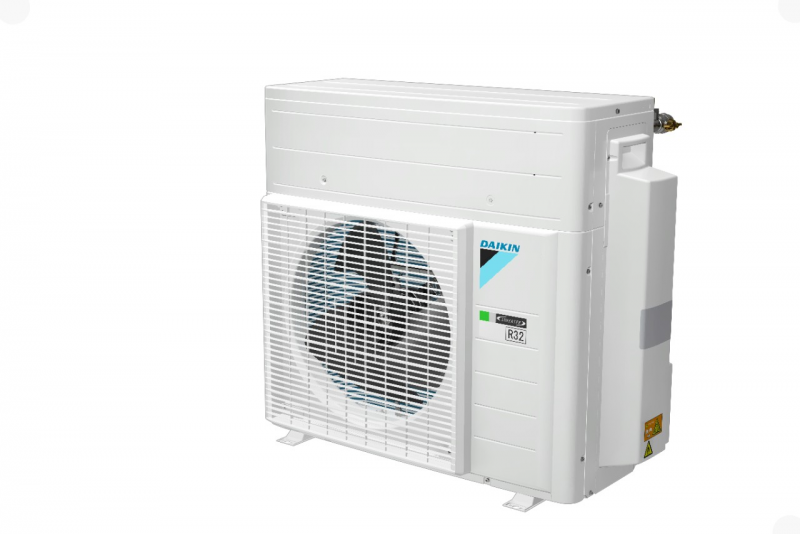 You can also get a 12-year warranty from Daikin, which is 2 years more than some brands give you. The reliable heat pump systems are durable in any weather condition. They can also handle steady use and are capable of supplying heat in temperatures lower than -10 degrees Celsius. If you are interested in a heat pump, consider Daikin.
We will focus on the named heat pump models such as the Daikin SkyAir FTQ, VRV Life and FIT. These heat pumps come with high SEER values and variable speed inverter compressors. The FIT has a low-profile body, ensuring it can fit in tight corner areas and small spaces. This design makes installation easier.
The SkyAir and VRV Life are regular-sized heat pumps, with the SkyAir being a ducted system, meaning it is an upgrade to traditional central air systems. You can use these heat pumps with existing vents and ductwork, which helps lower installation costs.
Thanks to the variable speed compressors, an operation is quiet, with the "loudest" of the named units operating at a quiet 53 dB, making it one of the quietest ducted heat pumps available on the market. All these models have an HSPF rating of at least 10. The VRV Life and FIT have a SEER rating of 18, while the SkyAir has a SEER rating of 16.
How much does a Daikin heat pump cost?
You should know that a Daikin heat pump, regardless of the model you select, will cost on average higher than heat pumps from other brands. Nevertheless, their runtime instals and efficiency can save you money in the long run. Furthermore, you also get the 5-year Daikin warranty that you can extend to 12, so long as you register your heat pump. Your unit needs to be installed by a licensed professional.
The Daikin Altherma Low-Temperature Split Air-to-Water Heat Pump costs £7,000, the most expensive Daikin heat pump. The cheapest is the Daikin Altherma Monobloc Air-to-Water Heat Pump which costs £3,120.
4th Best – LG heat pump
LG has a wide range of air-source heat pumps known as THERMA V. These heat pumps use the latest advanced technology. For one, this line-up lets you control the heat pumps using the ThinQ app. You can control water temperature, silent mode operation, welly scheduling, etc.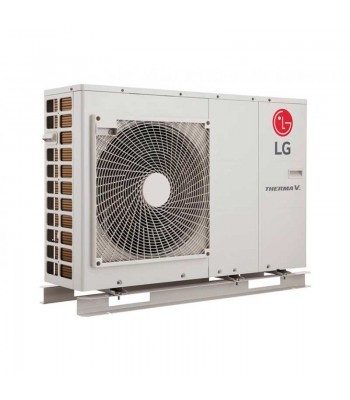 In the THERMA V range, there are four heat pump models:
Monobloc
Monobloc R32
Split Heat pump
Split High-temperature heat pump
The THERMA V Monobloc Air Source Heat Pump is LG's most common heat pump. It doesn't hurt that it is one of the most efficient ones out there. The compact design provides a low to medium hot water supply. You can get this heat pump in various outputs ranging from 3kW to 16kW, ensuring that there is always a heat pump for any type of home.
This Monobloc unit requires piping and comes with various energy-saving parts. This feature helps to eliminate energy wastage. The heat exchanger and the wide louvre fin also help conserve energy. Included in this heat pump is a pressure sensor that lets the unit make more accurate and faster decisions about how it can operate effectively.
The THERMA V Split Air Source Heat Pump has both renovation and new build projects in mind. The Monobloc is a single unit, but the THERMA V Split is, as its name states, split into two, an outside unit and an inside unit. The indoor unit manages the air source by cooling or heating different zones in the home.
You can also get the THERMA V Split as a high-temperature pump. This is best suited for older properties with less insulation and refurbishment projects. As a high-temperature heat pump, it can attain temperatures as high as 65 degrees in a refrigerant system and 80 degrees in dual refrigerant systems. This heat pump system is available in 2 units, with the external one having enough flexibility capacity to be installed 10 metres away from the property.
The heat pumps from LG have a 4.3-inch colour LCD coupled with reactive touch. This LED panel makes controlling the system easy. Additionally, you also get a smart controlled system known as ThinQ. The system lets you connect every LG appliance in your home for way monitoring and control regardless of where you are. It is even possible to see your energy consumption rate and send operational data to a licensed service engineer.
How much does an LG heat pump cost?
You can purchase the LG THERMA V monobloc heat pump for around £5,500. You should note that this price doesn't include installation costs which can completely depend on a host of factors.
If the installation process is long and complicated, it can add more to the overall price. You also have to consider the going labour rate in your part of the country.
5th Best – Mitsubishi
Mitsubishi's Ecodan heat pump are a great solution for those that want a new heating system that reduces their carbon emission and energy bills at the same time. The Ecodan heat pump range is quiet during operation and is low maintenance. It also helps that you can get these heat pumps in an array of outputs, helping to suit old and new homes of just about any size.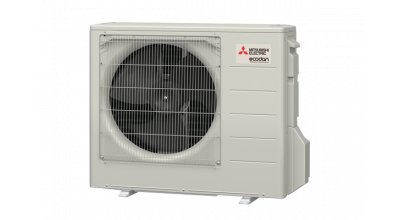 You can get all types of heat pumps in the Ecodan range. You get monoblocs or self-contained units. Due to their design, you can install these units in just a few days. You can also get split units that have indoor and outside units. Users have four models to select from, so you will need to consult with a professional to find the best heat pump for your home's heating and hot water needs.
The Mitsubishi PUHZ heat pump has a unique feature: numerous units, up to 6, can be combined to increase the overall unit's capacity to as high as 84 kW.
Furthermore, if you are searching for a heat pump that can function with a regular gas boiler, the PUHZ split system can operate as a hybrid. You get the general energy savings associated with an air source heat pump coupled with the reliability of a standard boiler.
You might also want to consider the Ecodan PUHZ Monobloc heat pump. As stated earlier, it is an all-in-one unit with a cascading capacity. This heat pump can be installed in most small commercial spaces and homes.
Another heat pump from the Ecodan is the Ecodan QUHZ Monobloc heat pump. It provides high insulation levels as an all-in-one heat system. As a smaller heat pump, it is designed for homes with lower space heating demands, instead focusing on hot water. This design makes the Ecodan QUHZ Monobloc perfect for flats and small homes.
For those who want a heating solution that runs as quietly as possible, the Standalone Ultra Quiet heat pump is your heat pump. This heat pump utilises Mitsubishi's latest advancements in quiet technology, improving while being three times quieter than older iterations.
How much does a Mitsubishi heat pump cost?
You should note that there are various heat pumps in the Ecodan range, meaning the prices can vary. Nevertheless, you can expect to purchase the Ecodan PUHZ Monobloc Air Source Heat Pump for about £3,500. You should note that this is an average price, and it doesn't include installation costs which can vary. These air source heat pumps are much cheaper than ground source heat pumps.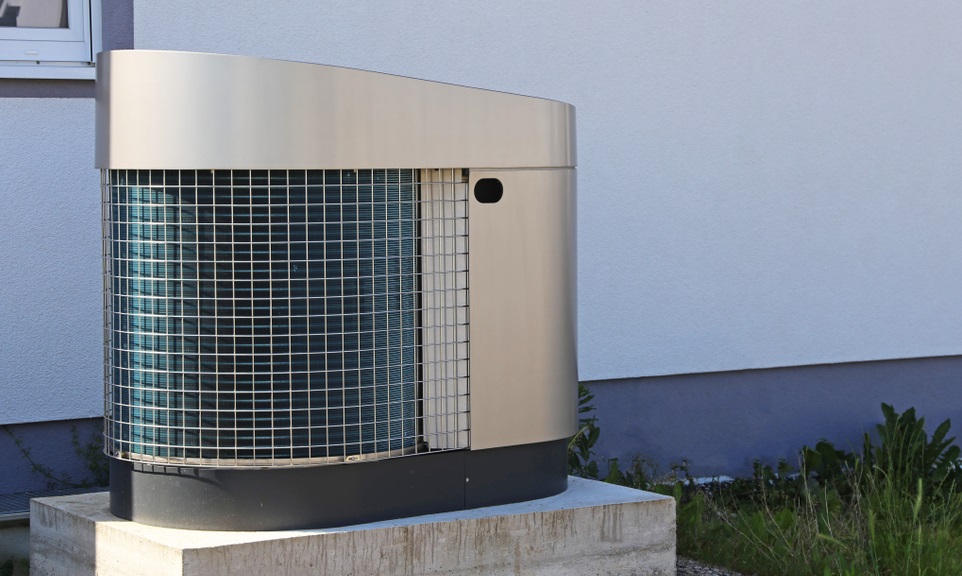 6th Best – Worcester Bosch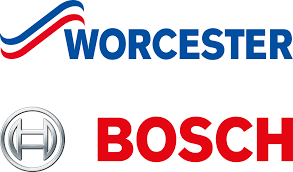 Worcester Bosch is better known for replacement boilers, however, they still make our list, although they are not as high up as they are in our best combi boiler guide.
The Bosch 7400i AW heat pump is perhaps the quietest in the Worcester Bosch range. It is perfectly suited for full renovations and new build projects. This heap pump combines low-carbon heating technology and high efficiency to deliver a renewable energy source for hot water and home heating.
The 7400i can harness the outside air and use it to boost renewable hot water and heating. Thanks to its Quiet Mark certification, you don't have to sacrifice peace for efficiency with this heat pump. Furthermore, it doesn't require any ground pipe work installation, reducing overall installation costs.
It is suitable for all homes, including those in urban areas. The 7400i is future-proof and low maintenance.
How much does a Worcester Bosch heat pump cost?
On average, the Worcester Bosch 7400i can cost around £8,000. This price includes installation costs as well. However, you should note that installation costs can differ depending on the provider, region and time it takes.
7th Best – Calorex
The air source heat pump from Calorex works in English homes and the heat pumps from this brand are easy to install and use that comes with a range of useful functions and require very little maintenance. Calorex makes excellent heat pumps for swimming pools.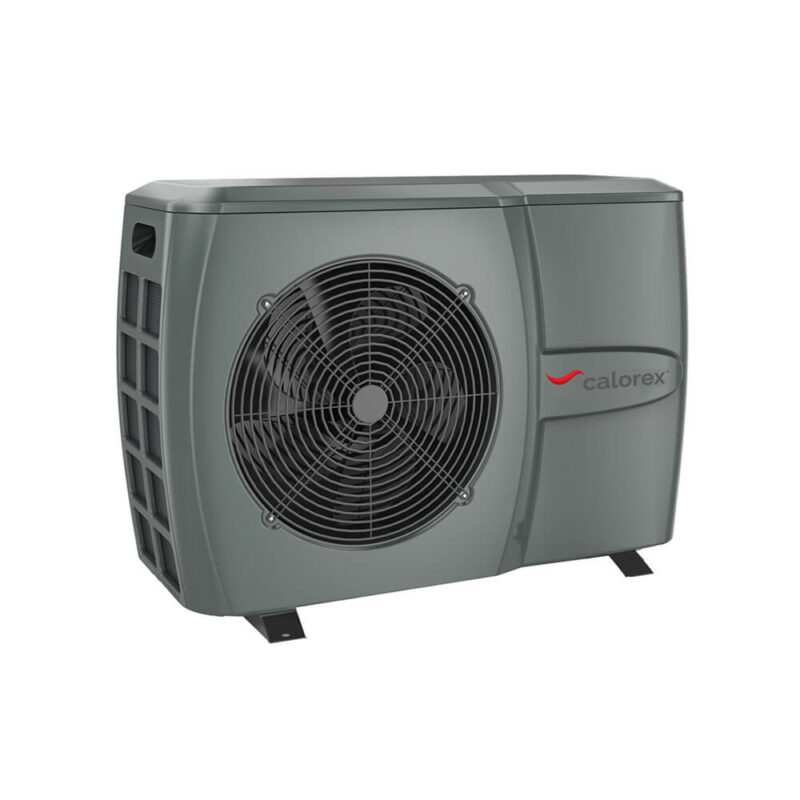 In terms of energy use, these air source heat pumps require just a little energy input. You can get Calorex heat pumps in output ranges of 4.5kW to 15kW. These heat pumps have been MCS certified, so you can be sure they will save you money on your energy bills.
You can also use them in conjunction with other heating sources, which increases the overall efficacy of the heating system.
How much does the Calorex heat pump cost?
You should note that it is difficult to come up with the precise cost of a Calorex heat pump because numerous factors affect the price, like the size of the home in question, its overall energy consumption, and desired warmth level. These factors are important; however, you can expect to pay anything from £4,000 to £9,000 for a heat pump from Calorex.
8th Best – Panasonic
Panasonic has more than 60 years of experience designing and creating efficient and innovative heating solutions. This brand created the Aquarea range of renewable and sustainable heat pumps with that in mind. These heat pumps are quiet in operation, reliable and way to use. They also deliver cost-effective and energy-efficient solutions for homes in the UK.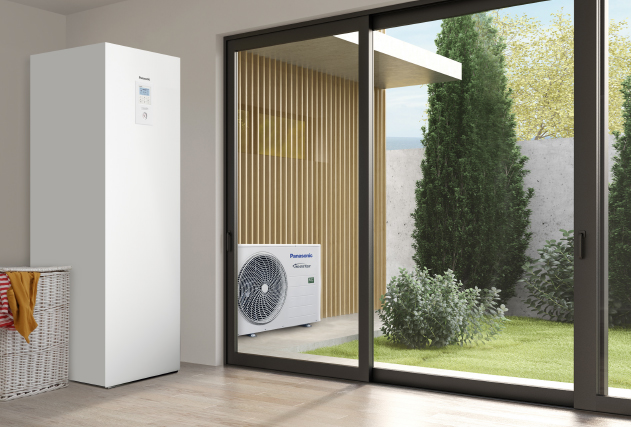 The Aquarea range of heat pumps offers a low carbon option to electric, LPG, oil and mains gas heaters. These heat pumps function by extracting heat from the ambient air outside. The heat energy is captured using a compression cycle that increases the temperature. Think of this process as reverse refrigeration. Not only can the Aquarea range of air to ward heat pumps provide heat for a home, but they can also offer a consistent hot water supply.
Controlling any Aquarea heat pump is easy as Panasonic has offered users a powerful, intuitive and easy-to-use smart cloud option with a remote. You also get maintenance functions, which enable users to keep track of their energy usage and become more energy efficient by cutting costs.
How much does a Panasonic heat pump cost?
As with all heat pumps on this list, it is difficult to pinpoint the exact price of a Panasonic Aquarea heat pump. You need to consider the factors such as energy output, how large the home is and, of course, installation costs.
Nevertheless, you can expect to pay anything from £6,000 to £12,000.
Choosing the best heat pump for your home
When deciding which heat pump is best, ideally you need to see what the best option is for your and your home in terms of cost, performance, reliability and output. Every home is different and some brands cost more than others, so it is always good to go with something that you can afford but is definitely suitable for your home.