Swimming Pool Boilers and Pool Heaters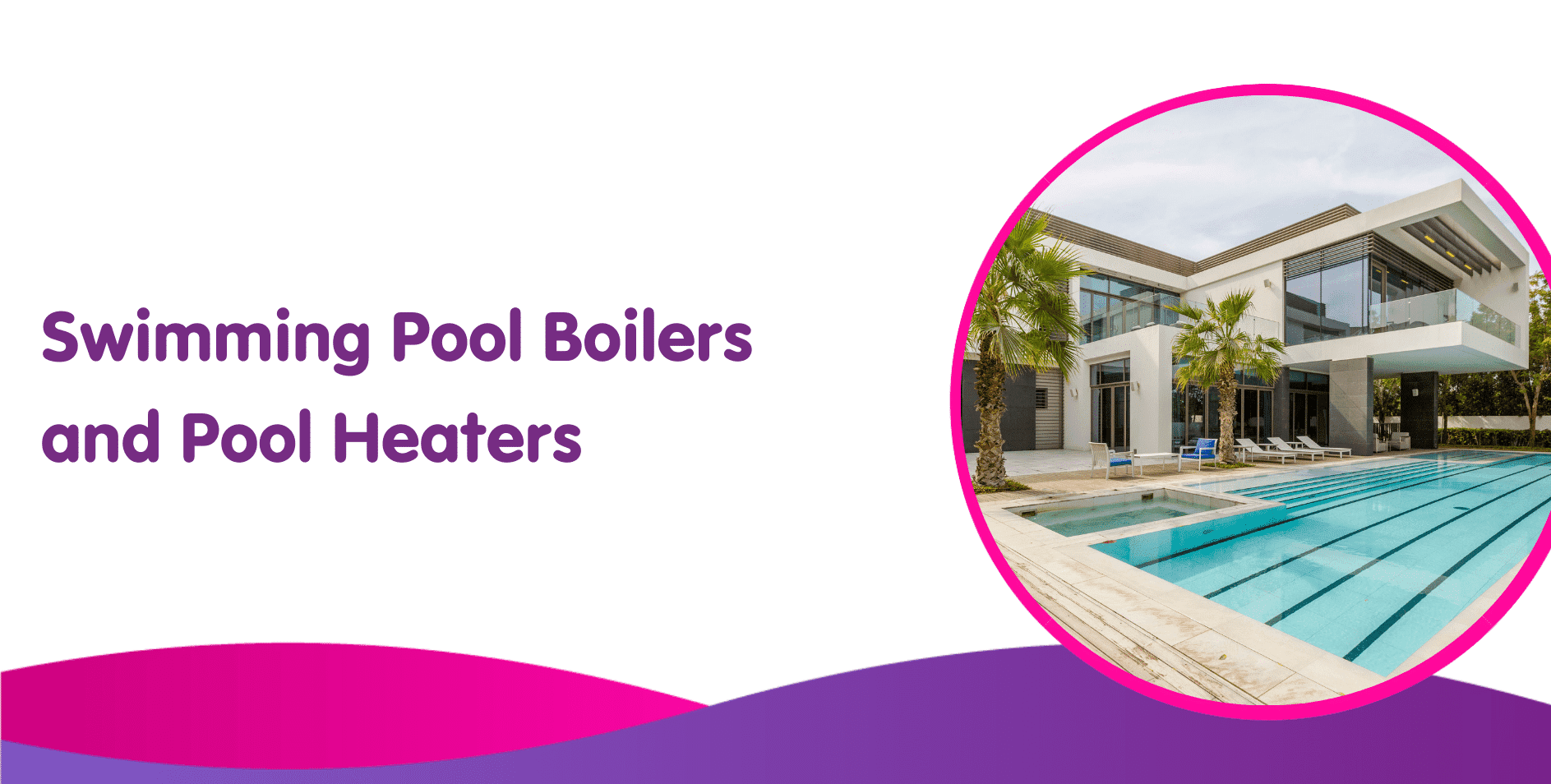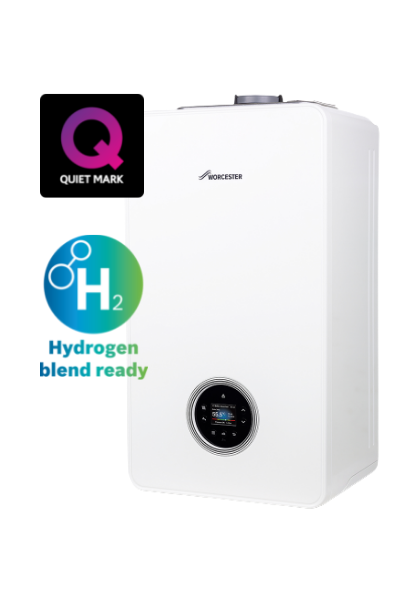 Swimming pool boilers and pool heaters guide
Nobody wants to dive into a cold pool, as even if you get used to it eventually, it's much more pleasant if the water is warm and less of a shock to the system!
Get a fixed price gas boiler quote in under 20 seconds here
To achieve this, installing the right boiler is crucial and it is worth noting that fitting an inefficient one can increase the initial amount of the running costs.
If you choose an energy-efficient boiler and have it serviced regularly, it will save you money every year and reduce your carbon footprint.
The choices are gas-powered boilers, electric-powered boilers, solar-powered boilers, and several other alternatives you might want to opt for.
Read on for more information on pool boilers and what you need to look for when choosing one. Focus on gas safety, energy-efficient systems, and pool size, then select a boiler that serves your home for years to come with as little maintenance as possible. Ready? Let's dive in!
Get an online fixed price in 20 seconds:
What kind of fuel does your boiler use?
What does a swimming pool boiler do?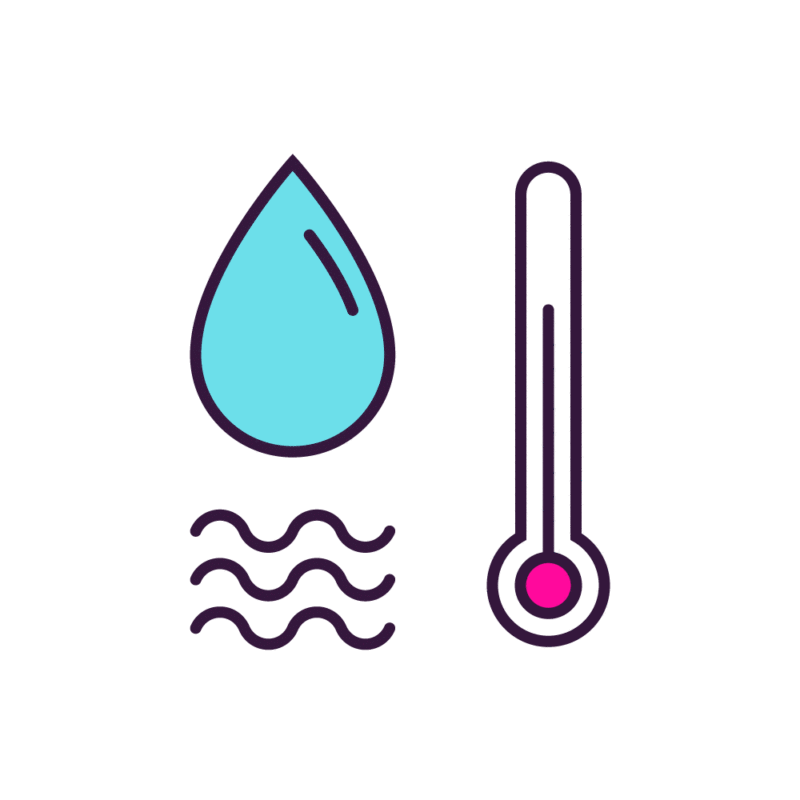 If an ice-cold pool doesn't appeal to you then you need to heat it and there are several ways you can do this. If you live in a hot sunny location you could simply use a solar cover which is like a bubble wrap covering over your pool. The small bubbles trap sunlight and increase the water temperature naturally. This option is the cheapest and it is also the most energy-efficient and eco-friendly.
In colder areas, or if you enjoy an evening plunge in a sunny climate, you will need a boiler. These swimming pool heaters work in much the same way as household water heaters. Water from the pool is filtered through the boiler's combustion chamber that heats it and sends it back to the main source.
Types of swimming pool boilers
It's worth taking a bit of time to consider how you heat your pool. For example, gas is the most reliable pool heater system, but it's also the most expensive and uses fossil fuels. Another option is an electric heater which can be cheaper and less harmful to the environment when used with renewable energy.
Gas boiler

Gas heaters are one of the most reliable ways to heat your pool. These heaters are suitable for larger pools and ones that aren't heated frequently, so if you only heat the pool for the occasional party, a gas heater works best! These boilers also preserve the heat even in different climates.
A gas boiler works the same way as a household boiler. It has an internal combustion chamber that heats the water filtered through it from the pool. It doesn't matter what the air temperature is outside; you can set a gas boiler so that the pool always remains warm.
Electric boiler
If you want an alternative to gas, then you may want an electric boiler for your pool. The price of gas is one of the downsides of using a gas boiler, and gas is a fossil fuel that contributes to climate change. Using an electric boiler with renewable energy is cheaper and better for the climate.
Electric boilers work like an air conditioner in reverse; these boilers use a fan to draw in warm air from outside and pass them over an evaporator coil. These coils absorb the heat and turn it into gas which is then passed through heat pumps, this works to increase the heat of the water.
How does a swimming pool boiler work?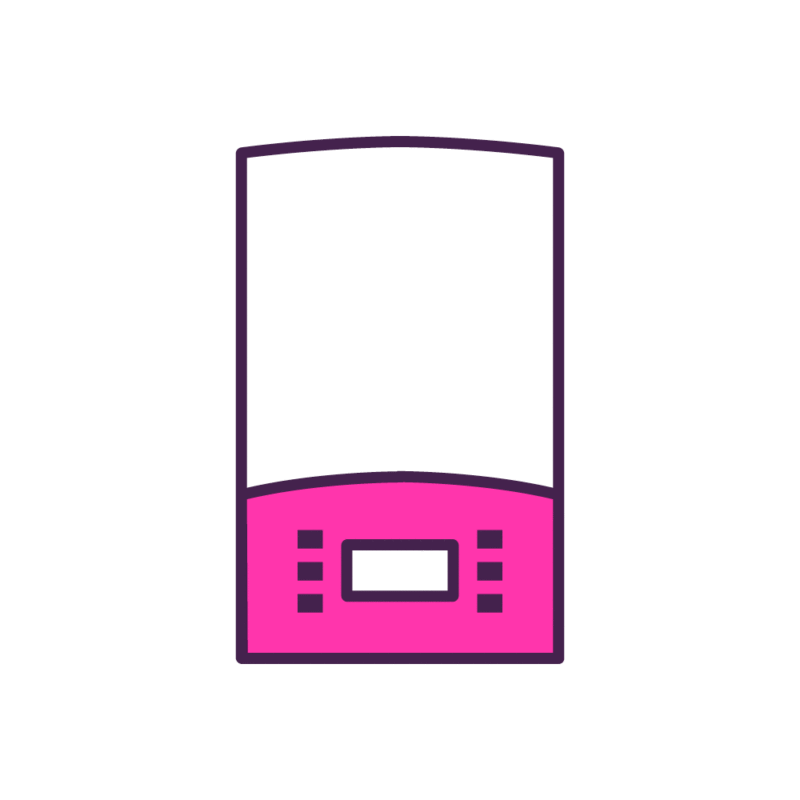 If you have a burning new gas boiler for your pool, it works the same as your household gas boiler, while electric boilers use heat pumps.
A natural gas boiler draws water from swimming pools into the heater; the heater is then powered by burning gas, which heats the water and sends it back.
An electric heat pump for a pool is a little more complex. These pumps don't generate heat, instead, they extract warm air from outside and circulate it through an evaporator coil.
The coil turns the heat to gas that goes to a compressor; the pump then filters water through the heater.
Get an online fixed price in 20 seconds:
What kind of fuel does your boiler use?
Which type of swimming pool boiler is best?
The best pool water heater often depends on the size of your pool and its usage. Typically, gas-powered boilers are better for larger pools because they heat the water more quickly and keep it even; the downside is the annual running cost of gas heaters and the environmental impact.
If you have a smaller pool that's used frequently, an electric boiler might be more suitable. Electric boilers are more expensive to buy, but their running costs are lower. Electric heaters can also use renewable energy. Consider your particular pool heater needs before choosing a system.
Using a domestic boiler to heat your pool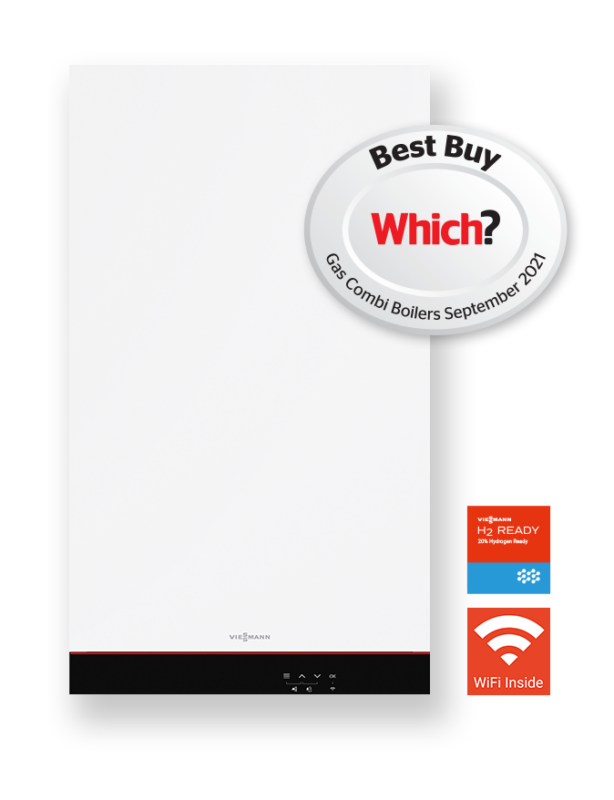 Did you know that you can use your domestic household gas boiler to heat your pool as well? Alternatively, you can invest in a domestic boiler and install it in a way that heats the water in your pool.
There are pros and cons to this approach, but it is possible if it appeals to you.
For this to work, the domestic boiler has to be adapted to include a specially designed heat exchanger; you might have to hire a professional for this job which is one downside of these heating systems. That said, a domestic hydrogen ready gas boiler heating system can save you money and time.
Costs associated with a new swimming pool boiler
There are three costs to keep in mind when investing in a new boiler, one is the price of the boiler unit, another is the installation price, and the last is the running cost of the heating system. The cost of a new boiler is between £150 and £4000, depending on the type of unit.
When it comes to installing your boiler, you don't want to take any chances – especially when you're mixing electricity with water. Professional services will typically cost between £500 and £1000. The running costs will be higher if you install a gas heater, as electricity is cheaper and cleaner.
Swimming pool boiler alternatives
If you don't want to invest in a gas boiler system and you have some doubts about an electric boiler, there are some alternatives. A pump, for instance, is highly efficient and cost-effective, while solar panels give you free power and make a lot more sense for occasional pool users.
Heat pump
Air source heat pumps are both efficient and cost-effective! These work by extracting warm air from outside and blowing it onto the evaporation coils. The coils then turn the heat into gas and send it to the heat exchanger. The water pump then sends water to the exchanger to warm the pool.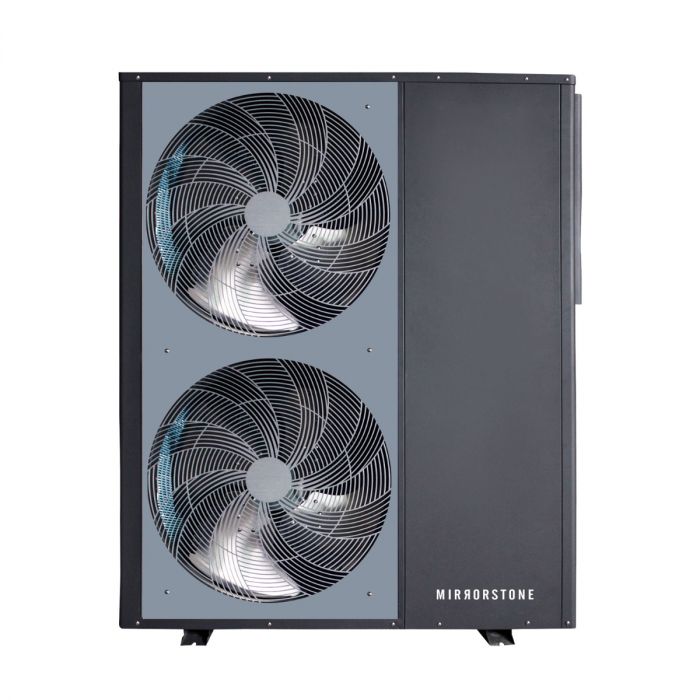 Ground source heat pumps could also be an option but they are very expensive to install and may not be able to provide the swimming pool with the heat or long-term cost-effectiveness as an air source heat pump.
If you're considering a heat pump for your pool, you need to think about the general outside air temperature because heat pumps are only effective with air temperatures above 7.2-10 degrees Celcius. However, if your pool is small, the air temperature can be cooler and a pump is likely to be the best option.
Solar panels
Another great option for heating your pool is with solar panels. Solar panels are very cost-effective because the electricity you use is completely free. The downside to using solar heaters is the initial price and the consistency of the heat. Expect the pool's heat to fluctuate regularly.
Solar heaters are an excellent choice for home swimming pools; not only can you heat your pool for free, but the solar panels require little maintenance and last for between 15-20 years. Some people say the hot water is not consistent, but most people don't swim during cloudy weather anyway.
Get an online fixed price in 20 seconds:
What kind of fuel does your boiler use?
The installation process for a new swimming pool boiler
The first task is to decide on the boiler that suits you best, by choosing from a gas boiler, electric boiler, solar heaters, and other alternatives. In each case, professional services are required, especially with gas boilers and electric boilers that need proper installation for safety reasons.
If you're installing a gas boiler, you will need to contact a professional gas boiler installation service. The boiler will have to be installed on the outside of the pool, and the gas pipes will have to be connected up to the main system. The same process is needed for domestic boilers.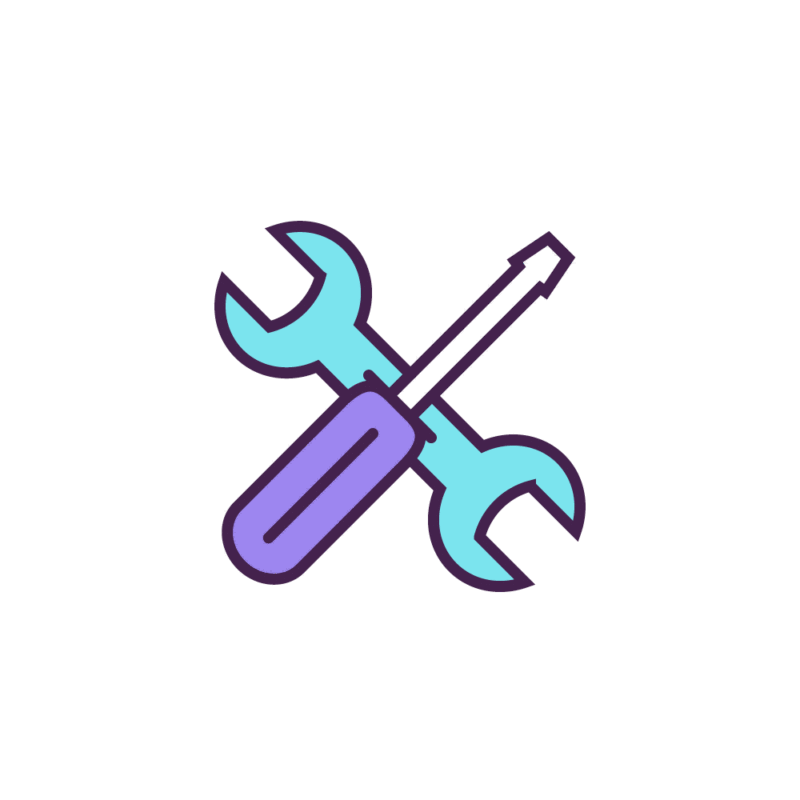 Installation requirements
Many of the requirements for installing pool heaters are taken care of by professional installers; they will know the best place for the heaters to sit and what kind of clearance they need. Requirements for boiler selection include pool size, initial costs, running costs, and fuel type.
A Gas Safe registered engineer will know where your boiler should be installed in relation to your pool and your home. Gas boilers require plenty of clearance and proximity to the mains while installing heaters that rely on air temperature will need plenty of access to the outside air.
How often should you get a pool boiler serviced?
Whether you run a new gas boiler or an electric boiler, it can benefit from regular servicing. In both cases, it will benefit from annual or bi-annual maintenance, but an annual service is highly recommended. Servicing the boiler makes it safe and efficient to use, impacting running costs.
Gas-powered boilers need to be checked and cleaned as debris builds up in the combustion chamber that creates inefficiencies in the best case and becomes dangerous in the worst case. Concerning electric boilers, an annual service ensures the systems are free from electrical faults.
Get an online fixed price in 20 seconds:
What kind of fuel does your boiler use?
FAQs
What size boiler do I need to heat my swimming pool?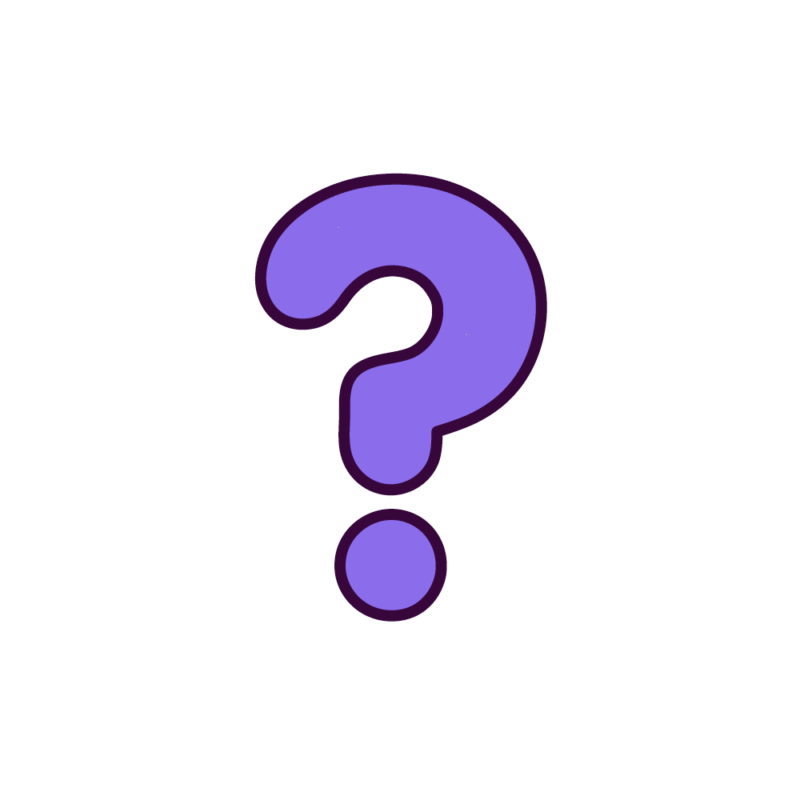 This is largely determined by the size of the pool you have. Larger pools require more energy to heat, especially if you have colder air temperatures outside. Boilers that use gas and heat by burning are best for larger sized pools and pools that are only used occasionally.
Boilers that heat pools using gas are also good for smaller pools, but you will require a smaller boiler. Depending on your pool usage, a smaller pool might be better off with solar panel heaters or an electric boiler. This eliminates gas safety issues and reduces annual energy costs.
How much does a pool boiler cost?
The three costs you need to keep in mind when you invest in a new boiler is the price of the unit, the installation price, and the running costs. There might also be boiler services to pay for. Depending on the size of the gas boiler you want, you can expect to pay approximately between £500-£4000.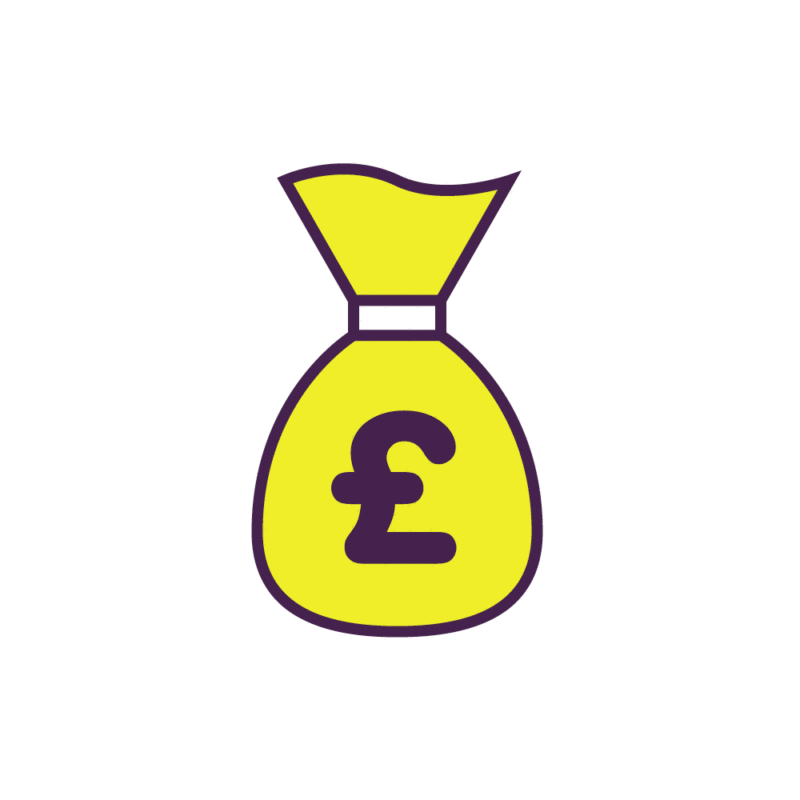 It's not possible to install a combi boiler yourself unless you have the correct skills and knowledge and you understand gas regulations. If you don't, you will have to enlist the services of a boiler professional. The price for this service is typically between £150-500, depending on the company used. You could also get a pay monthly boiler from some installation companies
What is the most efficient way to heat a swimming pool?
The efficiency of your pool depends on the size of the pool and your usage style. For instance, there's no point in having your pool heated every day if you only use it a couple of times a week, but if you have a smaller pool that's solar-heated, always-on is the most efficient.
That said, large amounts of water can be difficult and expensive to heat, so if you switch on your gas boiler, it makes sense to keep the water warm instead of heating it again from its natural temperature. Focus on your pool usage and use this to decide on the most efficient heating style.
Is a boiler better than a heat pump for a swimming pool?
It depends on how you look at it! There are advantages and disadvantages to gas and pumps for pools; you will simply have to weigh up these options and decide on what the best energy source is for your home or facility. There are different ways to make each system efficient.
When you choose a gas-powered boiler, you benefit from constant hot water in the pool; this is different from pumps where the cold water and hot water are more variable. That said, gas-powered boilers have significantly higher running costs than heat pumps that use electricity.
Get an online fixed price in 20 seconds:
What kind of fuel does your boiler use?