How do air source heat pumps work? User guide & Information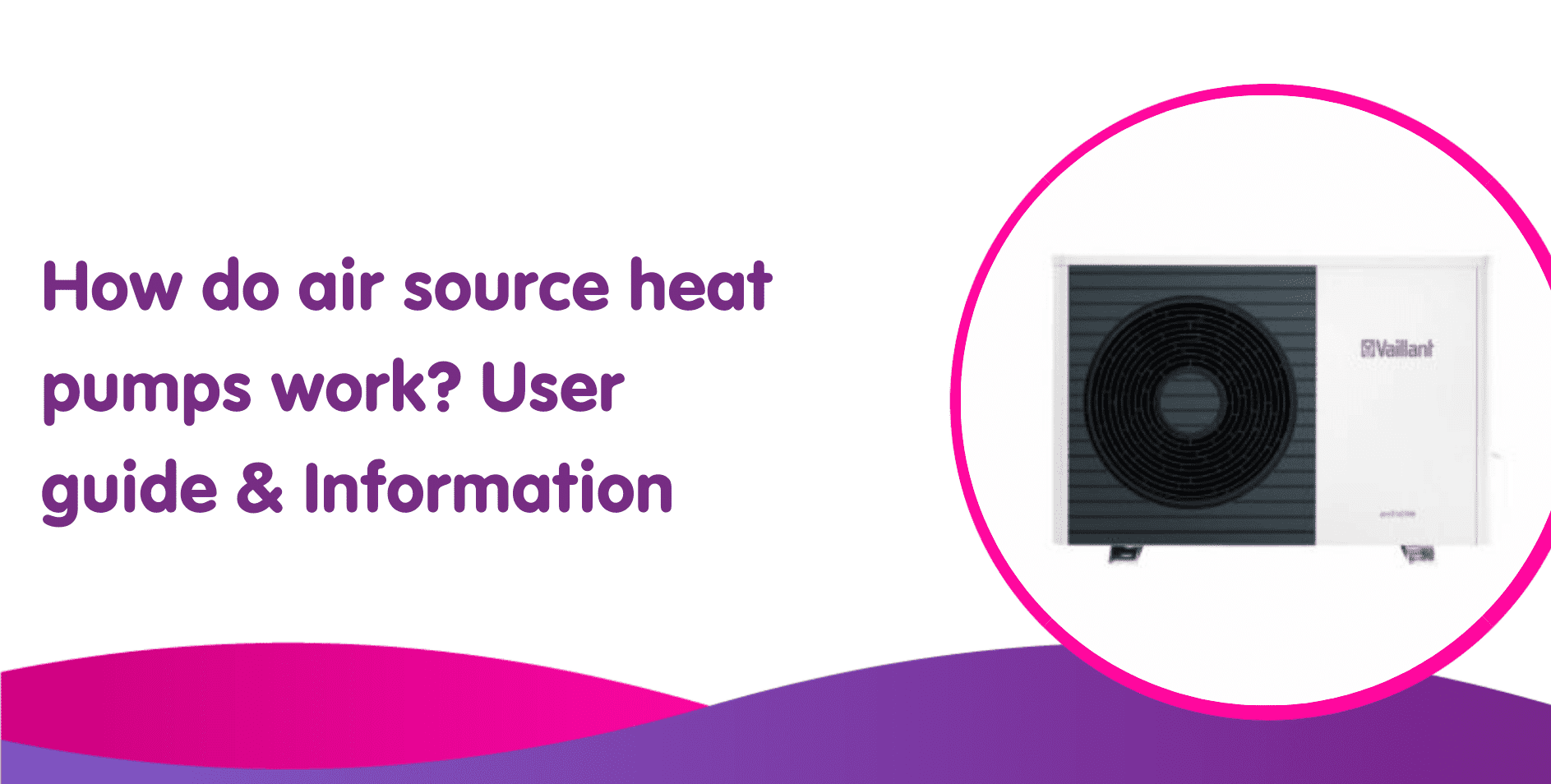 What are air source heat pumps & how do they work?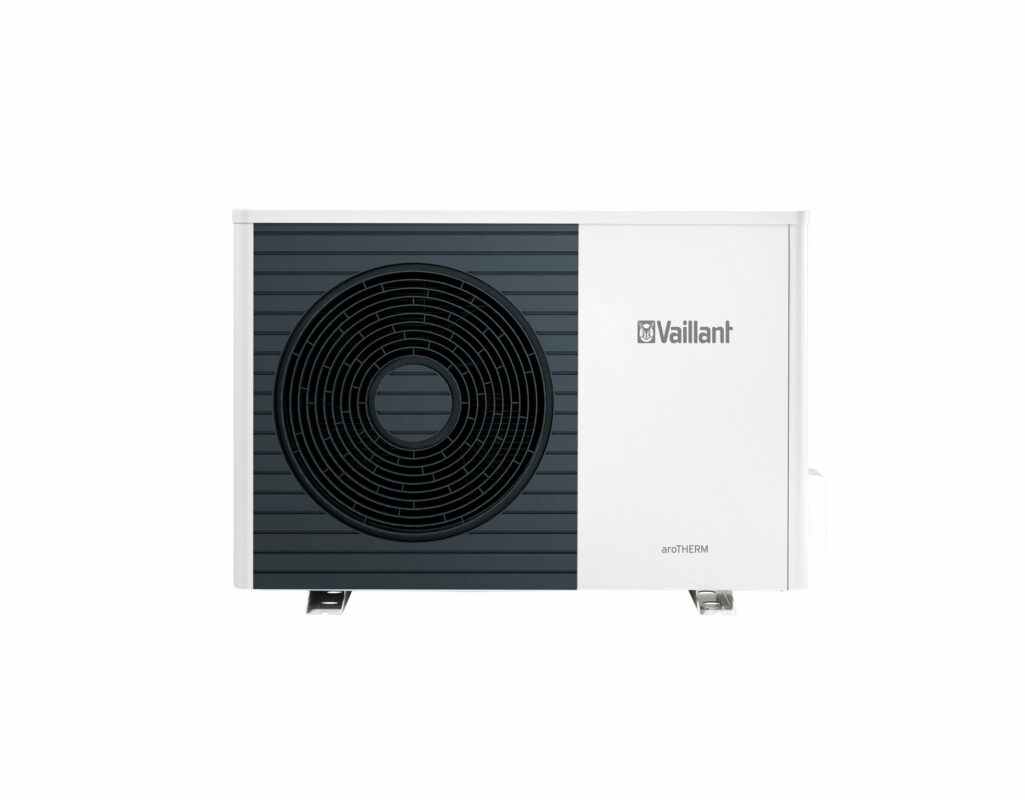 As energy prices rise, the discerning consumer will always look for the most efficient and cost-effective ways to heat their home and this article will tell you everything you need to know about air source heat pumps.
Want a heat pump quote? Use our contact form to speak to an expert now
Get a fixed price in 20 seconds here for a new A-rated boiler.
Whether you're browsing all energy and money-saving home heating solutions or are seriously considering installing air source heat pumps, we've got all the info for you here including the best heat pump brands in the UK.
We'll let you know what they do, how they work, the types of air source heat pump available, the benefits, and the running costs so you can make an informed decision.
Check out hydrogen ready boilers too, these are likely going to be the best solution to home heating for years to come and protect yourself from the natural gas boiler ban in 2025.
Get an online fixed price in 20 seconds:
What kind of fuel does your boiler use?
What does an air source heat pump do?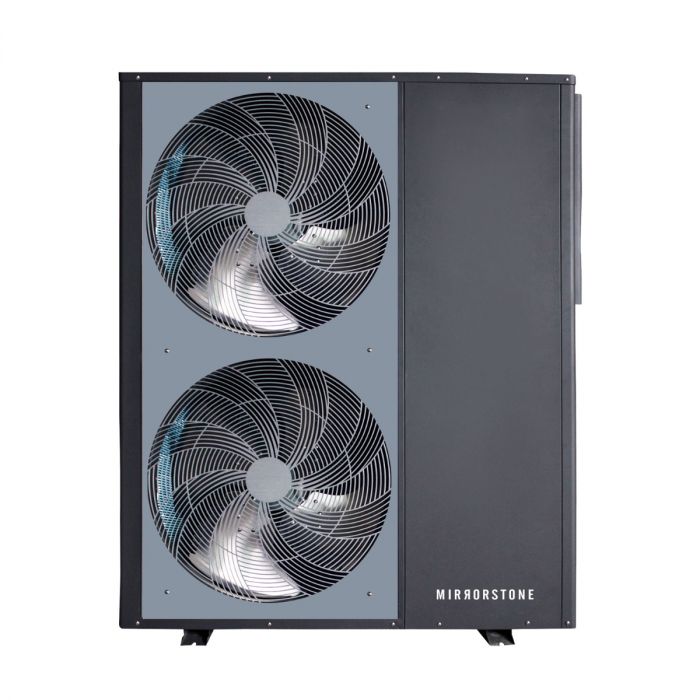 The first question you are likely to ask is what does an air source heat pump do? The answer to this question will help you to decide whether a heat pump is the best solution for your home such as the well known Daikin heat pump brand.
An air-source heat pump will absorb the heat from the air outside the home and transfer it into your home. This gives the homeowner the opportunity to generate renewable heat and has the potential to save you money on your energy bills.
It is essential to mention that the home will have to be well insulated for this method to work.
The heat delivered by air source pumps is a lower temperature than that of traditional oil or gas boilers, meaning the system will have to run for longer to generate a comfortable temperature. Poorly insulated homes that let heat escape will make this an arduous task.
How does an air source heat pump work?
Air source heat pumps work when the air outside passes over the systems tube network. The tube network is filled with a liquid refrigerant which is subsequently heated by the outside air, turning it into a gas.
This gas is then passed through a compressor in the heat pump which generates more heat. The gas that has been heated is then passed through a heat exchanger, which is surrounded by cooler water or air.
The water or air is heated by this process and is then circulated through a network of pipes around your home to provide you with hot water and heat.
After this process takes place, the refrigerant cools back into its liquid so the cycle can be repeated.
Home uses for air source heat pumps
An air-source heat pump like this Vaillant heat pump, can have multiple uses for the home and producing heat, including the following examples;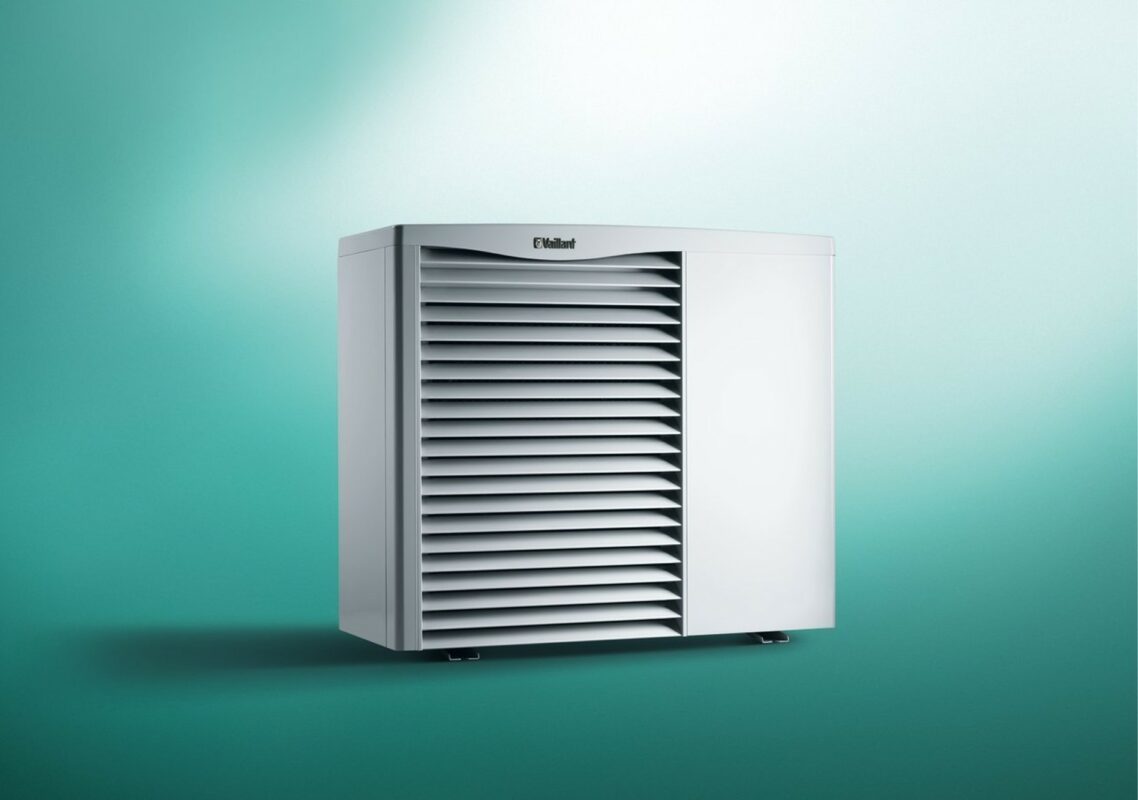 Underfloor heating system
An air-source heat pump is ideal for underfloor heating systems because of the way they work. Underfloor heating gradually heats the home over a more extended period of time, using lower temperatures. Because air-source heat pumps heat slowly, they work well together rather than with a wet central heating system that needs high temperatures for the most efficient use.
Radiators
Generally speaking, heat radiators need a higher temperature to function, but that doesn't mean air-source heat pumps should be written off completely. The best thing to do when using an air-source heat pump for your central heating system is to use large radiators.
Large radiators can be used to produce heat over a longer period, at lower temperatures, for space heating the room gradually.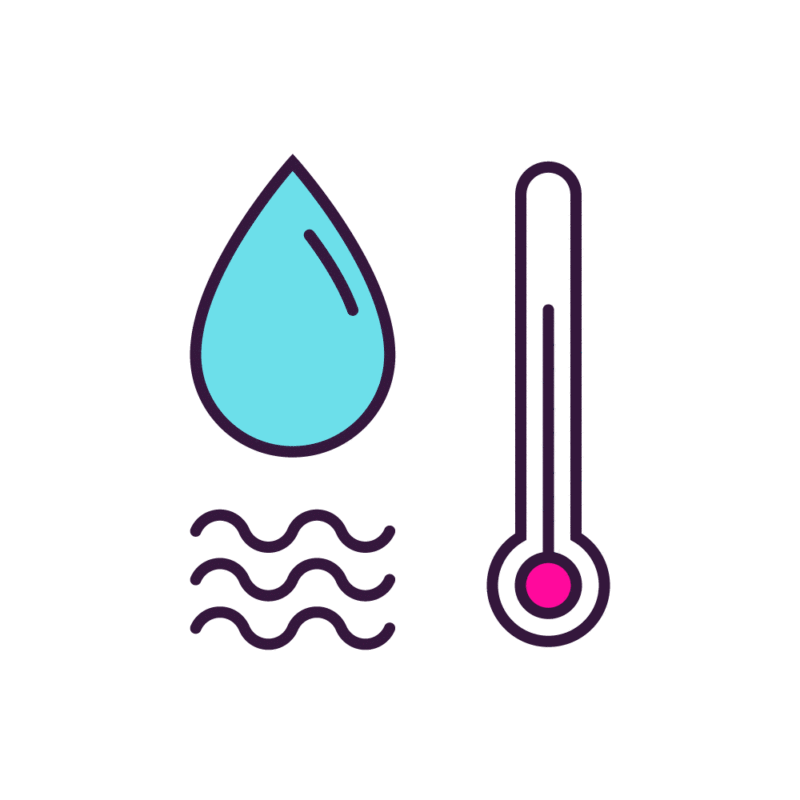 Hot water
Heating water using an air-source heat pump won't generate the same heat you could expect from a traditional boiler, but there are ways to adapt to the system.
For example, if you were running a bath, because the water temperature is not as high, you would need less cold water mixed in.
Investing in a larger hot water cylinder is another way to ensure the hot water generated by air-source heat pumps is sufficient for the home's needs.
If you are considering an air-source heat pump for environmental reasons, you might consider additional heat sources. Solar water heating can be a great way to increase your hot water efficiency in a greenway. Heat pumps are also a great alternative to swimming pool boilers.
Get an online fixed price in 20 seconds:
What kind of fuel does your boiler use?
Types of air source heat pumps
As with most heating systems, you will have options should you choose an air-source heat pump for your home. You'll be able to explore your options to find the most suitable system to fill your needs.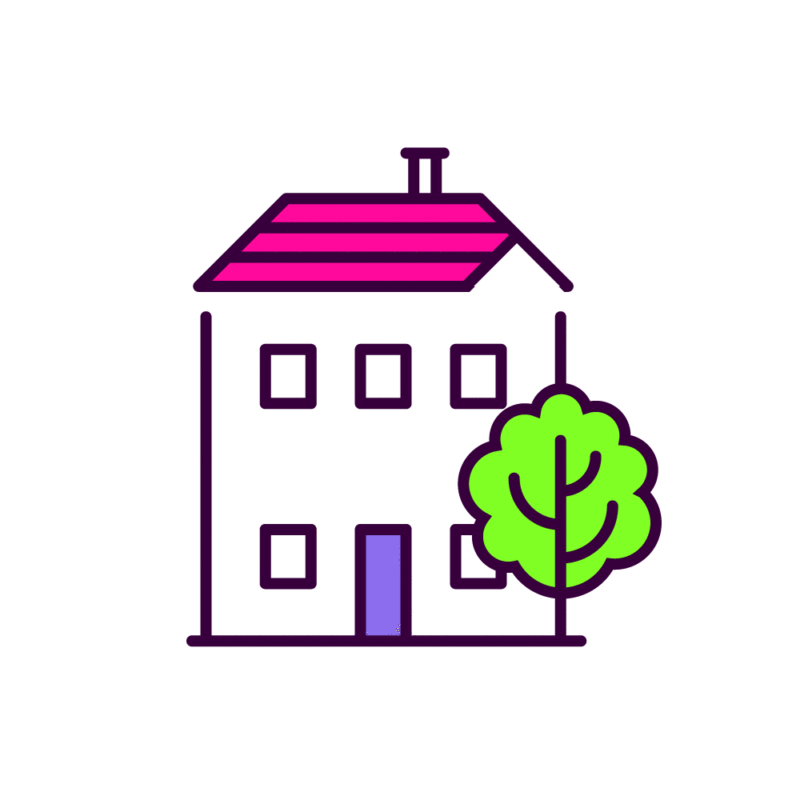 Air to water
An air to water air-source heat pump is the most commonly installed option. This is where the heat generated is then transferred over to a traditional heating system and can service both your central heating and hot water supply.
Air to air
An Air to air air-source heat pump is also known as an air conditioning unit. This allows the home to be heated or cooled depending on when it is being used. Where the air to water heat pump uses water in pipes to heat the home, air to air uses warm air and can't be used to provide hot water.
Find out how a ground source heat pump works too, as these are another option for domestic heating along with hydrogen ready boilers.
Benefits of an air source heat pump
When choosing a heat pump as the heating system for your home, you will have to weigh up the pros and cons to ensure you have the best solution for your needs. It could be that you are happy to pay a little more for something more eco-friendly or want the most efficient heating system possible.
No matter your reasons for looking, here are the main benefits you'll be able to enjoy with an air-source heat pump system.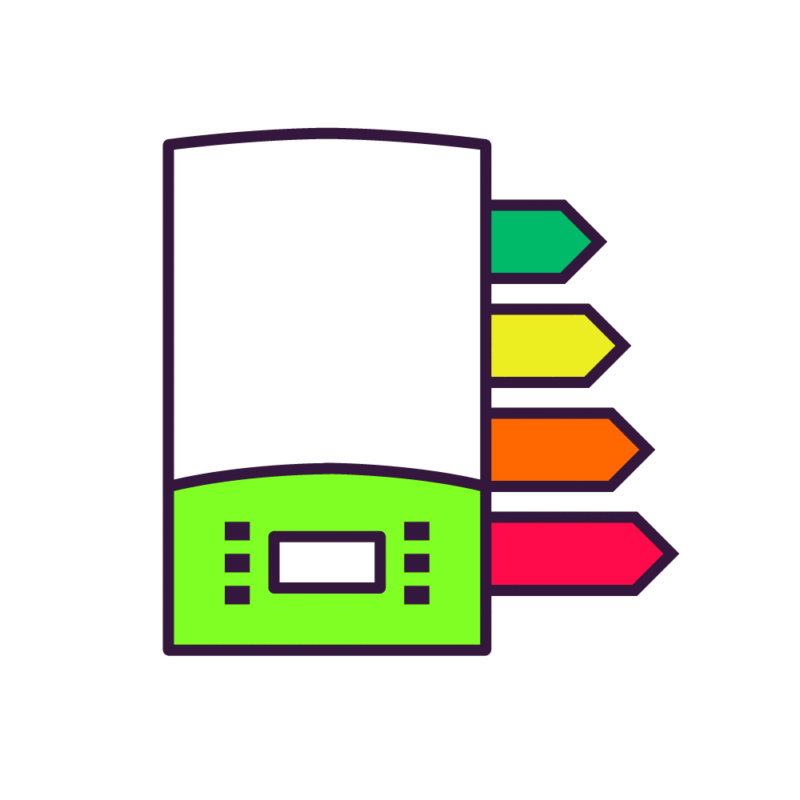 Save on energy bills
It's possible to make impressive savings when going from gas or electric-based heating systems to air-source heat pumps.
A number of factors will come into play, including how well the home is insulated and the amount of heat needed.
Installation costs can be quite high. However, you will be able to look into Renewable Heat Incentive (RHI) payments. This is an incentive scheme in place, and the payments are determined by the energy generated.
Reduce your carbon emissions
In recent years, people are taking more interest in the environmental impact of the things they do and buy. Whether that is investing in a green boiler, trying to travel in more eco-friendly ways, buying from responsible retailers, or heating their home.
It is inevitable that we will leave a carbon footprint, but making changes in how we consume energy can make a difference. Air-source heat pumps can produce as much 75% more energy units than electricity, making them a fantastic alternative to traditional heating solutions and a great way to reduce emissions.
Access to RHI and other schemes
As we mentioned, converting to air-source heat pumps can make you eligible for the Renewable Heat Incentive. Payments are made for as long as seven years depending on the energy generated.
If you are ever looking into energy-saving solutions for your home, there are a number of schemes and grants that are worth investigating including the Boiler Upgrade Scheme. They can help to reduce the cost of installation and provide long term savings once the system is in place.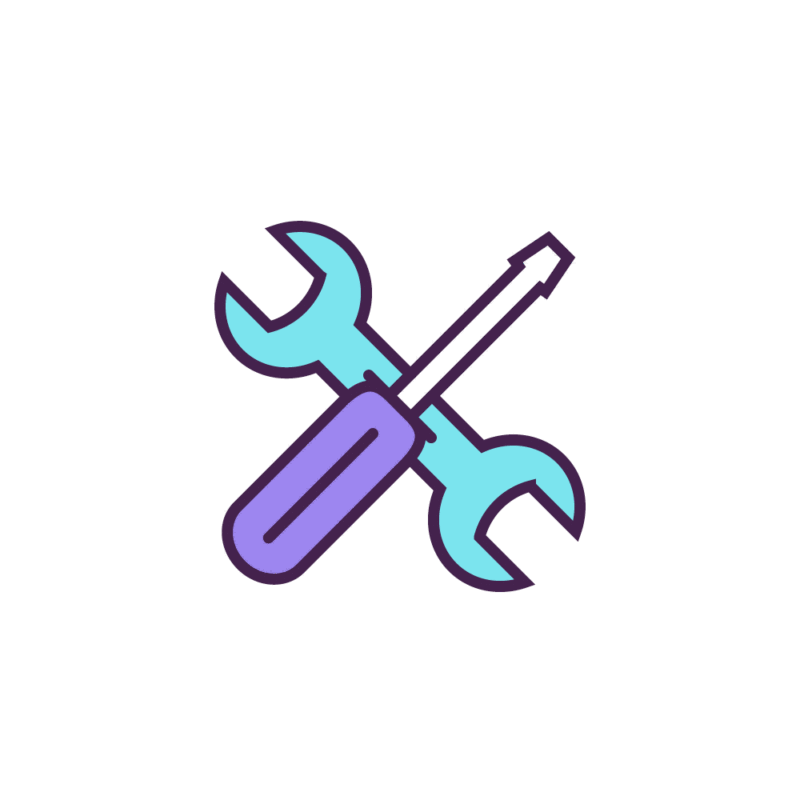 Can help with heating and cooling
Some air-source heat pumps can offer the flexibility of heating your home in the winter, and cooling it in the summer.
You will have to check with the style and model you plan to install, but this can be a great way to make efficient use of the space in your home and get the most from your investment.
Easy to install
This is wherein the air source vs ground source heat pump debate, air source always wins. Installation can be very straightforward and can be carried out in just two days. This is because ground source heat pumps cost far more to install.
Because they don't require digging, unlike ground source heat pumps, air source heat pumps are relatively simple to install. It is also unlikely that you would need planning permission for the installation process.
Costs can be significantly reduced if you are combining installation with other work that is taking place or when installing in new builds.
Low maintenance
Having a low maintenance heating system is a relief to many and gives peace of mind. Yearly maintenance checks by qualified technicians will help to ensure no problems develop, and you will be able to carry out simple maintenance to ensure the best performance.
Checking the levels of refrigerant in your air-source heat pump, cleaning the filters, cleaning the heat pump and keeping it free from debris, and checking for faults and leaks will prolong the life of your heating system. If you do find any issues, certified installers will be able to help resolve the issue.
Get an online fixed price in 20 seconds:
What kind of fuel does your boiler use?
Are air source heat pumps any good?
When you consider the financial and environmental benefits that air-source heat pumps can offer, it is clear that they can be a great addition to some homes. Read our heat pump vs boiler page now for more information on which is the best option.
When you consider that they last roughly twice as long as boilers, you will also enjoy long-term security and savings.
How are air source heat pumps installed?
Air source heat pump installation usually takes place to the rear of a property. This is for cosmetic reasons and because the system needs space for the air to circulate around it.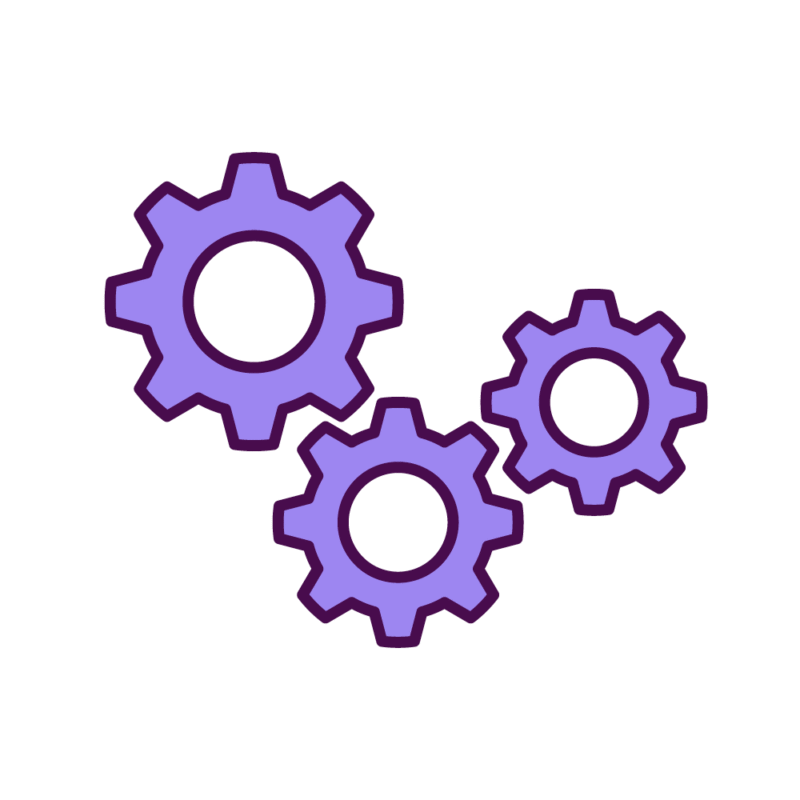 There will be an inside unit, typically smaller than standard boilers, that will contain pumps and hot water.
Before installation, you should check that planning permission is not required. You should also notify your insurance provider so they can make any necessary amendments to your policy.
The installation process should only be carried out by qualified professionals. As well as experienced heat pump installation experts, you will require an electrician.
When you plan the installation, the specialist may be able to plan the full job from start to finish rather than leaving you to find other tradespeople.
The specialist will have to check the property to find the best placement and design before physically installing the system. They will be able to take care of the full setup and will give you a rundown of how the thermostat or any controls work.
The installation includes large cylinders, a fan unit, pumps, and pipework. This can all be housed in the outside plant room that keeps everything tidy and compact and allows easy access for maintenance and repairs.
Air source heat pump running costs
The initial cost of an air-source heat pump and installation ranges on average from between £5,000 to £10,000. This is more expensive than traditional heating systems, however, investigating grants can help to reduce this cost.
Since April 2022, homes in England and Wales can apply for a £5,000 air source heat pump grant to replace existing boilers with heat pumps. Scottish homeowners can explore options that include interest-free loans.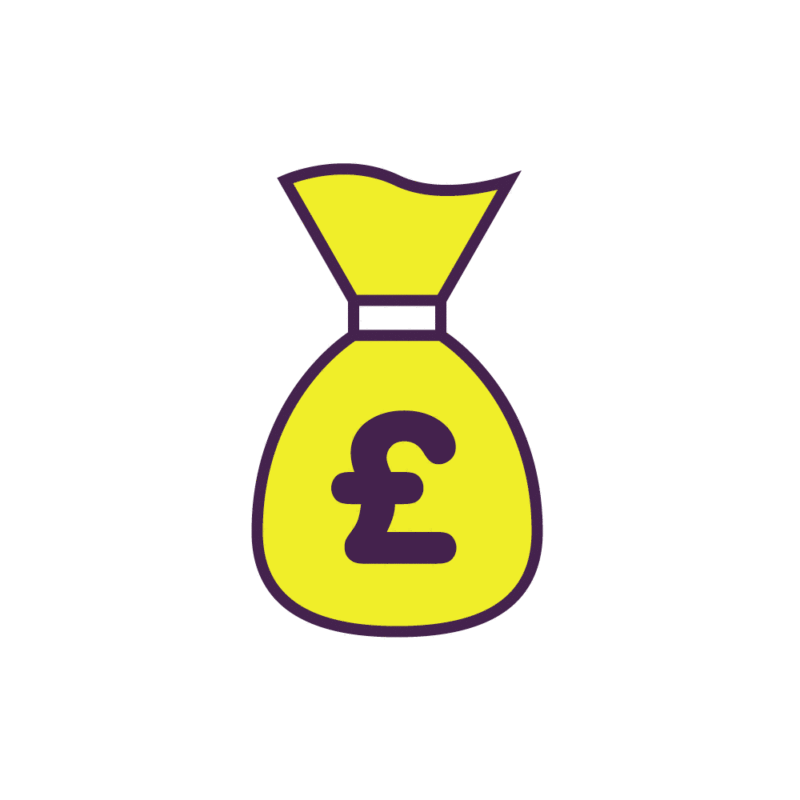 Running costs will vary depending on the quality of the heat pump installed and its intended use. Other factors worth considering include how well insulated the home is. Efficient heating of a home relies as much on the home's insulation as it does on the heating system.
Air-source heat pumps use electricity to power them so the cost of electricity will impact the overall running cost of the heating system. Thankfully, air-source heat pumps don't require a lot of electricity to produce heat.
The pump's COP (Coefficient of performance) defines the heat produced by the condenser against the power needed to supply the compressor. A low COP rating means you use less electricity to generate the power you need.
On average, homes in the UK need 12,000 kWh annually. Air-source heat pumps can produce as much as 3kWh of heat by using 1 kWh of electricity. This is why electricity unit prices are so important as they will impact your overall heating cost for the year.
For example, if a unit of electricity stayed at the average UK price of 14.5p, homes would need 4,000 kWh in electricity to produce the average 12,000 kWh of heat. This would work out at an average annual cost of £5,800.
Fluctuating energy costs, the energy required in each home, and the home's efficiency and insulation will all play a role in how accurate this figure would be for you.
Get an online fixed price in 20 seconds:
What kind of fuel does your boiler use?
FAQs
How long do air source heat pumps last?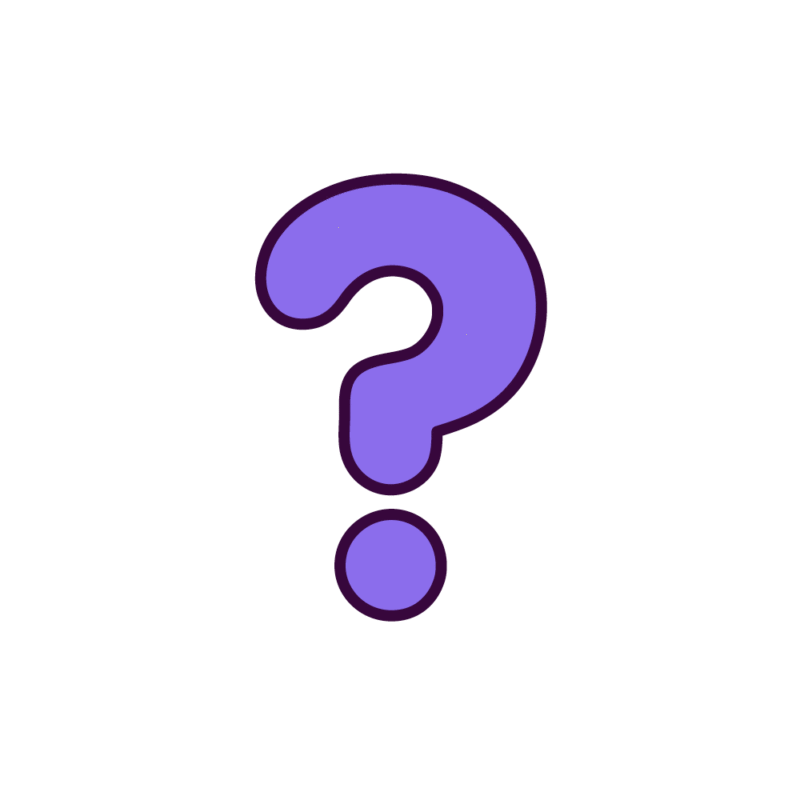 Air-source heat pumps have a great lifespan of around twenty years, with many lasting longer. This is double the average lifespan of new traditional boilers which is worth considering when you look at the initial expense of the system and installation.
Most models will come with a five-year warranty giving you peace of mind after installation, and regular maintenance will help to prolong its life and performance.
Annual checkups by a professional will help to ensure there are no issues developing and will allow any repairs necessary to take place.
Regular cleaning of filters and clearing the unit of debris such as leaves or rubbish will also help to maximise the performance and protect against any damage. Clearing snow and ice from the grills and pipes will also help the system perform without sustaining damage.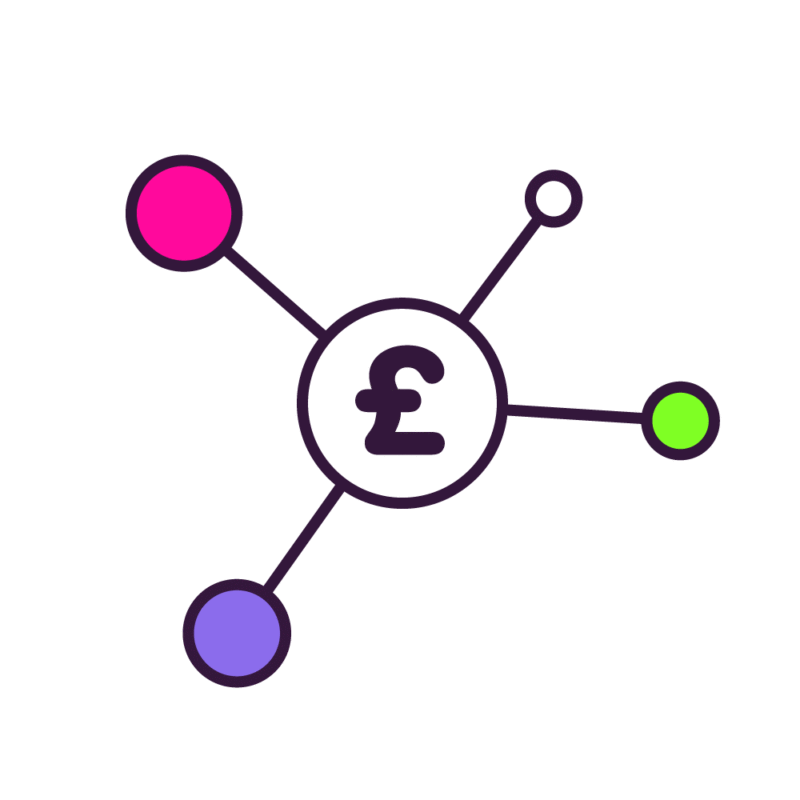 Another great bit of advice that users should listen to is letting the heat pump run how it was installed without modification or interference. The experts that set it up will do so taking into account the property, and this should offer an optimal performance.
Are air source heat pumps a good investment?
Though there is an initial expense of buying the equipment, this can be offset with grants and schemes aimed at encouraging people to explore renewable energy sources.
After installation, the long lifespan of an air-source heat pump, and the relatively low cost of running the system, can mean you save money in the long-term.
Are air source heat pumps suitable for all types of houses?
Studies have shown that using an air-source heat pump system can be done in any home, although it will most beneficial in homes with good insulation.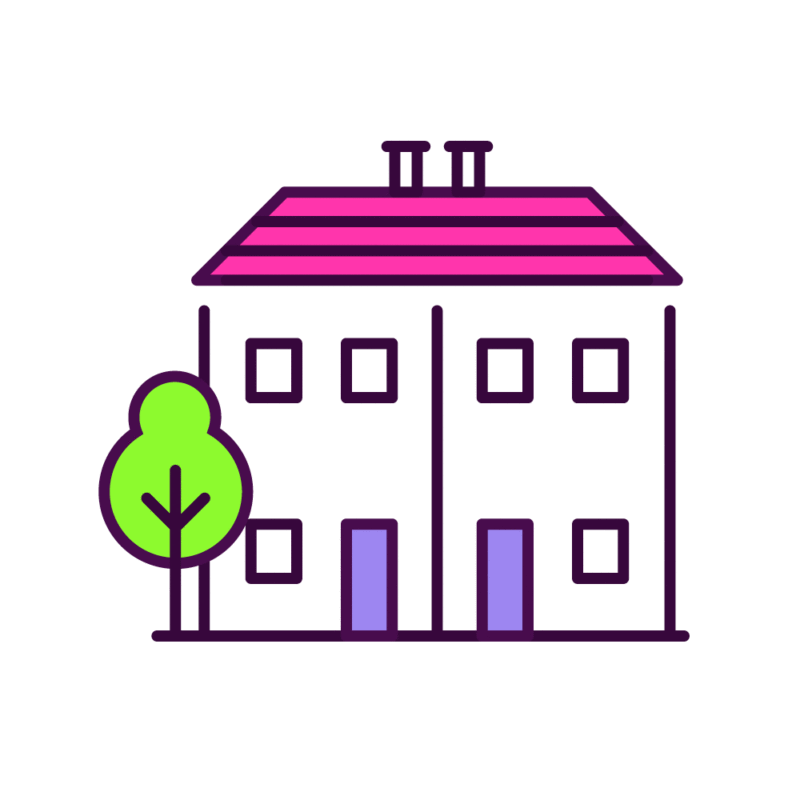 The cost of insulating a home can be quite high, however, installing an air-source heat pump system while other building work is taking place can help to lower costs.
Installing underfloor heating as well can be a great way to ensure your home makes the most of the benefits an air source pump will provide.
How can I boost the efficiency of my heat pump?
Preparing your home for the installation of a new air-source heat pump can greatly improve the heating system's efficiency, leading to optimal performance and reduced energy bills.
Here are the best ways to get the most from your air0source heat pump system: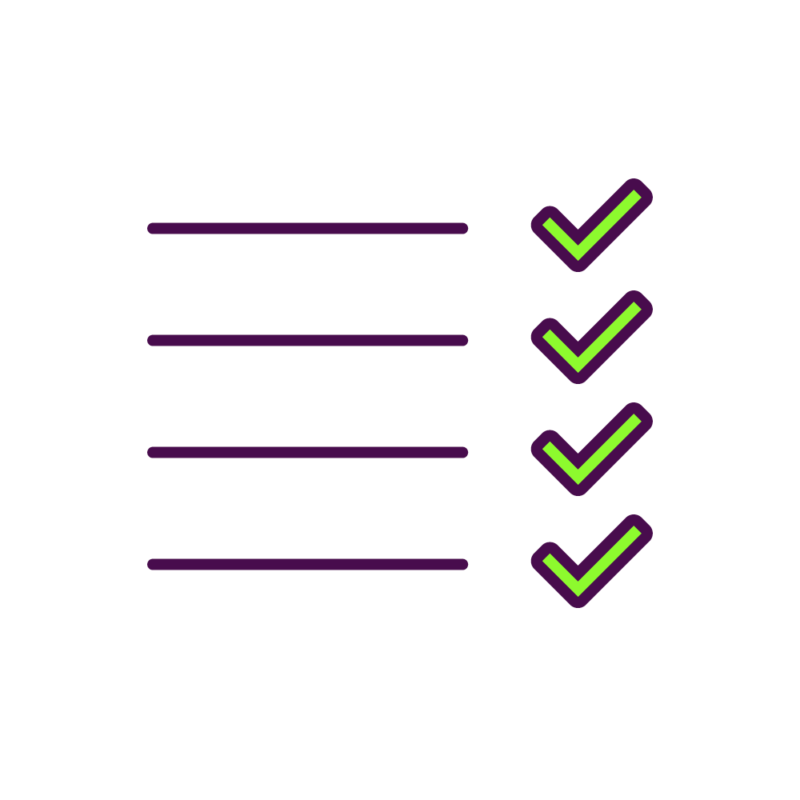 Find the best electricity tariff – This might seem obvious when it comes to reducing costs, but many people can avoid the inconvenience of shopping around for a new energy supplier. This can mean they are missing out on great deals.
Install solar panelling – Using renewable energy to power your heating system is a great way to reduce costs. After the initial installation costs of solar panelling, you will be able to enjoy great savings on your energy costs.
Install large radiators or underfloor heating – Both of these heating solutions suit air-source heat pump systems because they run at lower temperatures for longer.
Install energy-efficient windows – Double and triple glazing can be expensive, but it will make a huge difference to your home's efficiency and heat loss. You will also benefit from less external noise.
Install insulation – Cavity wall insulation and loft insulation can help you minimise heat loss, meaning your heating system doesn't have to work as hard to heat your home.
Get an online fixed price in 20 seconds:
What kind of fuel does your boiler use?