Do New Build Homes Have Gas Boilers?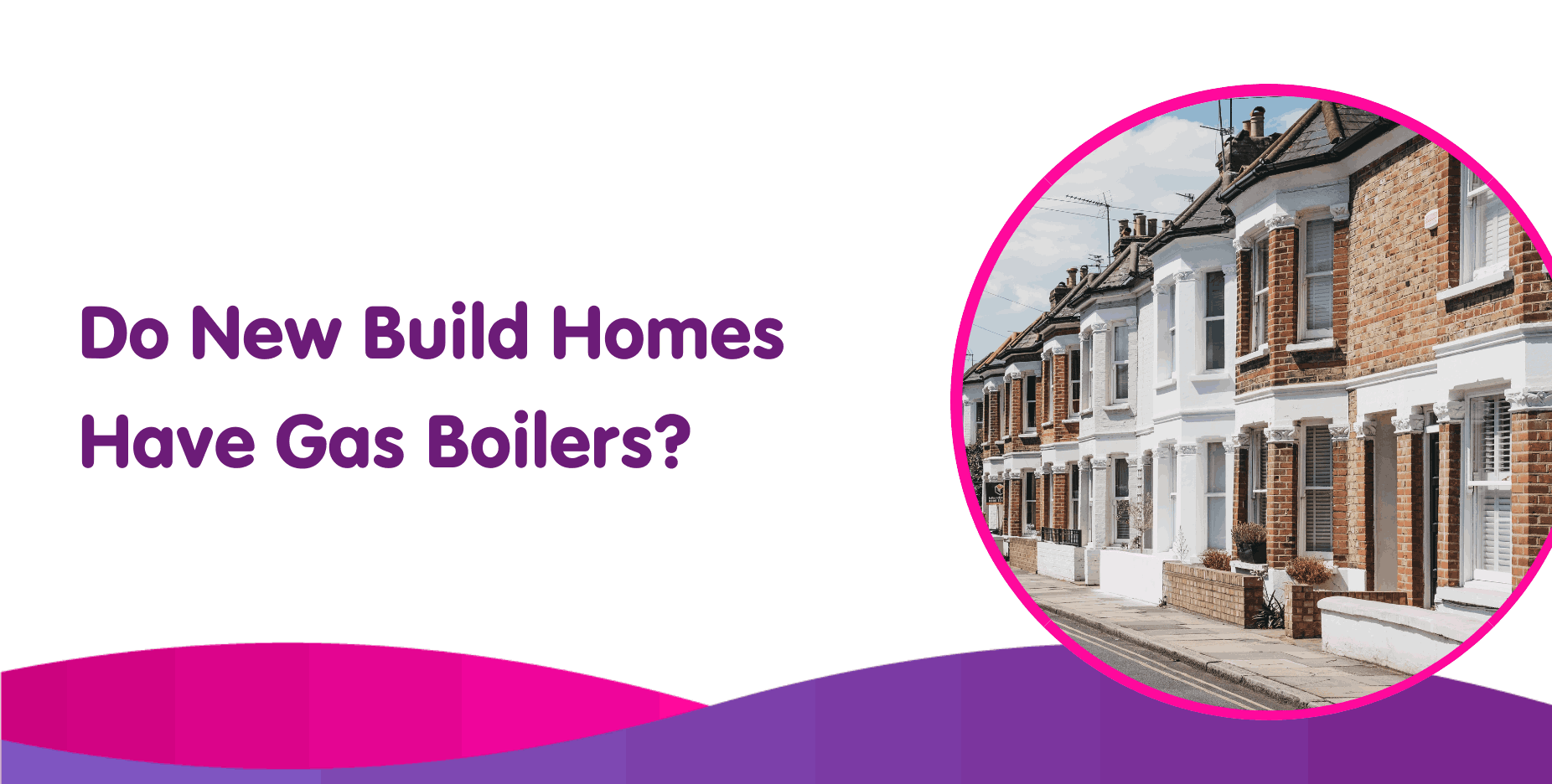 Do new build homes have gas boilers?
Yes, new build homes have gas boilers that are hydrogen ready to 20% and can run on a mix of hydrogen and natural gas.
Gas boilers are used to heat most homes in the UK and are still the choice of new build property developers nationwide. It is essential that the property be connected to the gas network in order to have a gas boiler installed. All new build properties that are connected to the gas network will still have a supplier that delivers gas to the property via a gas network when the heating is turned on.
Check out the best combi boilers here that are all suitable for new build homes.
At boiler Central we install boilers in thousands of new build homes & developments every year – get your quote now.
Get an online fixed price in 20 seconds:
What kind of fuel does your boiler use?
What heating systems do new build homes have?
New build homes have hydrogen blend-ready gas boilers. Gas boilers have been heating homes for many decades. There are good reasons for this and why they will continue to do so:
Gas is an economical way to heat your home.
High-demand heating requirements can be met
High temperatures
Modern gas boilers can be compacted
They are now hydrogen ready to 20% so can run on a mix of hydrogen and natural gas
Hydrogen-ready boilers are to be released soon to avoid the gas boiler ban
Other popular types of heating systems are air-source heat pumps, ground-source heat pumps, electric boilers, and biomass boilers. These are all far too expensive currently though to be viable for most people unless you get a huge government grant or your home is extremely insulated. Apart from electric boilers, the other types of new build systems require large outdoor space too.
New build boiler contractors & different installation types
Gas boilers replcements have been proven to be efficient heating systems and are still the choice of new-build home contractors.
Gas boilers emit carbon into our atmosphere, which is something that can't be denied. There is a solution. It would allow us to heat our homes using a modified gas boiler. hydrogen is the solution.
Combi boilers can be used as a single, cost-effective heating system. The boiler contains all the necessary components to heat and provides hot water. They are extremely compact, and no additional tanks or cylinders are required.
Many combi boilers can be installed in new build homes with one bathroom, and possibly an ensuite. The heat and distribute hot water as needed, instead of storing it in a tank which is essential when space is at a premium.
Boiler installation is an important part to consider when getting a new replacement boiler, so getting the right one can mean a lot for the efficiency of the combi boiler.
A system boiler is better than a combi for larger new build properties that have multiple bathrooms. Because they can store domestic hot water in a cylindrical, they can deliver hot water to multiple outlets at once. The downside is that once the cylinder runs out of hot water, you'll need to wait until it fills up again.
Speak to us about installing multiple boilers in new homes nationwide.
Which gas boiler is best for new build homes?
Ideal boilers are the most installed boiler in the Uk as they are the choice of new-build companies.
Ideal Heating boilers offer central heating that is second to none for homes built after 2005. The combi, heat-only, and system boilers from Ideal Heating are small and easy to install. Ideal Logic boilers can easily be hidden in a kitchen cupboard.
There are up to 12-year warranties available depending on which model you choose, so homeowners have one less thing to worry about

Ideal new-build gas boilers, which are lightweight, reliable, and simple to use, are a dream come true for buyers and developers. We hear of very few issues with Ideal boilers and the Ideal Logic has been around forever due to its simplicity, energy efficiency, and longevity.
New build gas boiler regulations
Boilers that use electricity or gas are the most cost-effective heating system for new homes. LPG and oil boilers are also available, but you will need to consider additional costs for storage tanks.
The Future Homes Standard will be implemented by 2025. It requires new homes to be future-proofed with low carbon heating, and high levels of energy efficiency. Homes built according to this standard will emit 75% to 80% less CO2 than homes built under current building regulations. As a first step, we are establishing a framework for a meaningful and feasible increase in energy efficiency standards for new homes.
These new standards will only apply if you are changing your hot-water central heating boiler or switching to one of these boilers from an existing heating system.
Because of safety concerns and energy efficiency, work to install a boiler or a cooker that supplies central heating (Aga, Raeburn, etc.) requires Building Regulations approval. It is possible to do this by hiring an installer who has been approved under scheme.
Gas Boiler An installer should have Gas Safe Registration starting 1 April 2009.
Oil fired Boiler – Installers should register with one of the Competent Person Schemes
Solid fuel boiler An installer must be registered with one the Competent Person Schemes.
Every new build boiler must be at least 86% efficient for gas and 85% oil. A condensing boiler is required to replace a gas boiler. A registered installer will assess the boiler type you need. This assessment can be found in the Ministry of Housing, Communities and Local Government publication.
If a SEDBUK rating A or B is required for a condensing boiler, an assessment by a Gas Safe Register Installer from April 2009 indicates that this is not feasible. Then, less efficient boilers with SEDBUK Ratings C or D are possible to be installed provided they meet the minimum efficiency requirements as set out above.