Edinburgh Boiler Installation Costs Guide 2023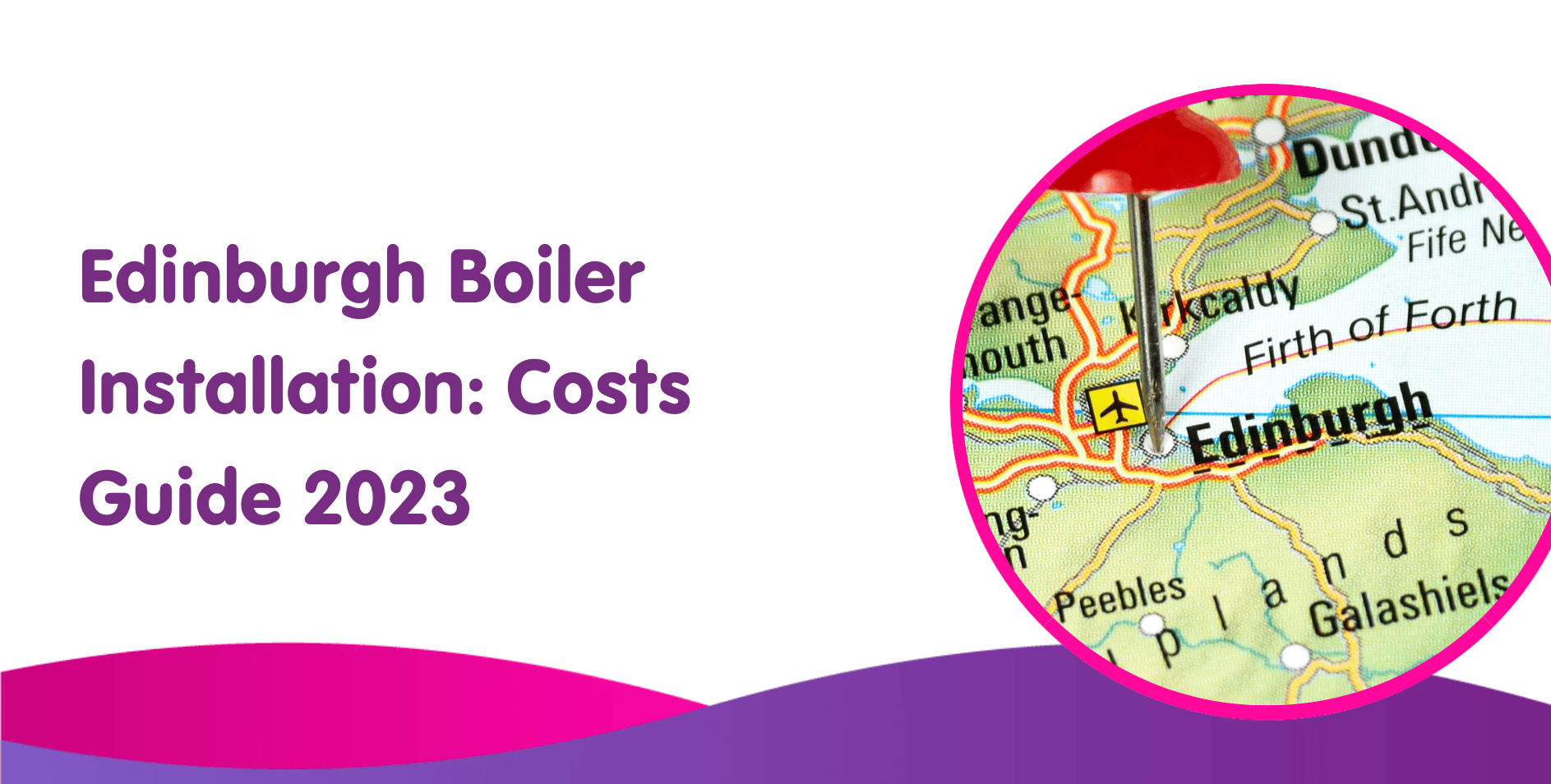 Comprehensive Guide to Boiler Installation Costs in Edinburgh 2023
Looking for a reliable Edinburgh boiler installation service? Look no further! If you're considering a boiler installation in Edinburgh, we've got you covered. Whether you're upgrading from an old, inefficient boiler or planning a brand-new installation, understanding the costs involved is crucial.
In this comprehensive guide to boiler installation costs in Edinburgh for 2023, we'll walk you through everything you need to know. From the most popular boiler models to the costs associated with the installation process, our expert advice will ensure you make an informed decision.
Get an online fixed price in 20 seconds:
What kind of fuel does your boiler use?
Unlock the Benefits: Installing a New Boiler in Edinburgh

Discover the advantages of a new boiler installation in the heart of Edinburgh. As the weather here tends to be on the chilly side, ensuring a reliable heating system is essential for creating a cosy and welcoming home. Most homes in Edinburgh have old boilers, which are beyond economical repair, which means that you're paying more than you should be for your heating or hot water.
By making the smart choice to invest in a new boiler installation, you'll unlock a range of benefits that will transform your living experience. From enhanced energy efficiency to reduced heating and energy bills, the rewards are yours for the taking.
Get an online fixed price in 20 seconds:
What kind of fuel does your boiler use?
Reputable Gas Engineers in Edinburgh for Boiler Installations
In Edinburgh, our team of reputable gas engineers specializes in boiler installations and provides fantastic customer service. They possess the expertise and knowledge to guide you through the process and ensure that your new boiler is fitted to a high standard. Whether you're looking for the best boilers on the market or considering finance options for your new boiler installation, we can assist you.
Don't Hesitate, Enjoy the Benefits of a New Boiler Installation in Edinburgh
Don't hesitate to get a new boiler installed in Edinburgh and start enjoying the benefits it brings. Contact us today to discuss your options, explore finance options if needed, and experience the convenience and comfort of a modern boiler and efficient central heating system.
Edinburgh Combi Boiler Installation
Why Choose a Combi Boiler for Your Edinburgh Home?
When it comes to boiler options in Edinburgh, a combi boiler is a popular choice among homeowners. Here's why:
They don't require a separate hot water cylinder or storage tank, making them ideal for homes with limited space.
Combi boilers are highly energy-efficient. They heat water directly from the mains, eliminating the need for storing pre-heated water. This reduces energy wastage and ensures efficient heating.
With a combination boiler, you'll have instant access to hot water whenever you need it. There's no waiting for the water to heat up, providing convenience and comfort.
Get an online fixed price in 20 seconds:
What kind of fuel does your boiler use?

Factors Affecting Boiler Installation Edinburgh Costs
Before you go ahead with installing a new boiler, it's important to understand the costs involved. We can give you a detailed breakdown of the costs, including the price of the boiler, installation costs, and any extra services you might need. Knowing these costs will help you make an informed decision and choose the best option for you.
Choosing the Right Boiler
The type and model of boiler you choose can affect the overall installation cost. Different boilers, like combi boilers or system boilers, have different prices based on their efficiency, features, and brand reputation. It's important to research and compare different options to find the boiler that suits your needs and budget.
Considering Your System
The complexity of your central heating systems and the specific requirements for your property can impact the installation cost. Factors like the size of your home, the number of radiators, and the need for extras like thermostatic radiator valves can influence the final price.
Bathrooms and Hot Water Needs
The number of bathrooms in your home is important in determining the size and capacity of the combi boiler you need. Think about how many bathrooms, showers, and taps you have, as different boilers have different hot water output rates. It's essential to choose a boiler that can meet your household's hot water demands.
Installation Complexity
If your property requires extensive pipework or modifications to the existing system, the installation process may be more complicated and time-consuming. This can affect the overall cost as additional labour and materials may be needed. For example, the number of bathrooms you have can ultimately add to the installation costs.
Location and Accessibility
The location and accessibility of your boiler installation site can also affect the cost. If the boiler needs to be installed in a hard-to-reach area or if there are access limitations, it may take more time and effort, resulting in higher costs.
Get an online fixed price in 20 seconds:
What kind of fuel does your boiler use?
Popular Boiler Models in Edinburgh and Their Prices
Let's check out some popular boiler models in Edinburgh and their prices:
Viessmann Vitodens 050-W 25kW – £2,370
Highly efficient and reliable
Compact design with advanced features
Offers great energy savings and durability
Alpha E-Tec 28kW – £1,935
Cost-effective option
Ensures reliable heating and hot water supply
Budget-friendly without compromising quality
Worcester Bosch 4000 25kW – £2,315
Renowned for reliability and energy efficiency
Incorporates advanced technology for optimal performance
Strikes a balance between cost and quality
Worcester Bosch 2000 30kW – £3,325
Suitable for larger properties
Provides ample heating and hot water output
Superior performance and durability
Viessmann Vitodens 100-W 30kW – £2,625
Top-of-the-line boiler with exceptional quality
Advanced features and high energy efficiency ratings
Offers superior comfort and reliability
Get an online fixed price in 20 seconds:
What kind of fuel does your boiler use?
Locations We Serve in Edinburgh

We provide services in various areas within Edinburgh and its surrounding regions. Here are the locations we cover:
Edinburgh City Centre
Leith
Stockbridge
New Town
Old Town
Morningside
Marchmont
Bruntsfield
Tollcross
Haymarket
Corstorphine
Murrayfield
Cramond
Portobello
Duddingston
Musselburgh
Dalkeith
Bonnyrigg
Penicuik
South Queensferry
Get an online fixed price in 20 seconds:
What kind of fuel does your boiler use?
New Boiler Replacement in Edinburgh
If you're in Edinburgh and need a new boiler, our team of Gas Safe engineers is here to help. We know how important it is to have a properly fitted and efficient boiler, so we provide top-notch advice and service. Whether you're considering a combi boiler or another type, our knowledgeable team will guide you towards the best options. You can trust us to replace your old boiler with a modern, energy-efficient model that performs optimally and save money. Don't wait any longer; let us take care of the necessary repairs or replace your old boiler with an economical solution.
High-Quality Boiler Replacements in Edinburgh
When it comes to boiler replacement in Edinburgh, we take pride in delivering top-notch service. We understand that boilers are essential for warmth and hot water, so we prioritize expert advice to help you make the right choice. We have a wide range of boilers available, including the best options on the market today, to cater to your specific needs.
Our team will replace your existing boiler with precision and care, ensuring it's fitted to the highest standard. This way, you can enjoy a reliable and efficient heating system for years to come. Don't settle for subpar heat or costly repairs; have a boiler replacement with us today.
Conclusion
In conclusion, a boiler installation in Edinburgh is a valuable investment that improves energy efficiency, reliability, and comfort in your home. By understanding the factors affecting installation costs and exploring popular boiler models, you can make an informed decision that meets your needs. Remember to hire a qualified professional for the installation and consider any additional costs.
Get a free boiler survey / quote with no home visit here
Get an online fixed price in 20 seconds:
What kind of fuel does your boiler use?
Edinburgh Boiler Installation FAQs
Are there grants or financial assistance available for a boiler installation in Edinburgh?
There may be grants or financial assistance available for boiler installations in Edinburgh, especially if you're upgrading to a more energy-efficient model.
It's worth checking with local Edinburgh authorities or energy efficiency programs for any available schemes.
Can I install a boiler myself to save money?
It is strongly recommended to hire a qualified gas-safe heating engineer to install a boiler. Gas boiler installations require expertise and adherence to safety regulations. Attempting a DIY gas installation can be dangerous and may void warranties.
How often should I service my newly installed boiler?
Regular servicing is essential to maintain the efficiency and safety of your boiler. It is generally recommended to have your boiler fitted and serviced annually by a Gas Safe registered engineer.
Can you do a gas boiler installation? I'm in Edinburgh.
Certainly! At Boiler Central, we provide gas boiler installations in Edinburgh and the surrounding areas. Our experienced team of engineers is fully qualified and equipped to handle all your boiler needs.
Get an online fixed price in 20 seconds:
What kind of fuel does your boiler use?