Best 40kW Combi Boiler For 2023 Review & Price Guide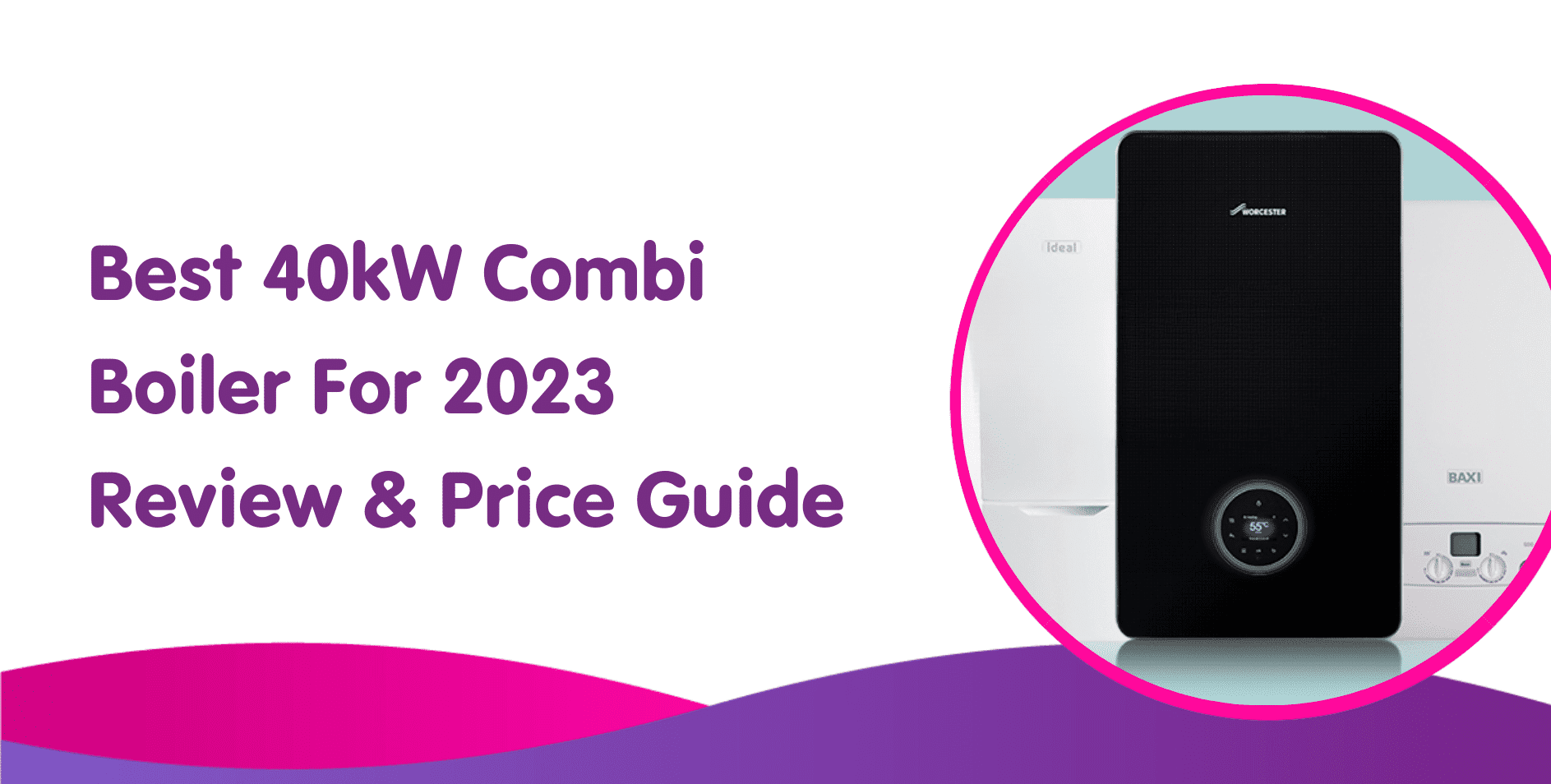 Which is the best 40kw combi boiler to buy right now?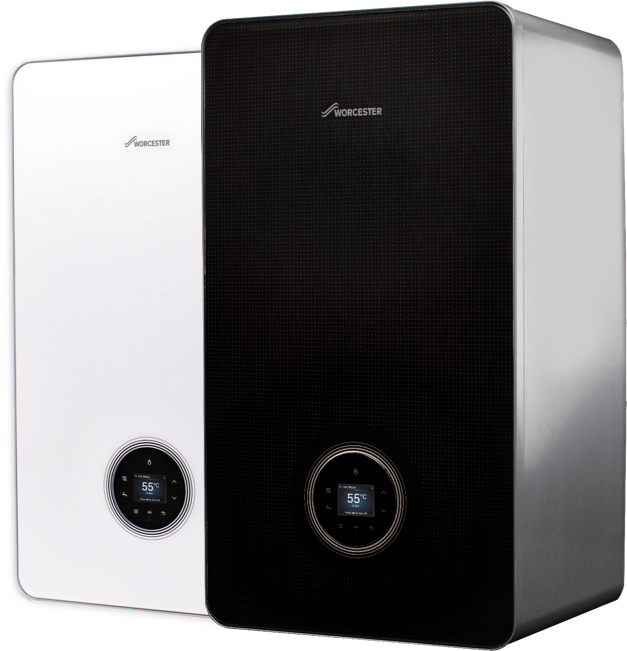 40kw combi boilers are capable of providing hot water to homes with two bathrooms. You may experience a drop in pressure if you use two showers at once.
A system boiler is better than a combi for this, but as combi boilers improve and technology gets better, a powerful combi boiler with 40kw output can keep up.
Get a fixed price in under 20 seconds here
A 40kw combi boiler eliminates the need for a traditional cylinder. They heat water as needed and then direct it to the tap. This will save you space, and additionally, you will always have hot water (though you might need to wait until the hot water tank is full).
Get a fixed price quote for the Worcester 8000 40kW combi boiler here online:
Get an online fixed price in 20 seconds:
What kind of fuel does your boiler use?
Best 40kW combi boilers for central heating
You have many choices because all the major boiler manufacturers make powerful 40 kW combi-boilers.
Worcester Bosch Greenstar 8000 Life
Baxi 800 Platinum+
Ideal Vogue Max
ATAG i40C
How does a combi boiler work?
Combi boilers heat your home instantly and provide hot water. Check out some of the best combi boilers available right now with a range of different outputs.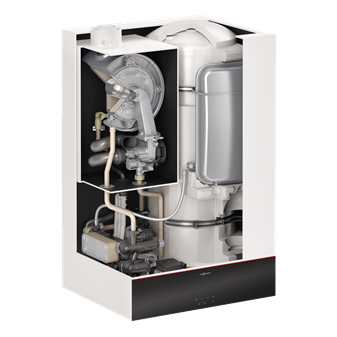 The combi boilers are connected directly to the mains water supply, therefore, when you turn on a hot tap, the combi heats water from mains and then sends it directly to the tap.
Regular and system boilers do not do this. Instead, they keep hot water in a container. You'll have to wait for the hot water to return to its full capacity every now and again.
A cylinder has the advantage of being able to meet higher hot water demand. This allows you to have hot water for more than one outlet. It is something that most combi boilers cannot do. You need one that has high domestic hot-water output ratings and a 40kw combi boiler is the best.
Want a combi boiler with the benefits of a system boiler? Check out the best storage combi boilers that have a built in hot water cylinder.
Is a 40kW boiler a good choice for my home?
A 40 kW combi boiler produces 40 kilowatts of domestic hot water heating output, therefore this could mean they might be able to supply hot water for homes with 2 bathrooms.
The boiler's power is measured by its output rating. Combi boilers have separate output ratings for central heating (CH), and domestic hot water (DHW). This is different from regular boilers that only have a CH output rating. Combi boilers store hot water in a cylinder.
The central heating output of any combi boiler is not as high as 40kW. All of the top 40kW (DHW), best gas combi boilers heat 15-20 radiators. They do this whilst keeping a high-efficiency energy rating.
It is important to get the right output rating for your boiler as your heating bills will go up if the boiler is too powerful. If it's not powerful enough, it won't be able to meet your heating and hot water needs.
System boilers are the best choice for homes with multiple bathrooms.
Read more about boiler replacement in the UK here.
I am not certain if a combination of 40kW and 60kW is right for my house…
Don't worry if you're not sure. Many heating engineers are available to provide expert advice and you can get a free online fixed price quote in under 20 seconds online now with Boiler Central for boilers suitable for your hot water needs. If you are unsure, you can always give us a quick call and speak to one of our experts right away.
Is a 40kw combi boiler better for a more powerful shower? Find out more here about showers and combi boilers
Combi boilers up to 40 kW
You're lucky if you choose one of our Gas Safe registered engineers who recommend that you install a natural gas 40kW combi-boiler in your home if you a have a larger home and multiple bathrooms.
There are many top-quality models available in this output and they come with great warranties too and the combi boiler installation cost is lower than a system boiler with a tank.
Worcester Bosch Greenstar 8000 Life 40kw
Worcester Bosch Greenstar 8000 Lifestyle range comprises Life boilers (30-50kw) and style boilers (30-50 kW). Style boilers come in both black and white, while Life units are only available in white. No matter if you have a Style or Life boiler, they share several industry-leading characteristics.
High DHW flow rate and output and high erp water heating efficiency
Greenstar intelligent filling system
Premium gas boiler
Quiet noise level
Bosch EasyControl is compatible. You can control the heating and hot water from your phone.
To increase efficiency during operation, use 1:10 modulation
Baxi 800 Platinum Plus
Baxi Back Boilers. Baxi boilers are well-respected, especially by installers. The Baxi Back Boilers. Baxi 800 Platinum Plus is ideal for larger homes. It also runs efficiently, helping to lower your energy costs.
OpenTherm technology allows for you to control your smartphone or tablet from anywhere.
The flow rate is 16.4 litres/minute at a temperature rise of 35degC makes it well-suited to homes that have multiple bathrooms.
Frost thermostat with built-in protection against freezing during winter months
To offer more flexibility in installation can be fitted with multi-fit flue systems
Energy Saving Trust endorses
Ideal Vogue Max
Ideal Boilers are known for making premium products. The Vogue Max range by Ideal Boilers is no exception. Ideal Boilers only uses the highest quality components in this boiler. The boiler replacement will come with a warranty of up to 12 years. You will receive a warranty can last up to 12 years.
Installed by an Ideal Max-accredited gas boiler installer, the new boiler will come with a warranty of up to 15 years. Many of our customers are unaware that this warranty can be extended for up to 12 year.
Boiler frost protect to keep the unit operating in the coldest conditions
Installing a combi boiler that is lightweight can be much easier than hiring an installer.
Clear text messages are displayed on the LCD display to explain the issue in the unlikely case of a fault.
ATAG i40C
ATAG i40C can be a powerful choice for homes with more than one bathroom. The ATAG i40C is also extremely efficient, which will lower your energy bills. You'll also be covered by a long 10 year warranty. You can also extend this warranty to 14 years with ATAG by following certain guidelines.
When used with the ATAG One Zone controller, it achieves an A+ efficiency rating
The iCON stainless steel heat exchanger comes with a lifetime replacement guarantee
Adjusts flow temperature automatically based on external conditions
For those with limited space, compact dimensions of 700x440x355mm (HxWxD), are ideal.
High flow rate at 35degC temperature increase of 16.2 litres per hour
Energy Saving Trust has endorsed this plan
How much do 40kW combi boilers cost?
Combi boilers are the most economical boiler type. Combi boilers don't require external tanks or even cylinders therefore a new combi boiler cost around £2,000 on average.
A natural gas 40kW combi could be yours for less than £1,300 before installation costs. Expect full boiler installation prices to be around £2,300
All heating engineers have their own installation prices. They can vary depending upon the boiler type, complexity, and location. Boiler installation in London is the most expensive.
Comparing multiple quotes is a great way to get the best deal for your combi boiler install. Complete our online form to let us know what job you are looking for and we'll provide you with a fixed price boiler quote online.
Are storage combi boilers any good?
Storage combi boilers are a sort of hybrid between system boilers and combi boilers. They combine the best of both boilers as they have the instant hot water capabilities of a combi boiler, but also have a built-in hot water tank like a system boiler which means that they can deliver lots of hot at once to multiple taps. See the Viessmann Vitodens 111-w combi boiler review for more information, and you can get a quote online too!
Which is the best combi boiler?
If you're looking for the best combi boiler in the UK all around, then it has to be the Viessmann Vitodens 050-w combi boiler.
This best combi however is only available in a maximum output of 30kw, which is ideal for most homes in the Uk with up to 4 bedrooms and 2 bathrooms. Any more than this and you're on the right page as it means that you will need 40kw boiler or above.
The best powerful combi boilers for homes without gas
Many properties are not connected to the gas system. This means that off-grid properties will require a boiler that can run on as an alternative to gas boilers. LPG is an alternative to gas, which can be stored in a local storage tank.
If properties aren't connected directly to the gas network oil can be used. There are many options to meet your heating and hot water needs, including a 40kW oil combi boiler.
An OFTEC certified heating engineer will be required to install an oil boiler. Our online form allows you to request free quotes for heating engineers in your locality.