Viessmann Vitodens 100-W Review
Table of Contents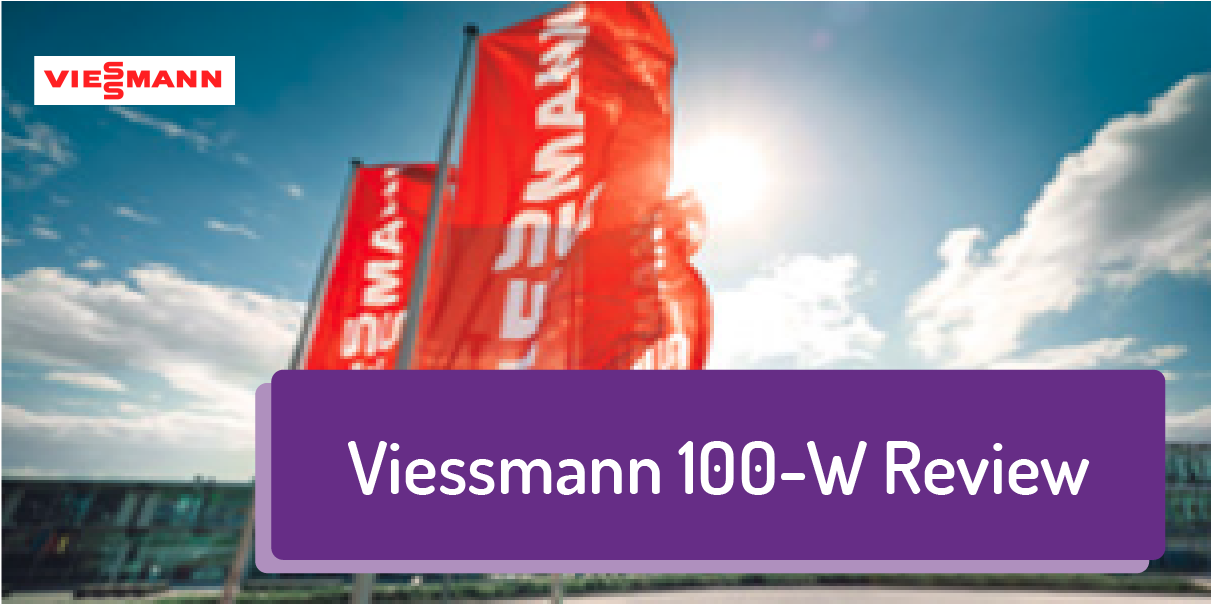 The ultimate review of the fantastic Viessmann Vitodens 100-W Boiler
Quality German engineering, at an affordable price
The Viessmann Vitodens 100–W boiler is one of the best boilers on the market. Having Which? Best Buy accreditation, a super easy to use backlit control panel and long guarantees, it's certainly one of the leading boilers in the UK boiler market today.

Many people ask us:
"Is the Viessmann 100-W combi or system boiler any good?"
Well If you're looking for a new boiler , they are amongst the best for affordability and are especially reliable in our experience, earning them a Which? best buy award.
Let's give you the facts and figures to back this up: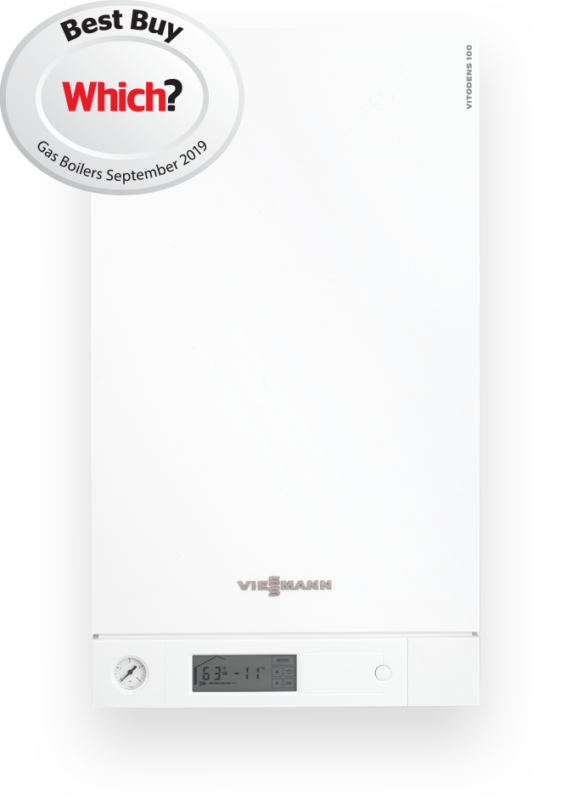 A highly engineered and affordable boiler system with super quiet operation, the Viessmann Vitodens 100-W is the premier system for anyone who needs a new boiler.

This gas condensing boiler is an incredibly popular solution for UK homes.
With innovative technology, highly efficient service and reliability, and smart tech ready, the Vitodens 100-W will help you to optimise and save energy.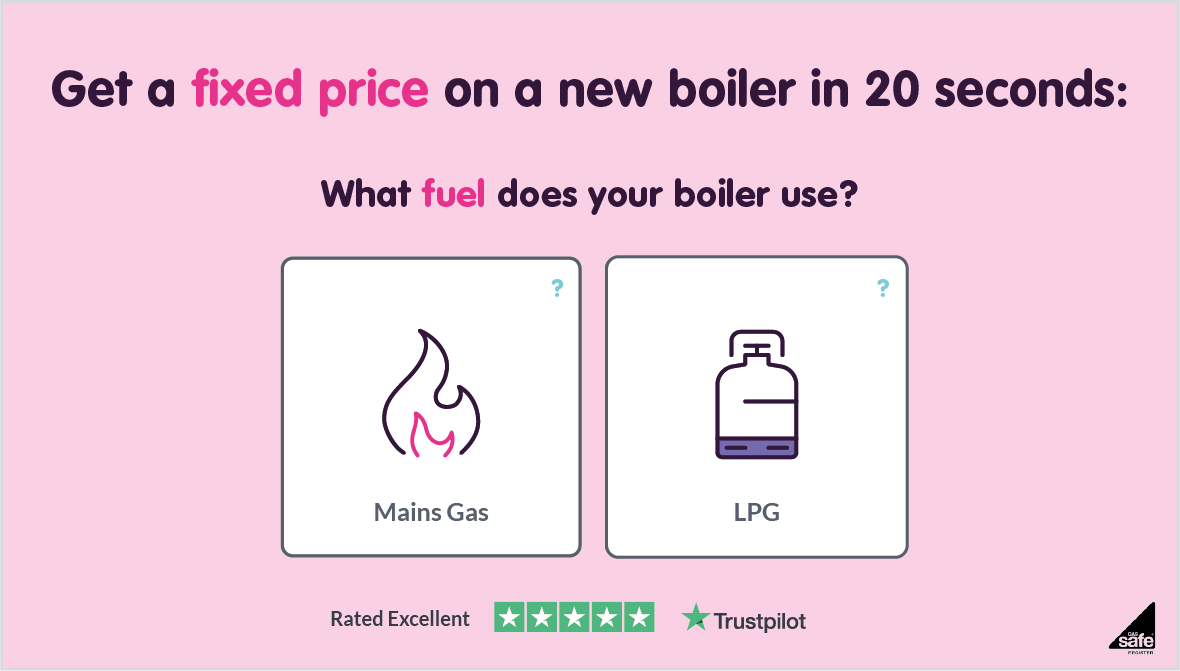 Vitodens 100-W – Top Features
An easy to use Touchscreen Panel:



The Vitodens 100-W wall mounted gas condensing boilers are all easily accessible via the new backlit LCD touchscreen.
This makes it easy to access options and settings especially in the dark.
You can also offer a wireless remote control for even easier access to the system.


How big is the Vitodens 100-W?
The Viessmann Vitodens 100-W review also includes its compact dimensions thanks to German planning with fantastically compact sizing, making the system fit into any home decor and easy to place into a cupboard space.
With its sleek design, it will fit in to any type of home and be your heating powerhouse for many years to come.
| | |
| --- | --- |
| Dimensions | (mm) |
| Width | 400 |
| Height | 700 |
| Depth | 350 |

Where are the Vitodens 100-W made?
Being one of the best and most reliable manufacturers of boilers doesn't come easy in a crowded market but with Viessmann's experience and know how, they managed to design and build a remarkable product.
They manage to do this and keep their pricing below others in the boiler installation market but offering the highest reliability on the market.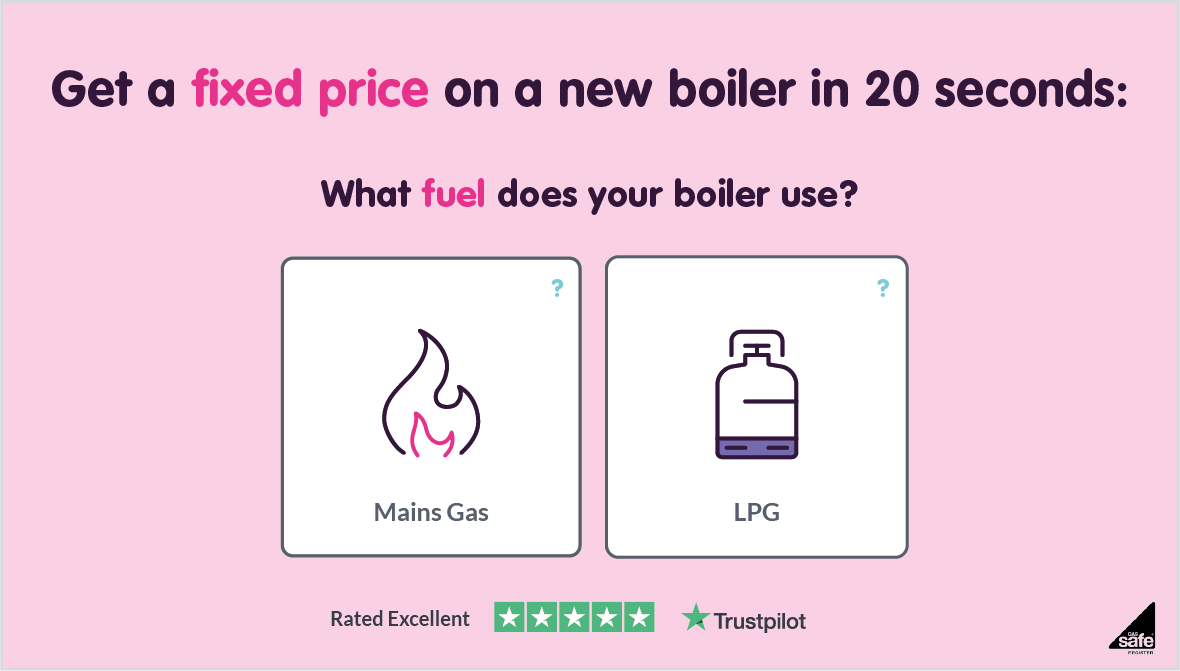 Why choose the Vitodens 100-W boiler?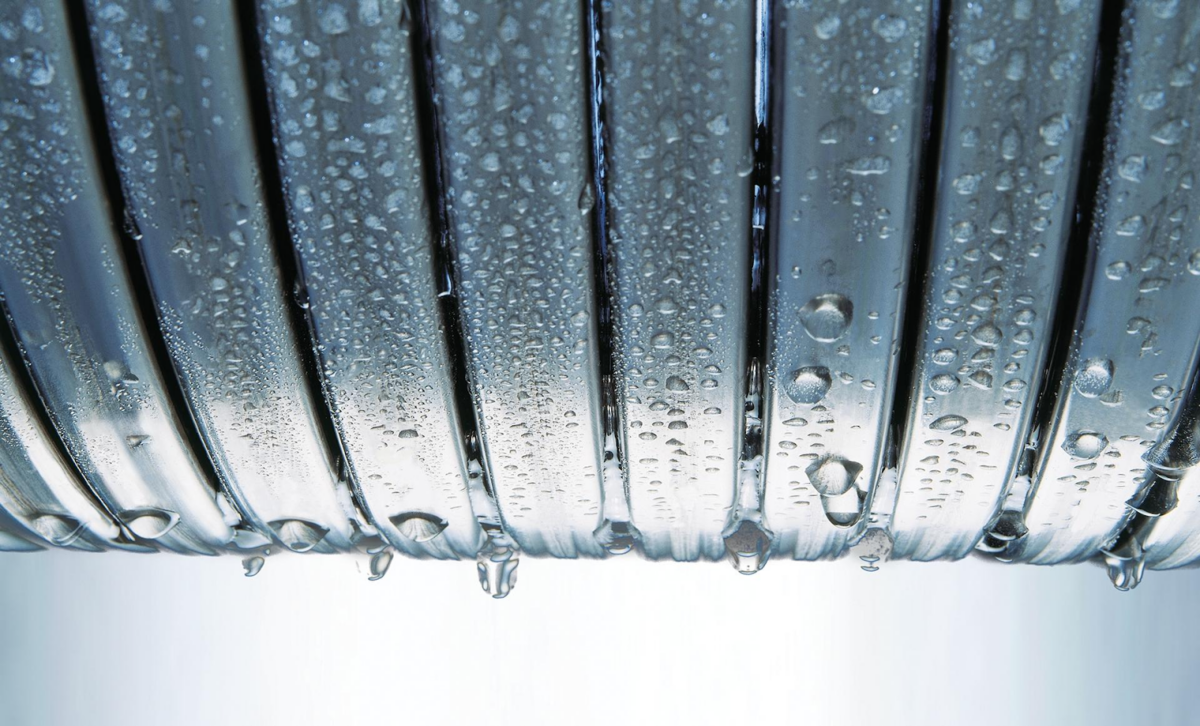 As with all Viessmann gas condensing boilers, the Vitodens 100-W is equipped with stainless steel Inox-Radial heat exchangers.
Quite simply, this means that the stainless steel heat exchanger will last for donkeys years, which rivals competitors like Worcester Bosch as they use plastic heat exchangers which are prone to wear and breakages.

This technology brings with it an extremely high efficiency rate of 98 percent and exceptionally reliable and efficient operation during its long service life.

Viessmann guarantees the Inox-Radial heat exchanger for ten years against leaks resulting from corrosion and Boiler Central offers a unique 15 Year warranty on all installed Viessmann new Boilers!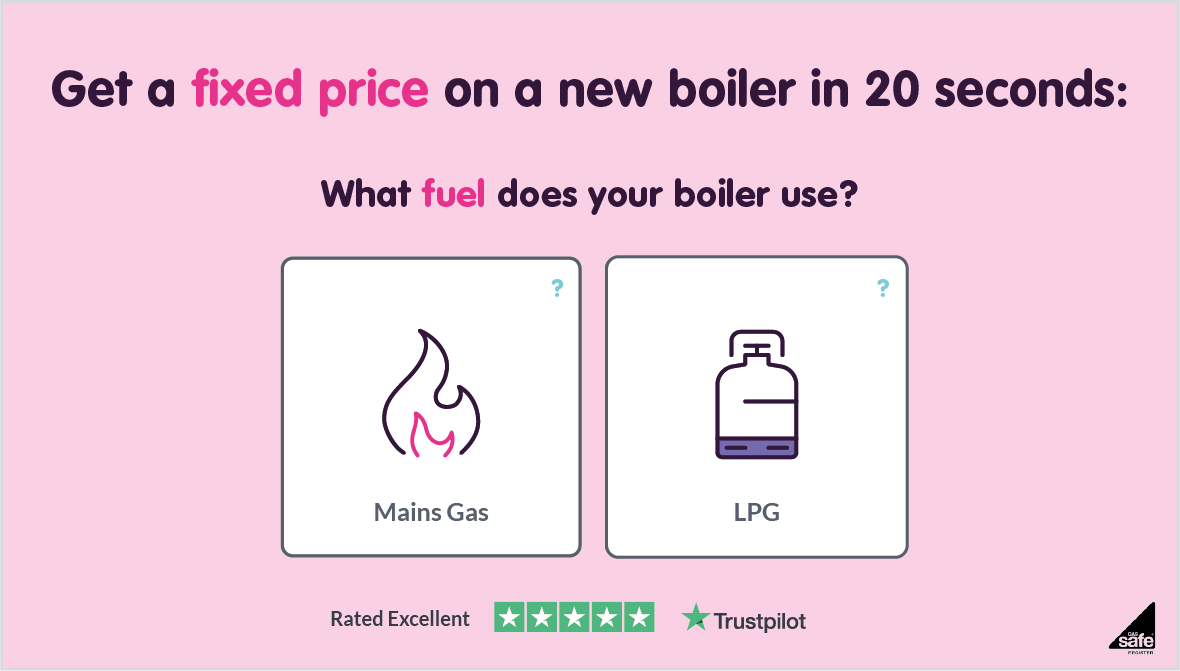 About Viessmann's superb 4-pipe system:


Most noteworthy, is that Viessmann Vitodens system boilers up to 35 kW installed together with a Vitocell 200 or 300 unvented cylinder become the perfect combo when adhering to G3 building regulations.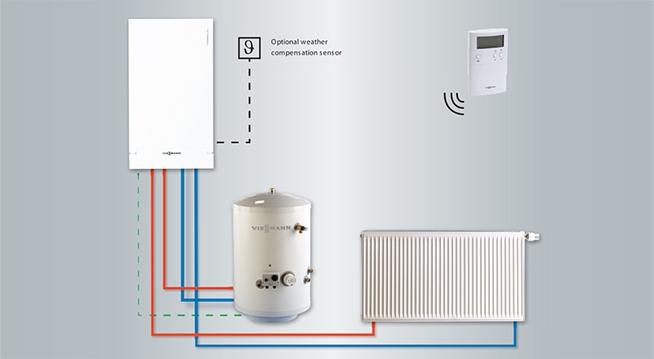 This negates the need for an energy cut-off valve and a cylinder overheat thermostat, being integrated into the boiler.

Viessmann Vitodens 100-W – Quick Review

SEDBUK 2009 seasonal efficiency 89.5%
Ideal as a replacement for older appliances due to low installed height and installation space for adaptation to existing systems
Low operating noise through extended modulation ratio: up to 1:6
Modulating stainless steel cylinder burner
User friendly control via backlit LCD touchscreen (option for control via room thermostats)
Straightforward access from the front, so no need to leave space at side for maintenance
Also approved for multiple connections to stacks in multi storey buildings
Combined PRV and condensate connection, for fast and simple installation
For affordability (Viessmann Boilers start at £1,695 installed!), reliability, ease of use and space saving, the Viessmann range is going to be the best choice on the market in affordable boilers.

Don't just take our word for it either. The Vitodens 100-W is a which? best buy and for good reason.
Not convinced? Let's explore further specs!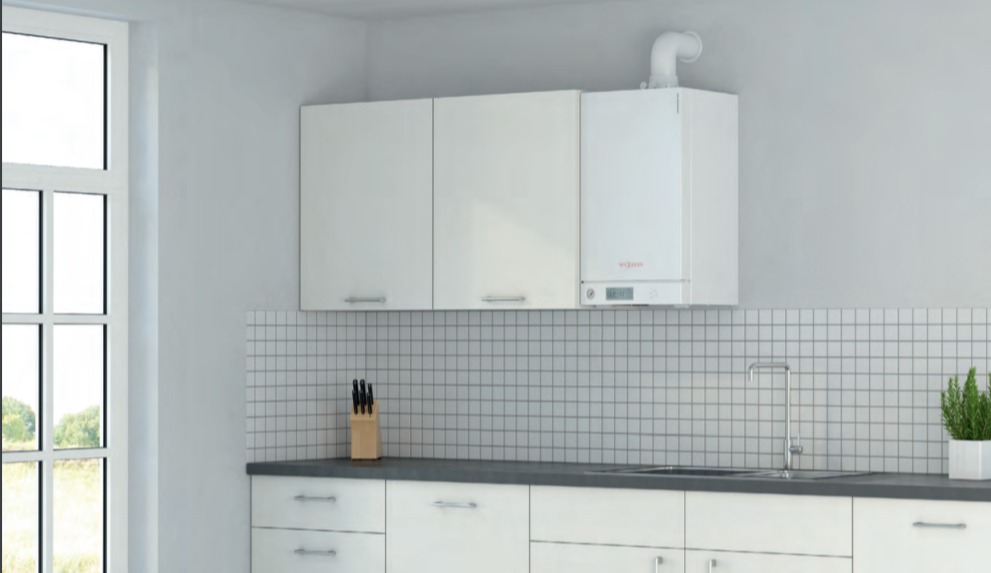 | | |
| --- | --- |
| Boiler Type | Gas Boiler |
| Sub Type | Combi Boiler |
| Colour | White |
| Warranty (Years) | 15 (only with Boiler Central) |
| Width (mm) | 400 |
| Height (mm) | 700 |
| Depth (mm) | 350 |
| Weight (Kg) | 38 |
| Output (Kilowatts) | 30 |
| ErP Space Heating Efficiency | A |
| ErP Water Heating Efficiency | A |
| Flow Rate (L/min) | 12 |
| Fuel | Natural Gas |
| Mounting | Wall |

Manufacturer Information:

The Vitodens 100-W is available as a gas condensing system boiler for the connection of one DHW cylinder and as a gas condensing combi boiler with an integral plate heat exchanger for DHW heating.

In the delivered condition, the Vitodens 100-W is set up for operation with a constant boiler water temperature.
By connecting an outside temperature sensor (accessories), the boiler can be operated in weather compensated mode.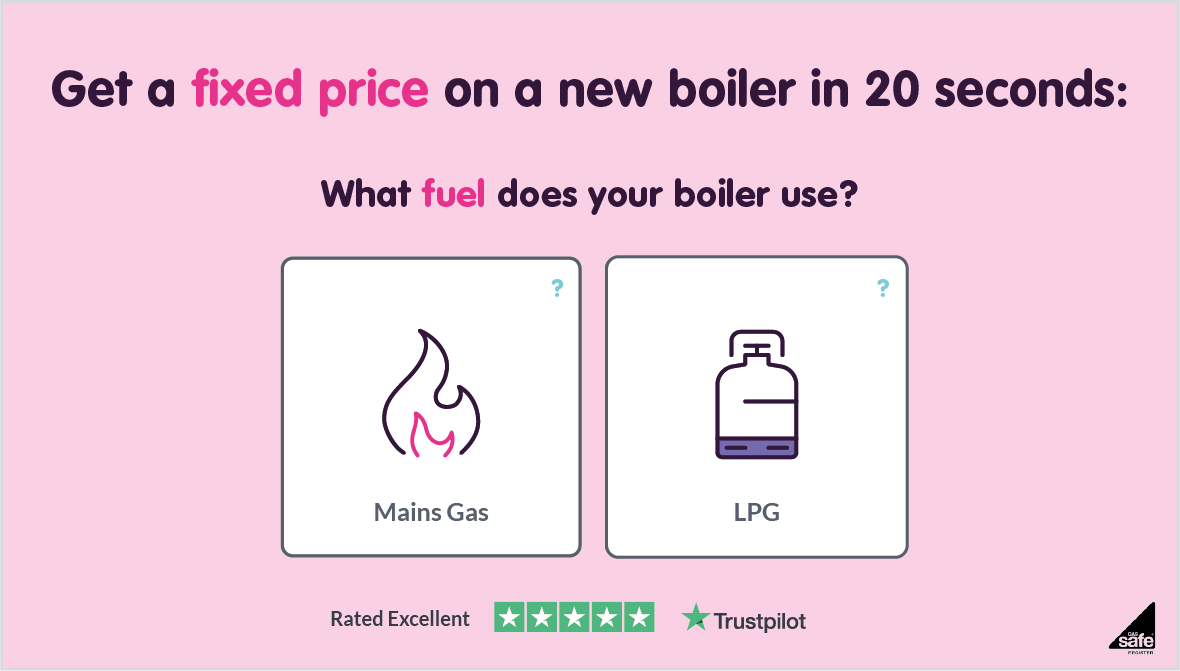 The following are integrated:

One sealed unvented hydraulic system with 2 connections for heating flow and return, and 2 connections for cylinder heating (gas condensing system boiler) or DHW heating (gas condensing combi boiler).

These boilers are only intended for installation in sealed unvented heating systems. Likewise, boilers for unvented heating systems are also available.

Additionally, if the Viessmann Vitodens 100-W combi boiler is installed in an S plan or Y plan system then the two internal connections are not used and must be capped off during installation.
Market leading hydraulic systems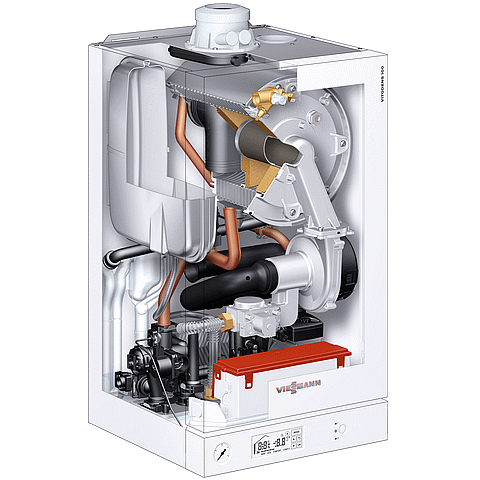 Circulation pump

3-way diverter valve

Safety valve

Diaphragm expansion vessel

Plate heat exchanger for DHW heating (gas condensing combi boiler)
The Viessmann Vitodens 100-W is a better and more efficient choice than the Worcester-Bosch Greenstar series. It is also an upgrade on the Viessmann 050-W boiler, see our review of the 050-W here.
What about the cost with higher KW boilers?

Finally, In our experience customer's ask us several questions regarding boilers and the heating costs but one which always pops up seems to be: will a higher KW boiler cost me more to run?

It seems like an obvious answer, but actually the answer is no.
You will heat your home faster with a larger KW boiler with a higher output and then enter simmer mode to keep the water hot.
The smaller boilers will stay firing high for longer to ensure correct radiator temperature to give you the optimum temperature for your home, making them use more gas.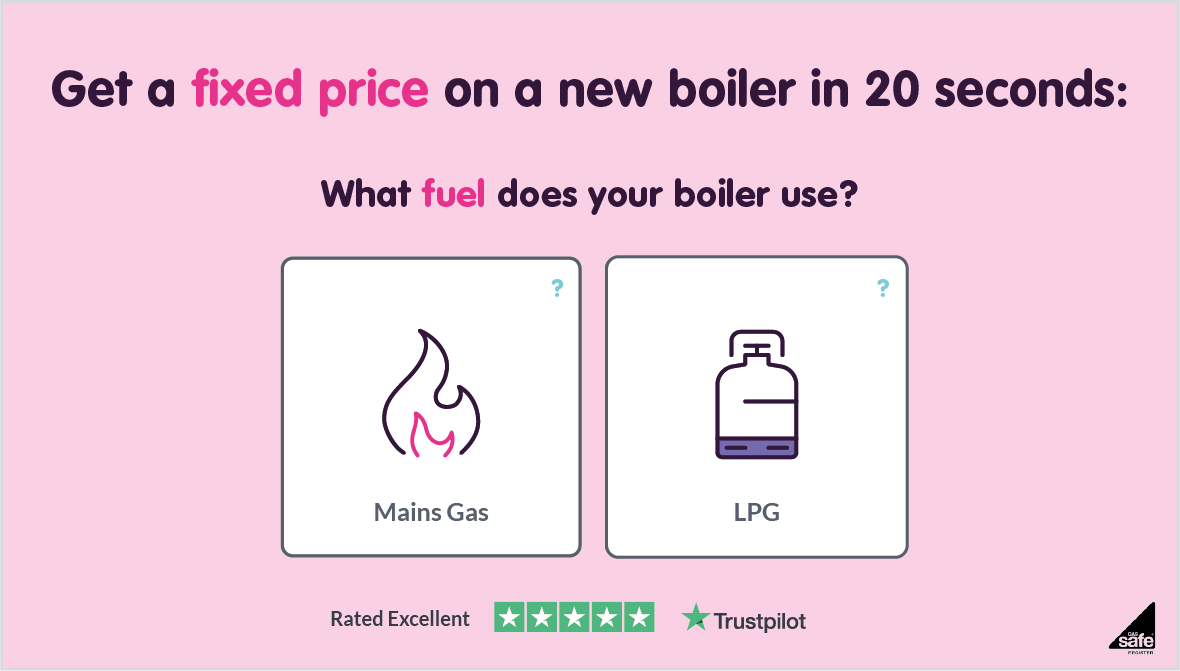 Viessmann Vitodens 100-W prices

The Vitodens 100-W is priced slightly higher than most of the comparable models from other manufacturers, coming in at an average of £1,879 dependent on your location in the UK.
There are other factors that will cost your more for your 100-W combi boiler such as if you need to move your boiler flue or if you need to relocate your boiler to another room.
One thing that people are unsure of is what size boiler they need for their home. If you click here you can get a fixed price on a boiler that's suitable for your home.
You will also see the cost of a Viessmann 100-W boiler if this is the boiler you're set on getting.
We have a range of guides on the recommended boilers to purchase if you need a little more help or for what type of boiler you need for your home.
We will analyse your number of bedrooms, bathrooms, and provide you with a 100% reliable quote where you can book online and select an installation time that suits you.

All with Boiler Central's 15 year warranty on all Viessmann boilers and exemplary service.
Get this Viessmann Vitodens 100-W boiler installed for as little as £2,299 with our UK leading boiler deals.
Our flexible financing options making buying a boiler online easy.

Furthermore, we also offer comprehensive boiler cover from as little as £13.99/mo.
Click here to see how we can cover your boiler, central heating, electrics, and even lost keys for one low monthly cost.