Worcester Bosch Greenstar 36CDi Compact Combi Boiler Review
Worcester Bosch Greenstar 36CDI Compact Boiler Review
If so, then you're probably looking for something compact that's hassle-free, energy-efficient, has impressive power, and is easy for you to control.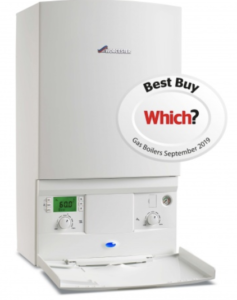 Well, the good news is that we've recently spent a lot of time with the Worcester Bosch Greenstar 36CDi Compact combi boiler. A brand new A-rated combi boiler could save you up to £580 per year on your energy bills.
Worcester Bosch is one of the top UK boiler companies – and has been for many years.
The Greenstar CDi Compact range is rated very highly amongst homeowners and industry experts. We decided to look at one particular model, Greenstar 36 CDi compact to see what are the fuss was about.
Here, we have our Worcester Bosch Greenstar 36CDi Compact Combi Boiler review!
As a company that knows a lot about boilers, we've looked at all the key elements that decide whether or not a product is worthy of your time.
So, sit back, relax, and enjoy this detailed Worcester Bosch 36 Cdi review:
Get an online fixed price in 20 seconds:
What kind of fuel does your boiler use?
The Worcester Bosch Greenstar 36CDi Compact Combi Boiler
When we first had a look at this compact combi boiler, a few things stood out.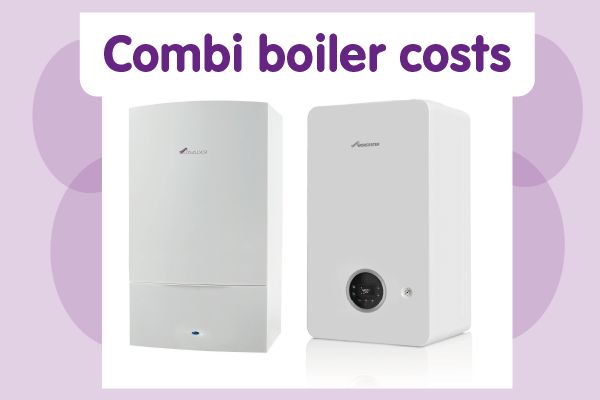 Firstly, the Worcester Bosch combination boiler has incredible power output.
There's enough power to provide central heating and hot water to a typical 3-4 bedroom home.
So, if you have a large family with multiple bathrooms, then you won't have any issues using this 36 CDi compact boiler.
If you want some figures to back this up, then the 36CDi has a hot water output of 36kW with a flow rate of 12.9 litres per minute.
Add to this the high-efficiency central heating output of 24kW, and you've got yourself a bit of a beast.
If you are wondering what the kW stands for or what size you would need for your home, click the following blog – Here
The 36kW makes it ideal for homes that use lots of hot water every single day, usually at similar times. For example, two showers running in the morning as the family gets ready for work/school.
If this output sounds too large for your home, you could view the Worcester Bosch Greenstar Si combi boiler or the best combi boilers 2023.
The second thing that stands with the Greenstar 36CDi compact boiler is that it lives up to its name with the compact size.
For such a powerful combi boiler, you don't get lumped with a massive product.
In fact, this Bosch combi boiler is designed to fit in most standard kitchen cupboards, cabinets or be wall-mounted.
You shouldn't need a separate boiler room for this compact boiler.
A combination boiler is a 1 unit system, so no water tank is required like with a system boiler.
All combi boilers hook up to your mains water supply.
This Worcester Bosch Greenstar combi boiler is very practical for modern homes that want to save as much space as possible.
Worcester Bosch has also designed the Greenstar 8000 Style boiler in high gloss black or white to be a game-changer which you love to have on display.
Get an online fixed price in 20 seconds:
What kind of fuel does your boiler use?
Energy Efficiency of the Greenstar 36CDi Compact
The Worcester Bosch 36CDi Compact gas boiler scores an overall ErP rating of 92%, which equates to an A.
The ErP scale is always the most trustworthy as it shows that the product has undergone extensive tests before being allowed on the boiler market.
Every boiler has a rating like this, so you can easily compare the Worcester Bosch Greenstar 36CDi with others.
Overall, you'll have a very efficient heating system.
Why is Boiler Efficiency Important?
Well, it means that you can heat your home and receive hot water without pushing the boiler too hard.
It will conserve energy so that you can save so much money on your monthly bills. Check out the most energy-efficient boilers here.
Worcester has a wide range of boilers to choose from all that run at over 90% energy efficiency so you can be sure that there is a boiler to suit your need. Check out the latest Worcester bosch boiler prices to compare the best boiler and best deals online in minutes.
Get an online fixed price in 20 seconds:
What kind of fuel does your boiler use?
Worcester 36CDi Boiler Usability
The way you operate a gas boiler has become more and more critical in recent times.
The introduction of the Boiler Plus regulations in 2018 has set new standards for all combi boilers.
In effect, every combi boiler must have controls that let you either hook it up to a smart thermostat, alter the water temperature based on room temperature, alter water temperature based on the outside temperature, or convert your wasted flue gas into energy to heat your water supply.
Combi boilers only need at least one of the above controls, and the Greenstar 36CDi is compatible with smart thermostats.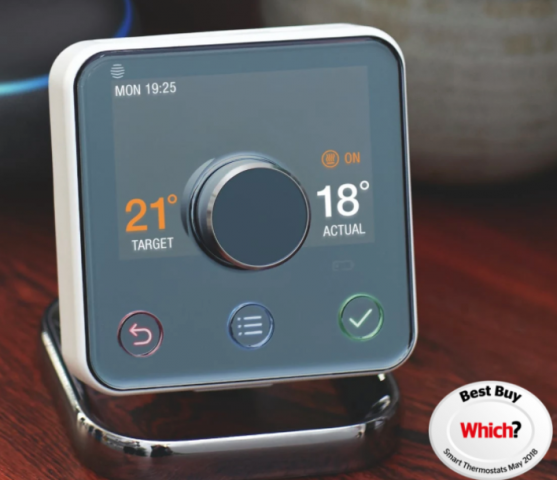 You can choose any thermostat on the market, or stick with Worcester Bosch and go for their Wave product. You can also use it with Hive or Nest smart thermostats.
Regardless, smart thermostat compatibility means you can control your boiler remotely.
There will be an app for you to use, and you can alter everything from the temperature settings to the schedule – it's so convenient.
Of course, there are manual controls on the boiler as well.
Just pull the front flap down, and you'll see a large display with various buttons.
They're all clearly labelled, and you can adjust the temperature, set the boiler to different modes, and see any warning lights.
Your Worcester 36CDi compact boiler will also come with a manual in case you have any problems working any of the above controls.
All in all, we found the Worcester Bosch Greenstar 36CDi to have very easy-to-use controls.
As a result, it's a boiler you can operate without any stress at all.
Get an online fixed price in 20 seconds:
What kind of fuel does your boiler use?
Worcester Boiler Warranty
As with all boilers, you need to have as much protection as possible from any manufacturing defects or faults. if you're experiencing any Worcester Bosch error codes, then if you are covered under warranty ensure yoi contact them right away.
Worcester Bosch always provides a 5-year standard warranty for boilers in the Greenstar range. They also offer to extend your warranty to 7 years if you use a Worcester Bosch accredited installer.
This means you're covered if any manufacturing faults occur within this time. Great peace of mind you are covered if any issues do occur. Remember to read the terms and conditions to keep your warranty valid.
Boiler Size
With the Worcester Bosch Greenstar 36CDi, you have a product that lives up to the 'compact' part of its name.
This boiler is 690x390x280mm and weighs 36kg.
Making it one of the smallest combi boiler options around.
If you get your tape measure out, you should find that this fits snugly into most kitchen cabinets. If you're looking for a new Worcester Bosch combi boiler, check out the Worcester 4000 that has recently just been released in replacement of the fantastic Greenstar i Range.
Our Hassle-Free Worcester Bosch 36 CDi Boiler Specification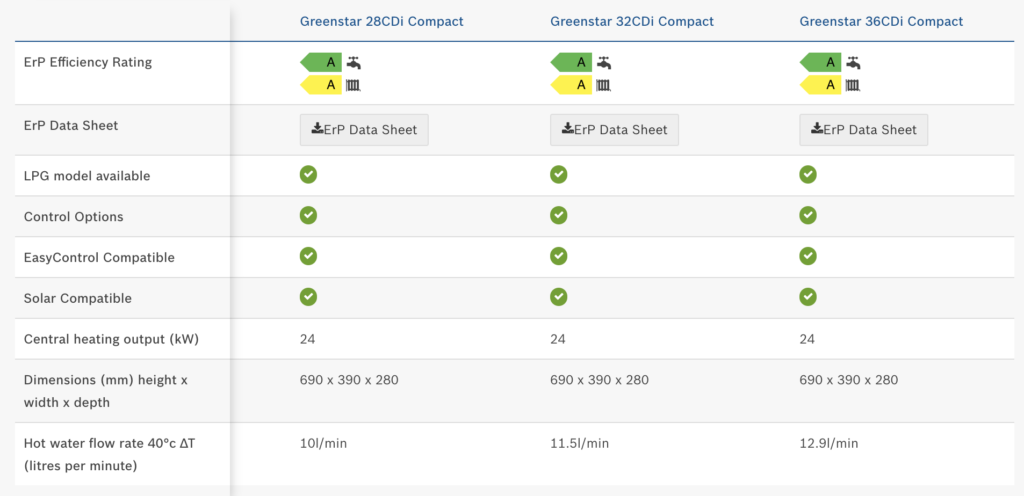 There's a lot to love about the Worcester 36CDi.
If you think back to the start of this Worcester Bosch Greenstar 36CDi Compact Combi Boiler review, then you'll see all the key elements that make up an excellent boiler.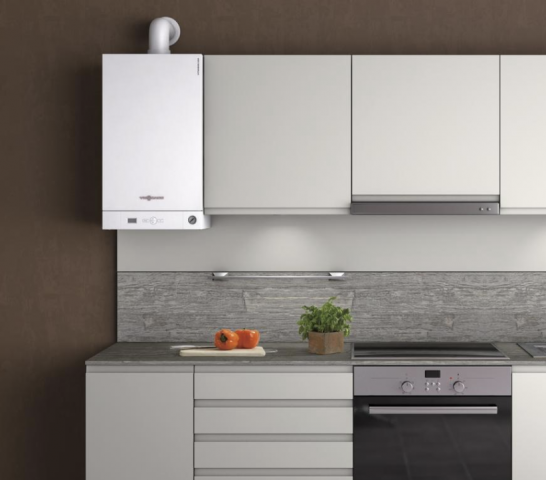 We're talking about energy efficiency, power output, usability, and the size.
We can safely say that the Greenstar 36CDi ticks all of these boxes.
The Worcester compact combi boiler can easily power a large home with multiple bathrooms and bedrooms – all in a compact package.
It's very efficient as well, so you can make lots of savings on your monthly energy bills.
However, it's worth pointing out that you might not need a combi boiler that's this powerful.
Both the Greenstar 28CDi and 29CDi possess similar features but with lower power outputs and water flow rates.
Worcester Bosch CDi combi boiler prices
If you live in a home with only one bathroom and two bedrooms, then these options may work best for you as they're cheaper.
Worcester Bosch 28CDi Combi boiler prices:£1,500 to £2,100
Worcester Bosch 29CDi Combi boiler prices:£1,650 to £2,200
Worcester Bosch 36CDi Combi boiler prices: £1,900 to £2,500
Remember the boiler prices don't always include installation fees.
At Boiler Central, we include installation fees and finance options.
You can also choose your own installation date from our date picker, securely pay by card for the cost of a new boiler or as said before apply for finance within minutes online.
Get an online fixed price in 20 seconds:
What kind of fuel does your boiler use?