What is a System Boiler? How do they work and are they good?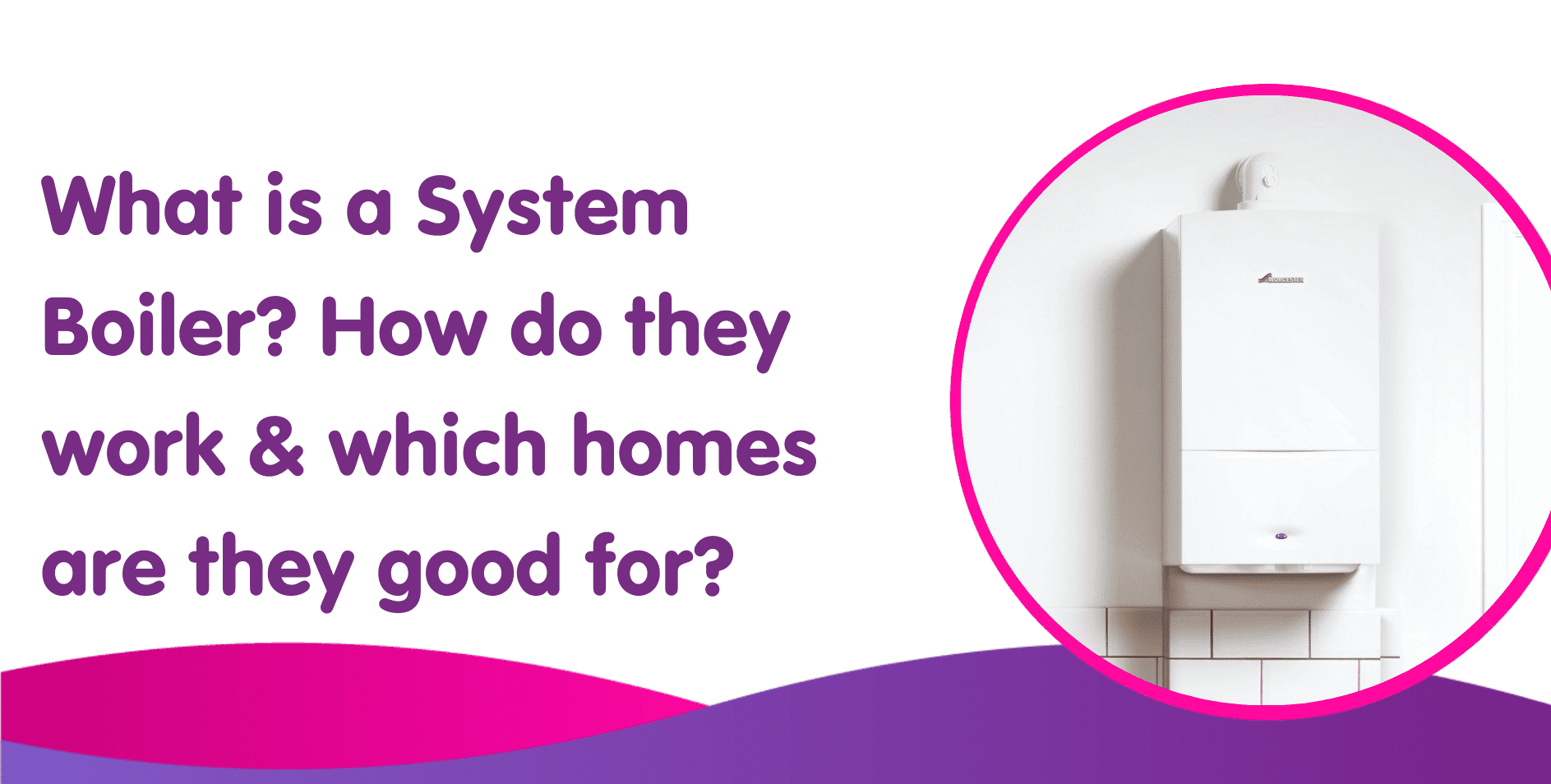 What is a system boiler & which types of homes should choose a boiler with a tank?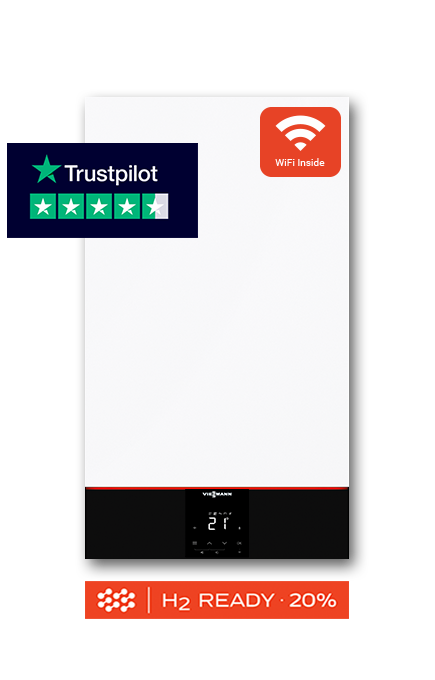 If you live in a larger home with multiple occupants and have a high demand for hot water, a system boiler could be the perfect heating solution for you, but why is that & how do they work?
At Boiler Central, we stock a range of system boilers from leading brands and we can help you find the right heating system for your needs.
In this informative guide, we'll provide you with everything you need to know about system boilers, including how they work, their main pros and cons, and their typical costs. All our system boilers are also 20% hydrogen ready boilers.
Get an online fixed price in 20 seconds:
What kind of fuel does your boiler use?
What is a System Boiler?
A system boiler is one of the three main forms of heating used in the UK. This boiler type provides properties with both heating and hot water through the use of an additional hot water cylinder for storage.
Unlike regular boilers, system boilers do not require a cold water tank as they take water directly from the mains supply – this makes them a suitable space-saving option for larger homes.
Most people who already have a system boiler will just replace their old one with a new one and use the same hot water tank. If you are considering getting a new hot water cylinder too this could be quite costly.
How Do System Boilers Work?
A system boiler works by firstly taking water from the mains, this is then passed through an internal heat exchanger which heats this water up. The heated water is then sent to the external hot water cylinder to be stored until it is ready for use.
This stored hot water is sent through your central heating system to radiators for heating or taps for hot water distribution.
System boilers can store an effective amount of hot water in their external cylinder, this means that hot water can be accessed by multiple taps at once, making them a suitable choice for larger homes with more than one bathroom. System boilers can be used with S-Plan systems too.
Get an online fixed price in 20 seconds:
What kind of fuel does your boiler use?
Do system boilers have a hot water tank?
Yes, unvented system boilers must have a hot water cylinder or hot wat water tanks as they are more commonly known to work. This is where hot water is stored ready for you to use in your taps, baths, and showers.
Storing hot water and maintaining the heat all day long can mean that these boilers are less efficient in some homes as they may be keeping hot water hot that isn't going tpo be used for a while, if this hot water in the tank is used very often, for example, a large house with lots of hot water usage, then they are arguably the best choice.
Some people even use them with an immersion heater that uses electricity too to try and improve efficiency and have a less reliance on gas. Insulating your hot water tank can also help keep running costs down too.
What Size System Boiler Do I Need?
At Boiler Central, we install system boilers in a range of different sizes to suit the heating and hot water needs of every home. Typically, system boiler sizes can range from around 9kW to 35kW.
The system boiler size required for your home will depend on the size of your property and your heating and hot water demands. The term 'kW output' is used to describe a boiler's size and its ability to cope with your hot water and heating needs. Use a boiler size calculator to get the best results.
Generally, the higher the demand for heating and hot water, the higher the kW output of the boiler required. When deciding on the kW output for your system boiler, you should consider the number of bathrooms and radiators in the property, as this will help you understand the size of boiler you need.
To provide you with a better understanding of system boiler sizes, we've created the following table with estimated system boiler sizes for different types of homes:
| | | |
| --- | --- | --- |
| System boiler size | Number of Bathrooms | Number of Radiators |
| 9-15 kW | 1 | 10 |
| 18-26 kW | 2-3 | 15 |
| 27-40 kW | 3 or more | 20 |
Get an online fixed price in 20 seconds:
What kind of fuel does your boiler use?
To find out exactly what size system boiler you need for your property, try our free online tool today. We'll also provide you with an estimate of costs for your system boiler installation.
Pros and Cons of System Boilers
In order for you to make the best choice for your home heating system, you must understand the pros and cons of system boilers.
Below, we'll take you through some of the main benefits and pitfalls of system boilers to help you make a well-informed choice about your new boiler.
System Boiler Pros
System boilers have a number of advantages, these include:
Space saving – Unlike heat only boilers, system boilers do not require a header tank or cold water feed tank, they simply need a hot water cylinder for storage. This makes them a more compact and space saving option than regular boilers.
Delivers hot water to multiple taps at once – As system store their hot water in a cylinder, they are able to distribute this supply to more than one tap simultaneously. This makes them an excellent choice for larger homes with a high demand for heating. Megaflo boiler systems can produce huge amounts of hot water to multiple taps at once.
Easy installation – The main heating components of a system boiler are already built in, this makes them quick and easy to install in most homes.
Economical to run – System boilers are built with a pump which helps the system respond quickly to your heating needs; this also makes the boiler have more economical running costs.
Energy-efficient – All modern system boilers are condensing and A-rated for efficiency. This means that system boilers are designed to provide maximum heating performance with minimal energy usage. Getting an A-rated new system boiler installed could therefore help to reduce your energy bills as well as your carbon footprint.
Strong water Pressure – If you live in an area with strong water pressure, your system boiler will be able to perform even better as it draws its water supply directly from the mains. If you live in an area with low water pressure, you could install a mains pressure booster pump to improve the quality of your water pressure and help your system boiler work to its full potential. You can adjust the pressure of your system boiler using a boiler filling loop.
Get an online fixed price in 20 seconds:
What kind of fuel does your boiler use?
System Boiler Cons
Although system boilers have many benefits, there are a few disadvantages that you'll need to consider:
Not as compact as combi boilers – Although system boilers are more space-saving than regular boilers, they are not as compact as combi boilers as combis do not require a hot water cylinder. Therefore, if you live in a property where space is at a premium, you may be better suited to a combi boiler.
Hot water cylinder can run low – Again, unlike combi boilers, system boilers cannot always deliver hot water on demand to your home as their cylinder can only hold so much hot water. On occasion, you may need to wait for the cylinder to be filled with hot water again.
Read our system boiler vs combi boiler guide here for more information on the best type of boiler to choose for your home.
Get an online fixed price in 20 seconds:
What kind of fuel does your boiler use?
How Much Does a System Boiler Cost?
If you're thinking about getting a system boiler installed into your home, costs are likely to be one of the main factors on your mind. It's essential that you select a boiler that suits your needs as well as your budget.
The cost of your system boiler installation will depend on the size, brand and model of the boiler you choose. The total cost is also likely to be impacted by any additional parts and labour, such as scaffolding or pipework modifications. On average, a system boiler can cost up to £3,000 to install.
This may seem expensive at first, but it's important for you to remember that a new boiler is an important investment that can significantly affect the levels of comfort in your home. It is therefore important that you don't automatically go for a cheaper option as this may end up costing you more money in the long run if the system is inefficient.
At Boiler Central, it's our goal to provide all our customers with affordable new boiler installations. We deliver expert boiler installations at a reasonable price.
We also have a range of flexible finance options on offer to help you get your new boiler on finance. Try our quick and easy quote tool today to find out how much your new system installation boiler could cost.
System Boiler Brands
Here at Boiler Central, we supply boilers from some of the leading boiler brands on the market. These include:
Worcester Bosch
Viessmann
Ideal
Alpha
Vaillant
Glow Worm
Zanussi
Try our free online tool to find out which boiler brand is best suited to your needs.
Popular System Boiler Models
There is a vast range of system boilers available on the market, so it can be difficult to choose a suitable option for your specific property.
To help you choose the best system boiler for your home and needs, here's a breakdown of some of the best system boilers currently available:
Viessmann Vitodens 100-W Gas System Boiler
An efficient, reliable and affordable system boiler that could be an ideal choice for larger homes with more than one bathroom. This excellent system boiler comes equipped with a range of innovative functions and features, such as an LCD touchscreen display and a high modulation ratio of 1:6. This boiler is available in sizes from 26kW – 35kW.
Worcester Bosch Greenstar 24i System Boiler
This premium brand system boiler is extremely energy-efficient and easy to run. Available in sizes from 9kW- 30kW, this boiler could meet the heating and hot water needs of a larger home with ease. Some of its key functions include a clear information display and simple boiler controls.
Vaillant ecoTEC Plus System Boiler
This high-performance system boiler is designed to provide larger homes with excellent quality heating and hot water without using excessive energy. With a backlit display and a stainless-steel heat exchanger, this system boiler is built with user ease in mind. This system is available in sizes from 12kW – 37kW.
To find out more about popular system boiler models, take a look at our guide on the Best System Boilers 2023.
Get an online fixed price in 20 seconds:
What kind of fuel does your boiler use?
Things to Consider When Getting a System Boiler
There are a number of factors that you'll need to consider when getting a new system boiler in order to ensure that you make the right choice for your home. Some of these factors we've gone through already, but here are some additional aspects we recommend that you bear in mind:
Energy Efficiency – With environmental sustainability being a global key focus, it is important that you invest in a system boiler that has a high efficiency rating. Not only will this help to keep your carbon emissions low, but it can also help you save on your energy bills.
Warranty – A boiler warranty can provide you with added peace of mind in knowing that should a fault or breakdown occur with your system during its warranty period, your manufacturer will provide you with a repair or replacement at no extra charge. At Boiler Central, we provide up to 10 years' manufacturer-backed warranty with all our boilers. We also offer boiler cover and boiler service plans to offer you an added sense of security.
Heating controls – Investing in smart heating controls like a smart thermostat can help to enhance the efficiency and convenience of your central heating system. With a smart thermostat, you can control your home heating from anywhere. Speak to one of our advisors about smart heating controls today.
Choosing a qualified installer – It is essential and legally mandatory that you select a fully-qualified, Gas Safe registered engineer to conduct your system boiler installation and any subsequent servicing or maintenance work. At Boiler Central, all of our engineers are Gas Safe registered, so you can rest assured that you're in safe hands.
Getting a system boiler with Boiler Central
If you think a system boiler is the best option for your home, Boiler central can provide you with an excellent deal and a first-class boiler installation at a suitable date and time for you.
To kickstart your new system boiler installation, all you have to do is enter a few details about your home and needs into our free online price tool.
Once you've done this, you'll receive your free quote for a suitable new boiler system in just a few seconds. From there, a member of our expert team will get in touch with you to discuss your needs and inform you of how to move forward with your quote.
Get a free quote for your new system boiler installation today.
Get an online fixed price in 20 seconds:
What kind of fuel does your boiler use?
System boilers FAQs
What's the difference between a system boiler and a combi boiler?
The main difference between a combi boiler and a system boiler is that system boilers do not require any additional hot water tanks or cylinders. There is the option to remove a hot water tank and convert a system boiler to a combi boiler if you think this will be a good option.
Is a system boiler the same as a regular boiler?
The main difference between a system boiler and a regular boiler is that system boilers only need a hot water cylinder for storage, whilst a regular boiler requires both a cylinder and a feed and expansion tank. Old conventional boilers can be converted to system boilers in order to remove the need for cold water tanks in the loft.
Can I convert my system boiler to a combi boiler?
Yes, if you believe that your home would be better suited to a new combi boiler, you can swap your system boiler for a combi. You should bear in mind that this will make the installation slightly more complicated and expensive, but this may be worth it in the long run if a combi boiler will suit your needs better.
Get an online fixed price in 20 seconds:
What kind of fuel does your boiler use?