What Temperature Should the Thermostat Be Set At
Table of Contents
What Temperature Should the Central Heating Thermostat Be Set At?
There are different arguments among different people what should be the ideal temperature of a central heating thermostat.
It is necessary to get to know the recommended thermostat settings in different environments and weather conditions. This will help for comfort temperatures and for your health.
It will eventually save you money on the home energy bills that you would of wasted before knowing about the recommended room temperature for your heating thermostat. 
This will also reduce energy wastage helping the environment.
You should have a temperature drop in your bedroom compared to the heating in your living room.
A room thermostat is great for this, you can set the exact temperature as you wish in each room.
Also heating controls that you can now have on your smart phone with most central heating systems make it possible for you to change the temperature when suits you.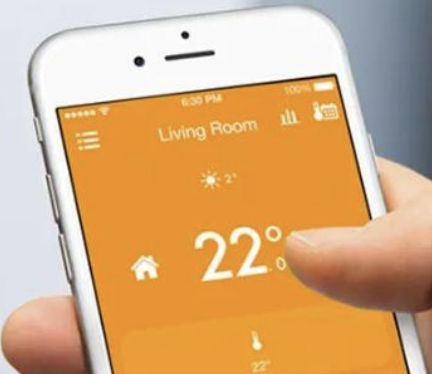 So, setting up your thermostat at a constant temperature is not something that is going to work out magically.
I will provide you with a recommended value of temperature for your thermostat that should work every time in every condition.
The temperature you should set on your thermostat depends on several factors including:
Humidity level, Season, and how many times you come in and out of the house. 
By considering those factors, I'll recommend you to set the temperature that suits your house best, and what is comfortable for you.
However, most of the people have a range of temperatures that suits them in particular conditions but not one magical number that suits all year round.
So, in this article, you will get to know a comprehensive guide to set the temperature in the most effective ranges in your thermostat and feel comfortable, at the same time as saving a pretty good amount of money every year dependent on your type of boiler.
What temperature should I set in the summer season? 
You have come to this article, as you are more concerned about setting up the right temperature in the thermostat of your house in the summer season.
Here, I'll discuss some cost-effective ranges of temperatures that you can set in your thermostat and get an efficient result at the same time-saving energy as well.
Saving energy efficiently is a subject to keep in mind that if you somehow miss any of the descriptions in this article, you may not be able to set up the right temperature that is the only factor to save you money on energy.
Also, take a look at the size of your air-conditioner and a few other heating systems too.
In most UK homes, more than 40% of the electricity bill is the result of heating and air-conditioning. 
In a few areas, it can also cross over 50% of the electricity bill. It not only costs in the homes but also in the other commercial buildings. 
More than 70% of UK homes, including central heating, heat their homes twice per day.
You must limit the heat when you are out of the house. Geo Fencing is a good way to do this.
What is the typical thermostat setting?
The thermostat setting in the UK is on average 21 degrees.
It might seem to be a simple number to remember but according to a recent survey, it reported that the most popular settings in most UK homes are 20 degrees.
So, it seems like a round number as both between 15°C and 25°C seem slightly buck the quite natural look like a curve.
30° is considered far too hot for UK homes and your boiler will be pumping out hot water all day around your home! 
What temperature should I set in winter?
In the winter season when the cold weather hits, the average temperature in the central heating thermostat of a UK home is around 20° c and it is roughly 18° c.
Although, the average internal temperature has risen dramatically since higher energy efficient boilers are now used around the UK. If you need to know what the highest rated and recommended boilers are then our boiler advice guides will help you.
In fact, some people keep their homes hot, some people keep their homes cold, most of us average somewhere in the middle.
Most homes resides the sensible 18-21°, and there are several homes including unnecessary cold and hot living room.
If you need to know any more information or would like to get a new boiler on finance then click the image below to get a fixed price on a new boiler.