What Temperature Should My Thermostat Be Set At?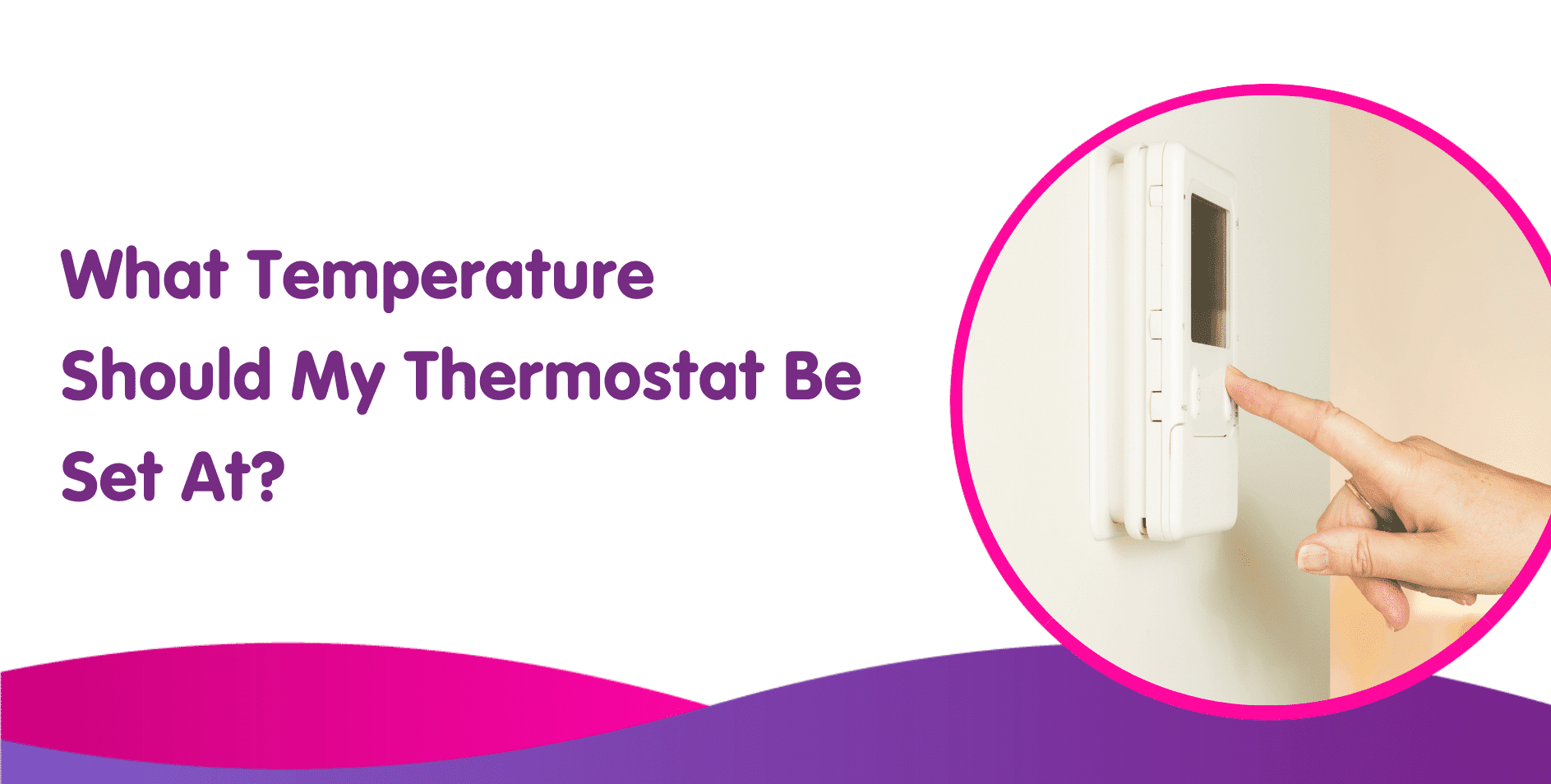 What is the best temperature to set a thermostat to?
One of the most common questions we get asked is, what temperature should my boiler be set at for central heating?
As seasons change throughout the year, it is important to understand the recommended temperature settings of your thermostat to control your boiler.
This article will help you be more energy efficient. Ensuring your central heating is most cost-effective. As well as creating a comfortable home temperature. With small changes, you may even save some money.
If you've bought a new boiler to help save money on your energy bills, then hopefully our thermostat temperature guide will help to keep your bill even lower. It all helps and we all want to save as much money as possible.
Get Boiler & Central Heating Cover
Benefits of Understanding Your Central Heating Settings
Energy efficient
Eco-friendly
Cost-effective reducing energy bills
Improved health and sleep
Comfortable home temperature
See the latest modern central heating boiler controls and thermostats from the best manufacturers
Get Boiler & Central Heating Cover
When Should I Change My Central Heating Thermostat?
When considering what temperature your thermostat should be set at, you should take into account your environment and weather conditions. This includes humidity level, Season, and how many times you come in and out of your house. If you are struggling to use your thermostat as it is getting old, it may be time to invest in a new one.
Remember, there will never be a magical number that works all year round and suits all households. Personal preference will also influence your perfect central heating temperature.
To help you understand how you can make positive changes, this article is broken down into advice for different seasons, individuals and rooms in your home.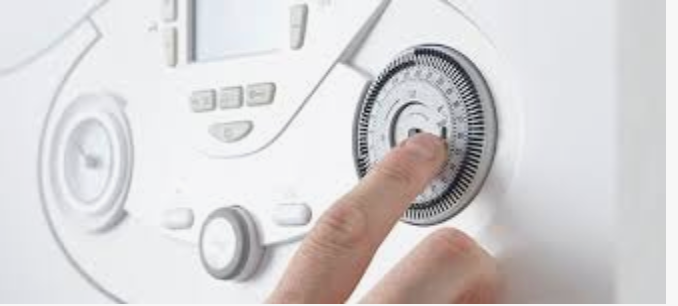 What Temperature Should I Set My Thermostat in My Bedroom?
For health reasons and sleep benefits, you should have a temperature drop in your bedroom compared to the heating in your living room.
An individual boiler thermostat setting in each room is great for this, and you can set the exact temperature as you wish in each room. Try reducing your bedroom temperature slightly and see how much your sleep improves.
For a comfortable night's sleep, the recommended sleeping temperature is 16 -18 degrees. It is proven that body temperature drops whilst sleeping. Following the recommended guidelines will ensure a restful night's sleep.
Get Boiler & Central Heating Cover
What Temperature Should I Set My Thermostat in the Summer Season?
Boiler temperature settings can be challenging when wanting to be comfortable and cost-effective. Saving energy with an efficient heating system will keep the heating bills low. Plus, help reduce your carbon footprint.
The recommended summer household temperature is around 18 degrees. Depending on how hot you like your house, you may only need to turn your heating on for hot water.
Read our guide here on the best heating schedules for thermostats.
In most UK homes and commercial buildings, more than 40-50% of the electricity bill is the result of central heating boiler temperatures and air-conditioning. This may be due to the fact, more than 70% of UK homes heat their homes twice a day by altering the central heating boiler temperature settings.
In summer ensure you limit the heat temperature when you are out of the house. Summer tends to be fairly hot outside. Therefore, the sunlight coming through your windows will help keep your home at a good temperature.
It is proven by the Energy Saving Trust that reducing the thermostat temperature by 1 degree can reduce your fuel bill by 10%. Summer is the perfect season to put this statistic to the test.
Get Boiler & Central Heating Cover
What Temperature Should I Set My Boiler in Winter?
In the winter season as its cold outside, the average temperature central heating is 20° c. The recommended winter temperature is around 18- 21 degrees.
The average internal temperature has risen dramatically, since higher energy efficient boilers are now used around the UK. Temperatures have increased due to the incredible energy-efficient boilers. They tremendously reduce fuel bills compared to old inefficient boilers.
We recommend putting on more layers of clothing. Also, going with a higher quilt tog always to keep your energy bills low and to maintain good sleep and health.
To read more about the highest-rated and recommended boilers follow our boiler advice guides for more advice.
Recommended Temperature for the Elderly
The NHS recommends people aged 65 years and above, keep their household temperature at 18- 20 degrees. But, also suggest curtains are shut at dusk and to avoid any drafts coming into the house.
Recommended Temperature for Babies
For a baby, the recommended temperature it different from the typical child or adult. According to The UK Baby Centre, the recommended room temperature is between 16- 20 degrees. If the temperature drops below 20 degrees, you could give them an extra blanket for extra warmth.
Baby monitors can now show your babies' temperature and if they are asleep comfortably. A sleeping baby is a happy baby!
Get Boiler & Central Heating Cover
Smart Temperature Controls
We all know technology is impressive. All new replacement boilers are now designed to be user-friendly and as efficient as possible. An efficient boiler will keep your energy bills low and reduce your carbon footprint.
Boilers include a thermostat, room thermostats, thermostatic radiator valves, and a timer or program. You will be able to set and alter your heating to suit your needs without wasting heat or fuel.
The latest central heating technology is a smart thermostat controlled on your phone or tablet. With a smart thermostat, you can control your heating, whether you are and when it suits you. At work or on holiday, a smart thermostat makes controlling your heating more simple.
Smart thermostats can remember your heating routine and pick up your location. When you are nearby they can turn the heating on. If you are away from home, they can even turn your heating off for you.
Smart thermostats, like a Neomitis thermostat, can recognise the best temperature setting to prevent you from wasting heat and money. They do this by only altering the temperature by 4 or 5 degrees. This ensures less gas is in usage. Smart thermostats are the way forward!
Get Boiler & Central Heating Cover
The Best Smart Thermostats
Hive and Nest are highly recommended smart thermostats. Hive won the Which? Best buy award in 2018. Which? Scores come on reliability, brand customer satisfaction, and heating engineer ratings. Read our review of the best smart thermostats right now.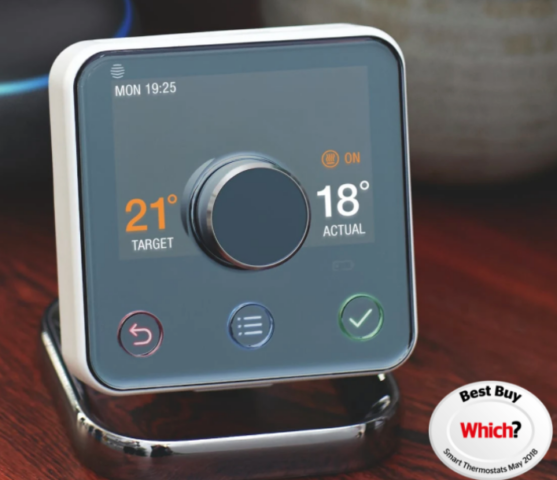 The Average UK Central Heating Temperature
According to a recent survey, the average thermostat setting in UK homes is 18- 21 degrees. Reducing this temperature by a couple of marks can make a massive difference to your energy bill.
It is important to note that for UK homes, 12° is too cold. And, 30° is considered too hot. Poor temperature conditions will prevent good sleep, general well-being and concentration levels.
Temperature Myths
We often hear that the higher the temperature, the quicker your home will heat up. This is far from true! This myth is a waste of energy, and you will see a dramatic rise in your energy bills. If your struggling with getting your radiators hot it may be because you need to flush your central heating system to get maximum efficiency.
We also hear leaving your heating on at a lower temperature all day is the best way to heat your home. This is also not true! Again, this is a waste of heat, and your fuel bills will quickly increase.
Get Boiler & Central Heating Cover